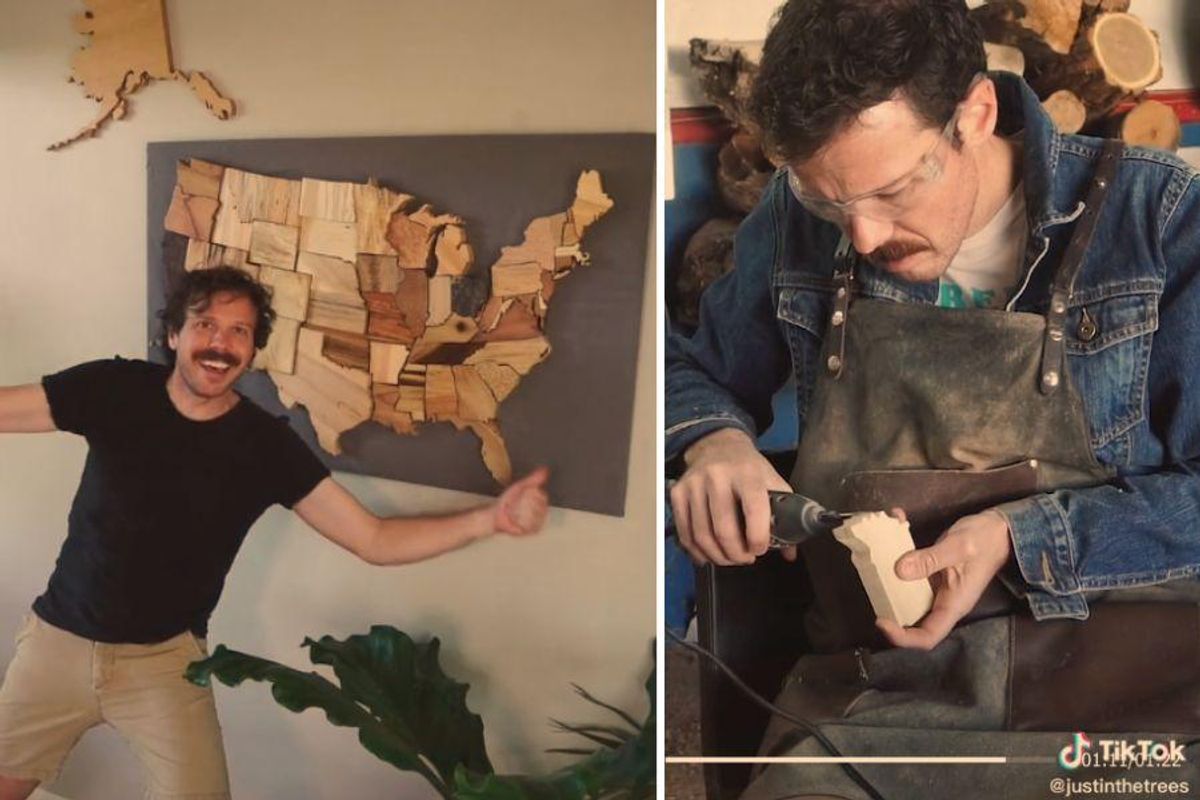 Did you know that there are around 73,000 species of trees in the world?
Most of us go about our days surrounded by trees that just sort of sit in the background of our lives, quietly providing beauty, shade, oxygen, a home for wildlife and more, without us giving them a whole lot of thought.
But it appears that a whole bunch of us have a deep, latent fascination with trees and wood, based on how people have responded to Justin Davies' unique state tree U.S. map project. Davies, who goes by @justinthetrees on TikTok, has spent months crafting a stunning wall map of the U.S. using wood from the official tree of each state, and he has gained more than a million followers doing it.
---
Davies tells Upworthy the map idea was one he'd held onto for years, ever since a run on a trail sparked his interest in woodworking.
"While out on a trail run I noticed a tree I'd probably passed thousands of times without really noticing it," he says, "and was struck by how little I knew about it. Didn't know what kind of tree it was, didn't even know its name. And I spend a lot of time out in the wilderness out here in Utah, so it made me just feel really disconnected from the natural places that surround me.
"So I got home and just started digging online until I found the type of tree it was, and I was kinda blown away by how fascinating I found everything I discovered. The properties of the tree, where it grows, its many traditional indigenous uses, and one of the big things was that I just really wanted to know what its wood looked like."
Davies' curiosity led him down a creative path that eventually moved him away from a 12-year marketing career and toward creating content focused on trees. Oddly enough, it's been a great move.
"When I meet new people and tell them I make content about trees, I often get a response like, 'Trees? Really??' with a raised eyebrow, implying I've never thought about trees before in my life, that sounds boring," he says. "But you very quickly discover that it takes almost nothing to help people realize they do find trees to be fascinating. Everyone has a tree they love from their childhood. Everyone has types of trees that make them feel at home. So it's been fun to see that kind of response happen at such a massive scale."
Davies spent around eight months creating his official state tree map, making a video for each piece in which he shares scientific and historical information about each tree, how Indigenous peoples have used them and interesting anecdotes about them. As it progressed, the map project morphed into a community endeavor, with people from all over the country sending him pieces of the kinds of wood he needed from each state to complete it.
Here is Davies sharing the finished map, which is the best place to start. This video offers a glimpse of the work and community support that went into this project, as well as Davies' genuine likability that keeps people coming back.
@justinthetrees

Thanks for making this project possible! You're the best #trees #statetreemap #thankyou
As Davies said, he isn't actually done. He has also made different countries and Canadian provinces out of native wood, and has started making a whole new larger U.S. map for his followers on YouTube (since the vertical format for video on TikTok isn't really compatible with YouTube).
And to get a taste of what's caused millions of people to tune in each time he revealed a new state, here's the video from the final state he made, Missouri.
@justinthetrees

Reply to @eawilliams1s get to know a state tree: Missouri's flowering dogwood #trees #woodworking #missouri #statetreemap #learnontiktok #dogwood
Check out Georgia, which attracted nearly 13 million viewers:
@justinthetrees

Reply to @djunamars get to know a state tree: Georgia's Southern Live Oak #trees #woodworking #georgia #learnontiktok #map #liveoak #statetreemap
And how about Florida, whose official tree is only kind of, sort of a tree (same goes for South Carolina, whose state tree is also a palmetto):
@justinthetrees

Reply to @draphra get to know a state tree: Florida's Sabal Palm #trees #woodworking #florida #learnontiktok #statetreemap #palmetto
Davies shares that his love of trees goes beyond just their beauty. There's something about trees native to where we live that tap into something primal within us.
"I find them absolutely fascinating, of course. I think they're beautiful, of course. But also from a practical sense, we wouldn't be anywhere without them. We need them to build our homes, to heat our homes, to make furniture, food, the games we play, the art we admire. But ultimately for me, what I love the most is the way different types of native trees and forests have the power to evoke something so personal for different people.
"For me, a large, twisted Utah juniper instantly makes me feel at peace and at home. Same goes for the color of the dancing light coming through the canopy of a quaking aspen grove. I can hear and see and smell those forests and trees that are native to the wild places in my home and they give me something so much different than, say, the exotic beauty of a forest of old-growth redwoods or a cypress swamp. And what I love is how someone from those places will feel entirely the opposite."
Part of what makes Davies' videos so engaging is that he really connects with his audience. Check out how he taps into the psyches of his viewers who were incredibly bothered by the empty space where Nevada was supposed to go before he made the piece.
@justinthetrees

I love you all, send me some bristlecone pine wood if you find some lol #statetreemap #woodworking #trees #map
Davies is thrilled with how people of all ages have responded to his videos. He says he gets sent pictures of things kids made in shop class inspired by his work and messages from viewers who say they didn't care at all about trees before, but who now find themselves out for walks with friends and pointing out things about different tree species. "That kind of stuff is just absolutely amazing," says Davies.
Seriously, who knew trees were so fascinating?
There's something so pure about watching someone do woodworking, but adding an interesting educational element and a true love for trees makes it all the more satisfying. You can follow Justin Davies on YouTube, TikTok and Instagram.
P.S. If you really want to watch every state video from the TikTok U.S. map project, he compiled them all here on YouTube: