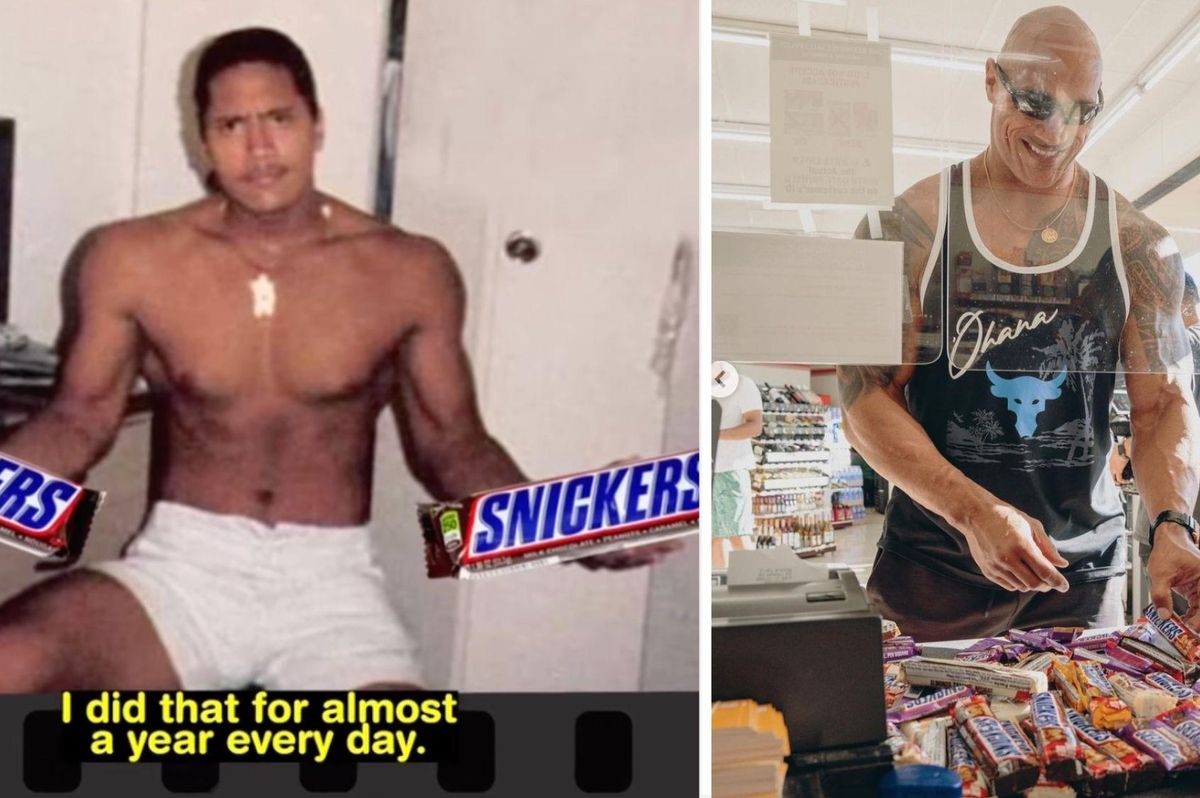 Dwayne Johnson is a celebrity known for his generosity. Sure people know about his one-of-a-kind eyebrow raise an insane gym schedule, but it's also common knowledge that he regularly makes surprise appearances to those in need. Not to mention his gifts are legendary—from puppies to trucks to houses.
So, it might not seem that out of the ordinary for the wrestler-turned-actor to buy every single Snickers bar at a 7-eleven and give them to customers for free. However, this was more than a good deed—it was an act of redemption.
As the "Black Adam" star shared in a video posted to his Instagram, this was the 7-Eleven he used to shoplift from while growing up in Hawaii.
---
He explained that back in '87, his family had been evicted from their home and was struggling financially. He was already an avid gym goer by that time, and his pre workout snack of choice was a king size Snickers bar. So, being "broke as hell," he would steal one everyday for almost a year. Relatable for anyone who has been struck with the difficult choices that come with poverty, to be sure.
Johnson always regretted doing it, however, and now that things have turned around for him, he decided to go back and "right a wrong." The clip shows him, all smiles, filling a large paper bag with the candy bars, which came out to a total of $298. He also bought some items for any customers in the store and tipped the cashier as well.
Though it has nothing to do with this uplifting story—obviously the best moment is when a passerby is heard saying "gotta go, the Rock is here." This woman has her priorities straight.
Johnson post concluded with the words: "We can't change the past and some of the dumb stuff we may have done, but every once in a while we can add a little redeeming grace note to that situation — and maybe put a big smile on some stranger's faces."
Judging by the looks on everyone's face in the video, I'd say mission accomplished, and wrong righted. Mistakes are part of the human experience, and as this story shows, they do have the potential to not only teach us, they help us become an even better version of ourselves.