The Lakers' early struggles have masked the resurgence of Anthony Davis back into All-NBA form, but as L.A. climbs its way out of the Western Conference cellar, it's been on the back of Davis playing the best ball we've seen from him since helping the Lakers win a title in 2020.
Davis is averaging 28.6 points and 12.8 rebounds per game as he has accepted the role many have long wanted him to take on as L.A.'s center, dominating opposing fives thanks to his combination of strength and quickness. Davis not only being willing to play the five but embracing the role of being a dominant center is arguably Darvin Ham's greatest feat so far as Lakers coach. For years, fans and analysts have been begging Davis to become the Lakers' full-time five, but he has long been resistant to that idea. This year, by sheer necessity on a roster without any depth at center, he has become that. And both he and the Lakers are better for it.
The move to center has allowed Davis to change his shot diet tremendously, almost exclusively working around the rim and in the paint this season. Entering Sunday's game with the Wizards, when he had 55 points on 22-of-30 shooting, Davis was attempting 66.3 percent of his shots from inside 10 feet from the basket, the highest percentage in his career, including 38.5 percent of his attempts at the rim, the most since the second season of his career, per Basketball-Reference. It's an important shift that has been needed but hard to get Davis to make, because after an unbelievable heater in the Bubble in which he shot the ball better than he ever did in his career, his jumper has fallen off considerably in the two-plus seasons since.
Davis' hesitancy to become a full-time center was understandable given the various injuries he's sustained over his career, but when he plays with force — attacking downhill — he is simply unstoppable. That was the case against the Wizards, as he recognized Washington had no one to really protect the rim and attacked mercilessly from the jump.
55 PTS (22/30 FGM)
17 REB
3 BLK@AntDavis23 went double-nickel to follow up his 44-point performance in his last game pic.twitter.com/IjYfWN6DEa

— NBA (@NBA) December 5, 2022
His shot chart from that game is nothing short of beautiful, as he just went to work inside and the Wizards had nothing for him.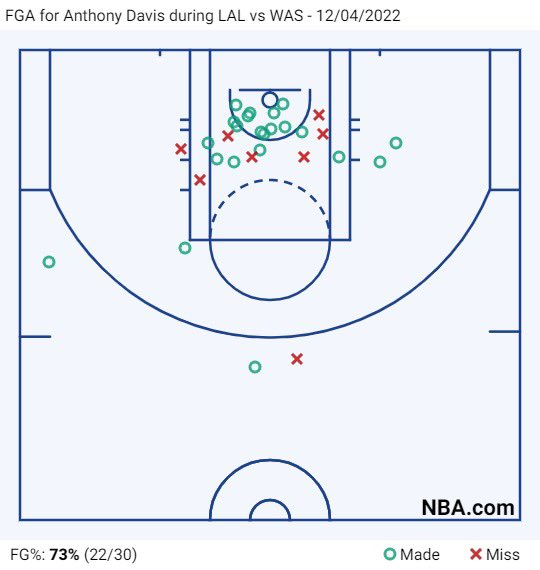 His performance against the Bucks was equally impressive, but also showed how his confidence has breathed life back into his jumper as well, as he drew Brook Lopez out of the paint with some early pull-up jumpers, creating more room to work inside later.
Defensively, he's still as dominant as ever, posting 2.4 blocks and 1.4 steals per game, patrolling the paint and erasing mistakes by perimeter players at the rim. His athleticism allows him to switch when needed or hedge and recover, giving Darvin Ham the ability to get creative with his defensive looks.
This is the Davis that Lakers fans have wanted to see since that 2020 title run, but through a combination of injuries, unwillingness, and roster logjams at the five, we're only just now seeing it in action. That's a credit to Ham, who has done yeoman's work on the bench to turn the early season around despite minimal roster additions. While getting Russell Westbrook to thrive as a bench player has gotten most of the discussion when it comes to Ham's ability to be a star-whisperer, getting Davis to play as a dominant center is equally as impressive.
While Davis' play doesn't change the Lakers' needs on the roster, as shooting remains a desperate need around Davis, LeBron James, and Westbrook, it does potentially change the calculus for the Lakers front office. With LeBron in Year 20, there were plenty wondering if this team could be a contender even if they added reinforcements and made a big move — including, reportedly, the Lakers' decision-makers. The only way that would be the case was if Davis returned to All-NBA form and he has steadily worked his way into being just that through 22 games this season.
What makes this current run of play feel particularly important is that it's not simply Davis getting hot as a shooter, but is instead a fundamental change in how he's playing. Shooting can come and go, and while going 4-of-6 from deep the last two games has undoubtedly helped, the 87 other points he's racked up are far more impressive because they come in a much more sustainable way.
Davis should be able to dominate opposing big men. That ability has never been a question. It's always been whether he will assert himself, and for the last month he's done exactly that.
So long as that continues, Davis will be dominant. The shooting can make him truly unstoppable and yields things like 99 points in two games, but even without that, so long as he plays with the force he has of late, the Lakers can count on him to be a leading option, which changes their outlook on this season tremendously.