It's tough to beat Costco's $1.50 hot dog and drink combo. It's probably the best deal in fast food, all things considered. On its own, it's also a pretty damn good hot dog (and notably large, compared to the frank you'd get at a game). It's truly a meal in which you only need one to be full.
That said, how does that iconic hot dog stand up to UPROXX's favorite grocery store brand dog? Are the size and price (and nostalgia) driving our flavor receptors to love it more? Or is really as good as a high-end brand of specially-made sausage from the hipster paradise of Portland, Oregon? That's what this taste test aims to answer.
For this hot dog battle, I've pitted Costco's classic Kirkland Signature dog against our favorite grocery store sausage, Olympia Provisions Frankfurter. To keep this as balanced as possible, I'm cooking these dogs in dirty hot dog water (like Costco would), serving them both dressed and plain, and putting them on a steamed Chicago bun from S. Rosen's. For the dressed dogs, I'm using Stone Delicious IPA Dijon Mustard (which is a nice and spicy mustard with a little seed to it) with SuckerPunch Classic Dill Pickle Chips. It's straightforward but tasty AF.
The rest is kind of a no-brainer. I'm looking for texture, snap, seasoning, and overall feel of each dog. Moreover, I'm looking for what truly delivers a classic hot dog experience. And since Olympia Provisions Frankfurter is modeled after German sausages, I also had my sons (who have spent their entire lives in Germany until recently) and my wife (who spent 14 years living in Berlin) sample these too and give their opinions. I figured their palates are about as dialed into German-style sausages as anyone else living in America right now.
Let's dive in!
Also Read: The Top 5 UPROXX Blind Taste Test Posts Of The Last Six Months
Part 1: The Tasting and Ranking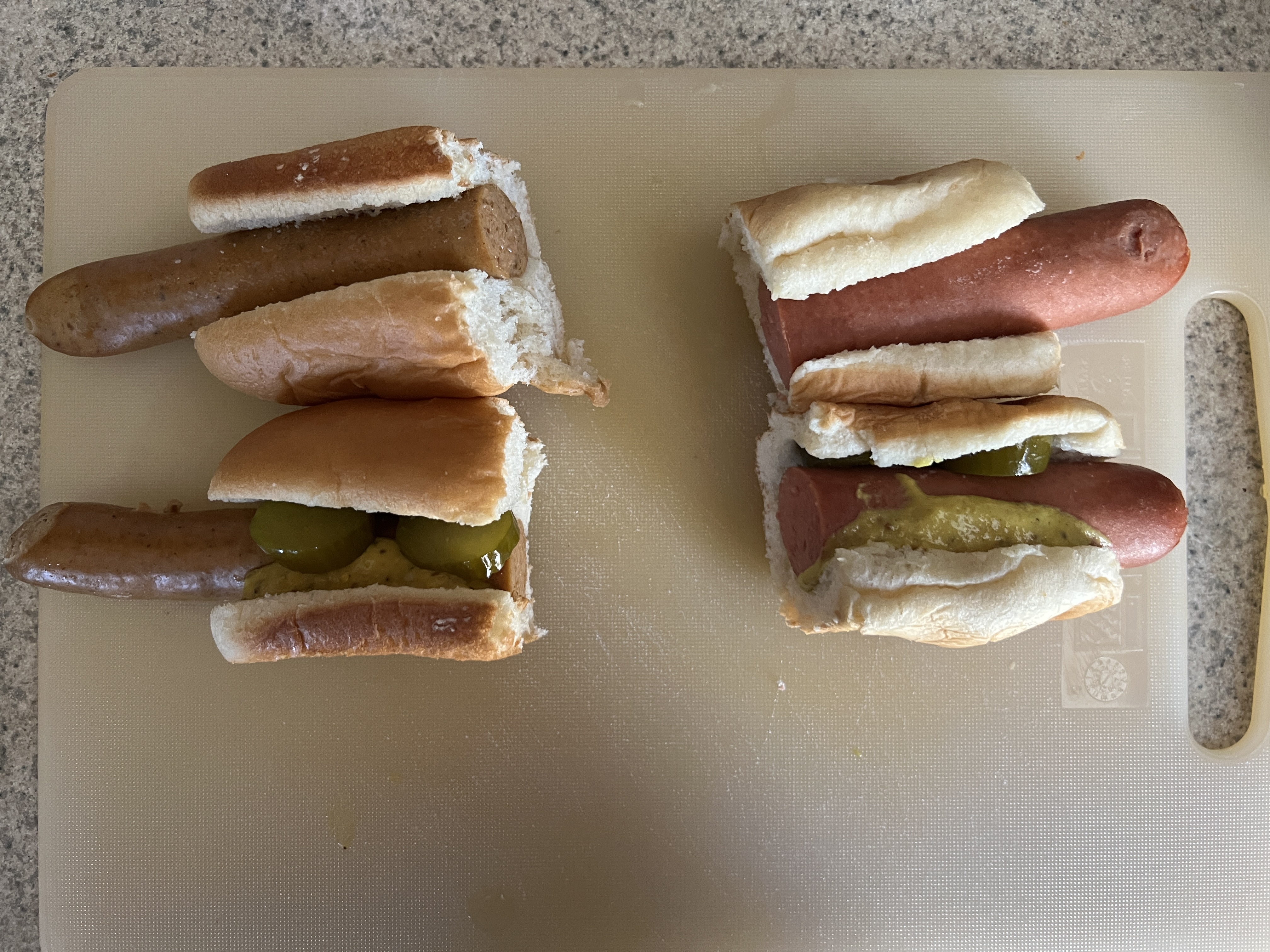 2. Taste 1 — Costco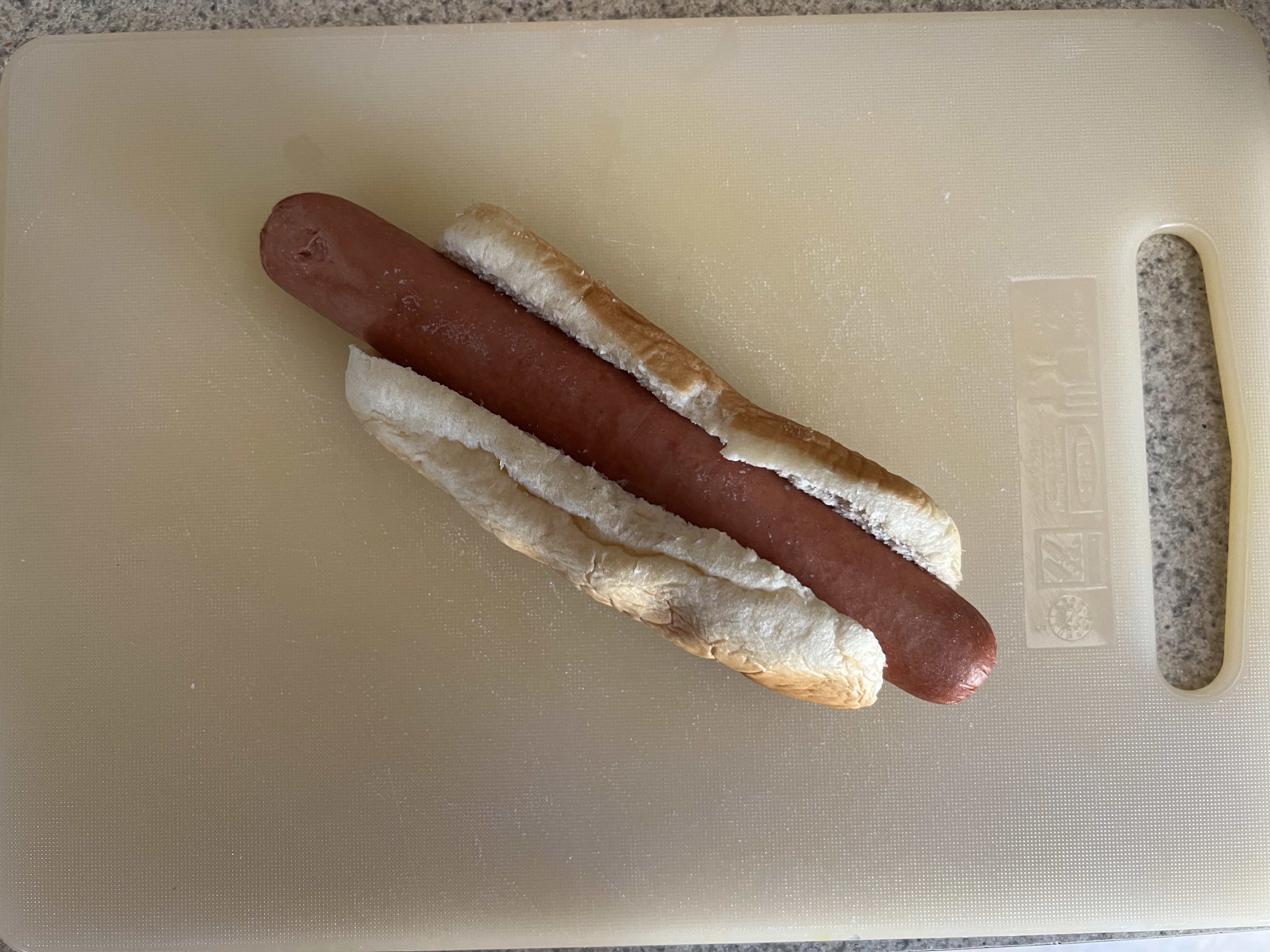 Tasting Notes (undressed):
From the jump, this is a classic hot dog. There's a mild snap, it's meaty, and it's moist. There's almost zero mealiness to the sausage. It's well-spiced with a hint of nutmeg and maybe some very mild white pepper next to a whisper of chili pepper.
It is very salty though. It's not a deal-breaker, but you need something to cut through the savoriness. One or two bites in and the saltiness almost overwhelms the whole thing, which is why this is ranked second.
Tasting Notes (dressed):
There we go. The spicy mustard and sharp vinegar of the pickle really cut through the saltiness of the sausage. It's very needed to make this enjoyable. I kind of wish there was ketchup involved to add a hint of sweetness to the big savory notes, but alas here we are.
The spice does hold up nicely to the toppings and you still get a nice and meaty sense of big hot dog energy.
Other Notes:
The family's consensus was that this tastes like a classic American hot dog. It's meaty, delicious, and filling (when dressed) but a little salty.
1. Taste 2 — Olympia Provisions
Tasting Notes (undressed):
This was all about the spices and meat involved in the dog's makeup. There's a real sense of a merguez sausage with cumin, chili pepper, and lamb gaminess. I like that … but … this doesn't taste anything like a classic hot dog, especially without toppings.
All of that said, there's an excellent snap to the casing, the sausage filling has a mild mealiness, and the overall taste is very European but not specifically so. In fact, it feels more French-Algerian than, say, German thanks to that spice profile and use of lamb. That said, this was perfectly spiced and seasoned with just the right touches of savory and sharpness to balance the gamey meatiness.
Tasting Notes (dressed):
The mustard worked really well with this sausage, but the pickles less so. The mustard added an acidic spiciness that cut through the bigger dark spicy notes of the sausage while the pickle kind of took away from it. It did add a nice textural element, but that wasn't enough to warrant the pickle being there.
Overall, this is such a well-constructed sausage that it just needs a little mustard to help it pop even more.
Other Notes:
The family consensus was that this tasted nothing like a classic hot dog (or a German one, though the form was correct). They landed on more Mediterranean/Northern African notes as well. In fact, it reminded them of a sausage I used to buy from a Turkish butcher, which is pretty spot on. That said, they did say this tasted really good, just not in a hot dog format.
"It didn't need the bun" was the main throughline of their review — which is about as European as you can get.
Part 2: Final Thoughts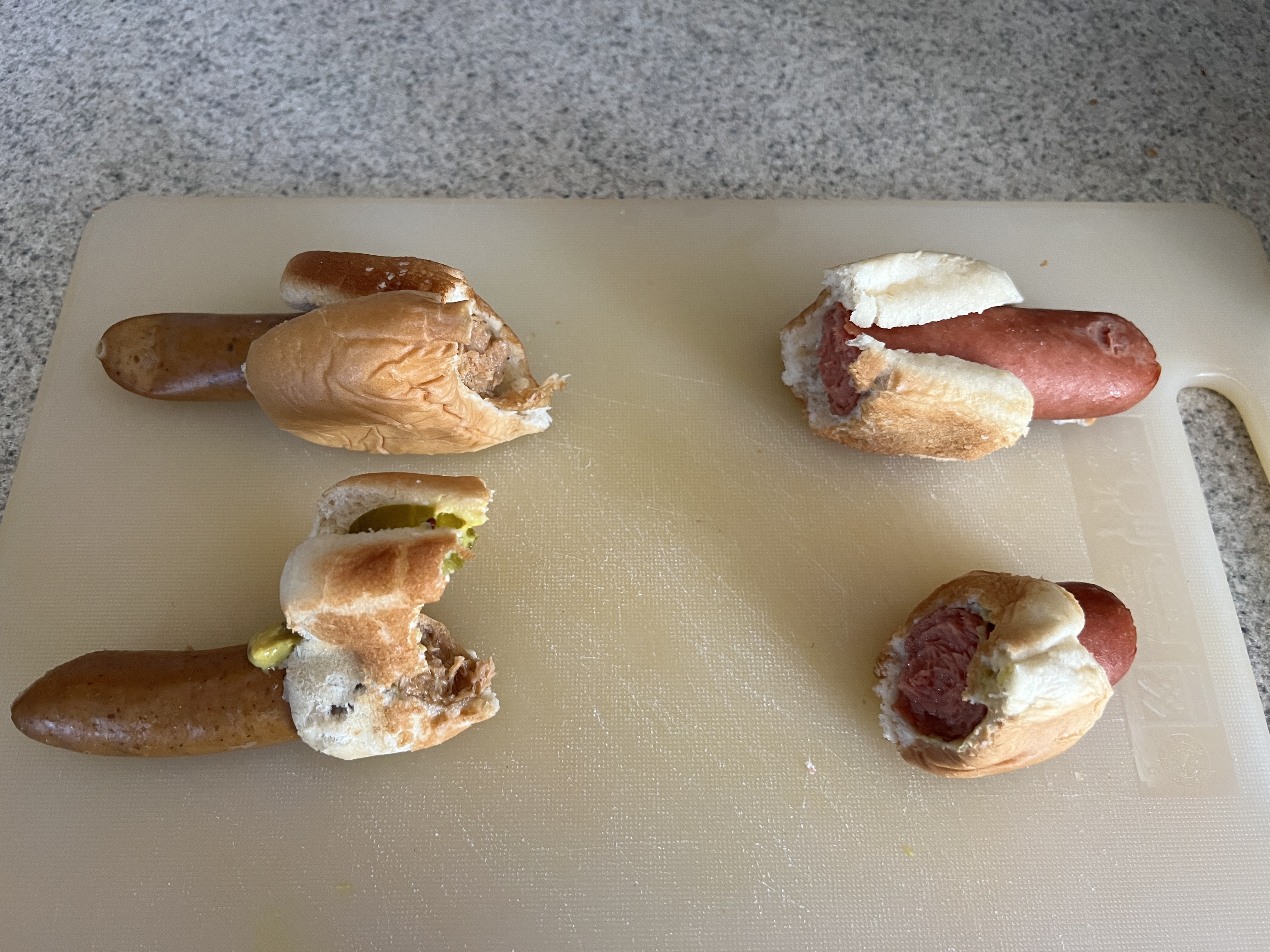 Olympia Provisions make a better sausage and it's not even close. They win this tasting for that alone. But it has to be said, if you're looking for a classic hot dog experience with that quintessential "big hot dog energy," then you have to go with Costco's dog.
My recommendation is to enjoy the Olympia Provisions Frankfurter like a true German — on a plate with mustard on the side for dipping. And if you're looking for a crowd-pleasing and meaty dog that you can slather in any topping, Costco is the play. But you'll need a lot of ketchup and mustard because them's some salty dogs.