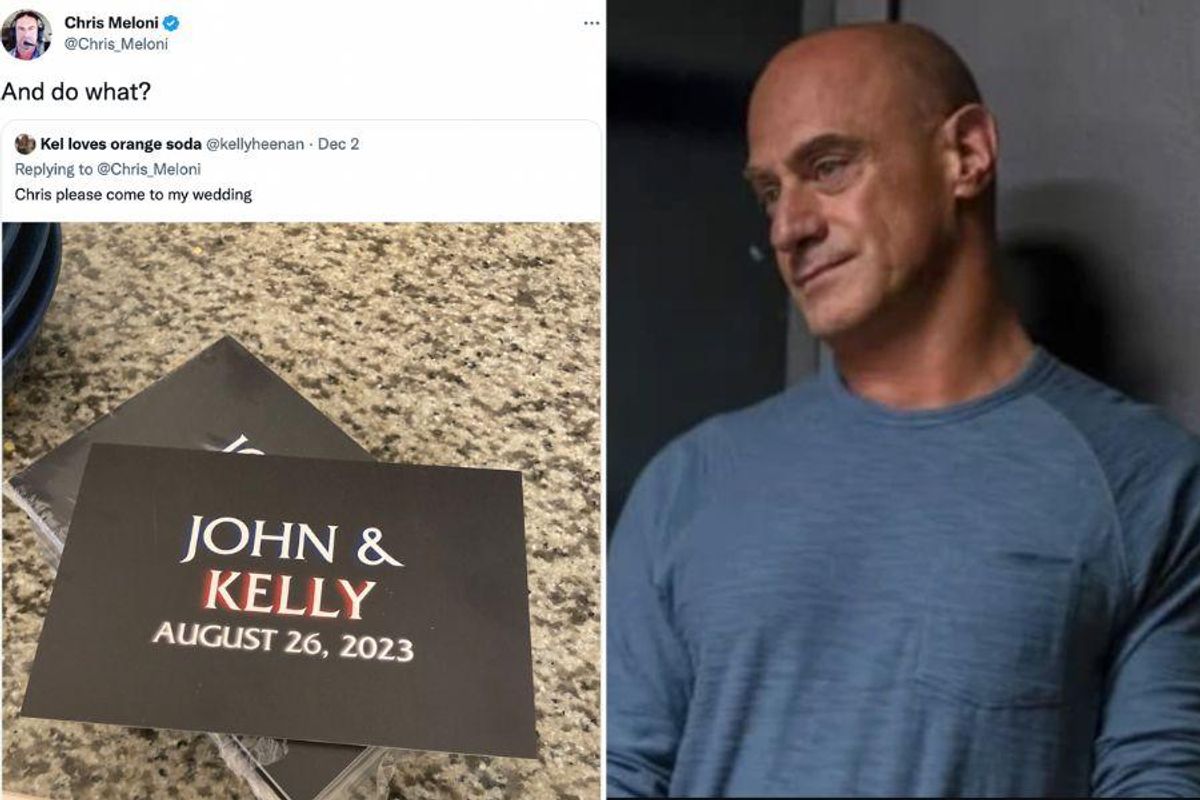 You may have heard of Christopher Meloni. You know, the actor who's starred in 12 seasons of a little show called "Law & Order: SVU"? Whose character was so popular he got his own spinoff show? The originator of the "zaddy" moniker? Yeah, that guy.
Well, it's no secret that the 61-year-old actor, and the show that put him on the map, has a loyal fan base. Recently, a couple, clearly dedicated to the show, decided to tie the knot with a series of "Law & Order"-themed wedding invitations. Naturally, they invited Detective Elliot Stabler himself.
"Chris, please come to my wedding," tweeted Kelly Heenan, the bride-to-be. Along with her request, she posted a photo of her wedding invitation, which was a spitting image of the show's iconic poster.
The couple's dedication apparently paid off, because Meloni replied with a simple "and do what?" This set off a hilarious slew of suggestions from fans, who knew exactly how to make the most of this proposed appearance.
---
Fellow crime show icon Rick Otto (of "Criminal Minds" and "The Wire") suggested that Meloni serve hors d'oeuvres. Why? It "could be fun" to have people wonder if the guy serving them was the real Stabler and "eat all the crab cakes you could desire." Obviously.
And do what? https://t.co/otK8I0mvpI

— Chris Meloni (@Chris_Meloni) December 4, 2022
"Intriguing," Meloni responded. Perhaps he's a fan of seafood.
Another wrote "just stand like this for a few hours," along with a candid image of Meloni stretching his legs (and inadvertently showcasing his backside) which had previously risen to meme status. To be clear, Meloni has a series of memes dedicated to his butt. Not just one. Multiple. It's something his kids allegedly make fun of him for at all times.
Just stand like this for a few hours pic.twitter.com/2jTUZPRDHX

— May Contain Nuts (Parody) (@Meek_Mitchy) December 4, 2022
"Can't have a wedding without serving cake," one person quipped. Have we made it clear that people are relentlessly thirsty for Meloni?
Many suggested that Meloni stay truer to his role in the show, and therefore solve a murder or arrest someone—possibly even the bride. Or kiss her. That was also a possibility.
Heenan did end up chiming in again, sharing that she "accidentally blew the budget on disco ball and peacock feathers," asking Meloni if he had a camera or box cake mix.
I accidentally blew the budget on disco balls and peacock feathers, so do you have a camera? Or a makeup kit? Box cake mix? pic.twitter.com/bXqcSZQQga

— Kel loves orange soda (@kellyheenan) December 4, 2022
She also shared a photo of the back of the couple's wedding, which paid intimate homage not only to the famous "Law and Order" font, but the words played at the beginning of each episode.
It read:
"In our social system the wedding of two people in love is considered especially joyous. In Saint Paul, Minnesota, two dedicated individuals will become members of an elite civil union known as Mr. and Mrs. John and Kelly Damask. This is their wedding date."
Though some could argue that Meloni never left the spotlight, the actor has noted his return to the franchise as a "second act" in his career, one that he is trying to savor every moment of. He noted in an interview with People that everything in his life, including the career renaissance, is even easier to appreciate after growing older.
"Age is a wondrous thing. You hope that with time you get a little wiser, get a little more patient and really come from a place of more maturity, which I translate to clarity and love," he told People. "And by love, it's not kumbaya, but a sense we're all in this together, we're all doing the best we can. It's a more refined way to operate."
Does all this mean Meloni will be attending that wedding? Guess we'll have to stay tuned to find out.
Dun dun!