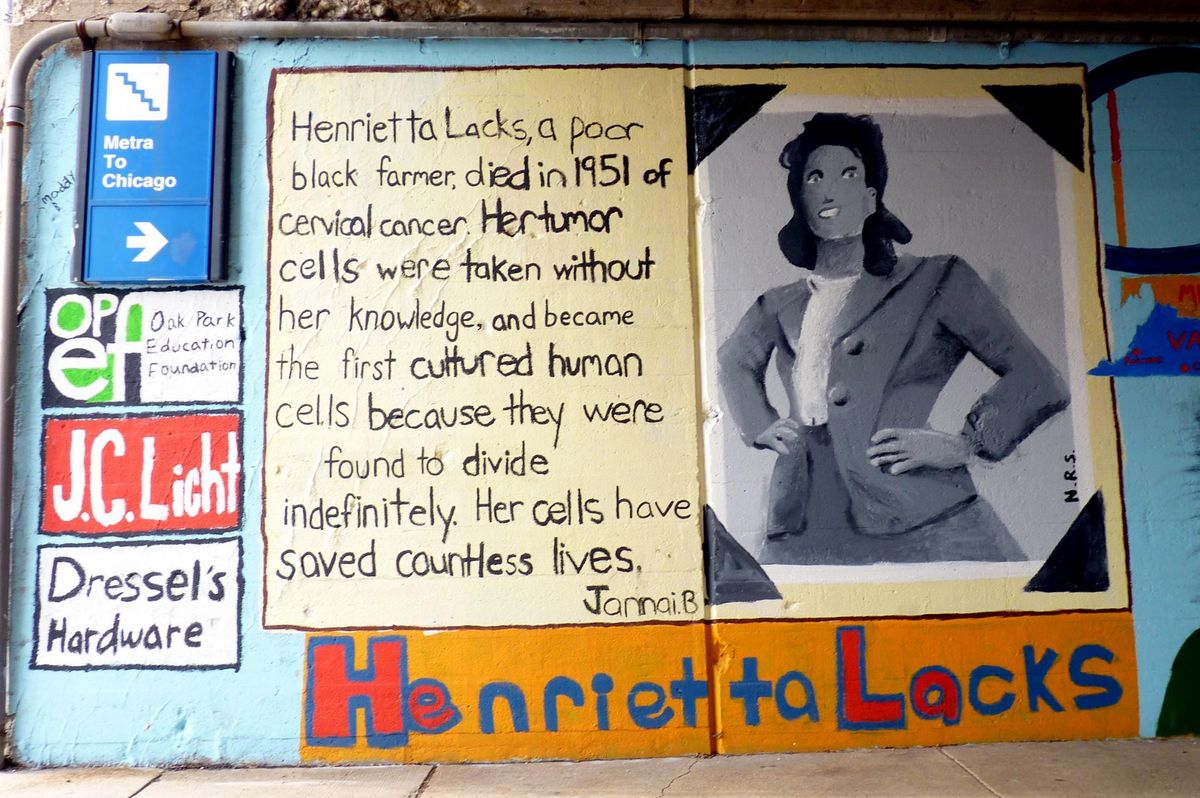 Lee Plaza in Roanoke, Virginia, was named for Robert E. Lee, and up until 2020, it was home to a monument to the famed Confederate general. In the racial justice protests of 2020, however, the monument was toppled and then removed. And in 2021, the city council voted to split the renaming of the plaza, with part becoming Freedom Plaza and the section where Lee's monument stood becoming Henrietta Lacks Plaza.
In a move that reflects the nation's ongoing reckoning with its racial history, a statue of Lacks will soon be erected in the city of her birth, right where the Lee monument stood. At an event at the site this week, artist Bryce Cobbs unveiled a full-sized rendering of Lacks, upon which the new statue will be designed.
Henrietta Lacks was a Black American woman and mother of five who was diagnosed with terminal cervical cancer in 1951. While she was being treated at The Johns Hopkins Hospital, a doctor snipped cells from her cervix without her knowledge or consent. Lacks died of the aggressive cancer at age 31, but her cells lived on … and on and on, much to the surprise of Dr. George Gey, the researcher who studied them.
---
Unlike other patients' cells, which had always quickly died in Gey's lab, Lacks' cells doubled every 20 to 24 hours. These "immortal" cells, nicknamed HeLa cells after Lacks' first and last name, changed modern medicine in huge ways. HeLa cells have been—and still are—used to study the effects of toxins, drugs, hormones and viruses on cancer cells, to test the effects of radiation and poisons, to develop vaccines (including the polio and COVID-19 vaccines) and to study the human genome.
The world owes Henrietta Lacks a huge debt of gratitude for the medical breakthroughs her cells have helped humanity accomplish. However, it's also important to acknowledge the injustice that her cells were used without her consent.
In attendance at the art unveiling event were a son and grandson of Henrietta Lacks, both of whom have worked to have her story told and honored. Her grandson Ron Lacks expressed his happiness at the Roanoke event that the plaza project involved the Lacks family and that the organizers of the project had approached them first. The statue design by sculptor Larry Bechtel is set to be unveiled in October 2023.
The replacing of a Confederate monument with a statue of a Black American who contributed to the advancement of humanity feels only fitting. While we can't right historical wrongs, we can at least acknowledge them and make sure the people we choose to celebrate with monuments are deserving of the honor.