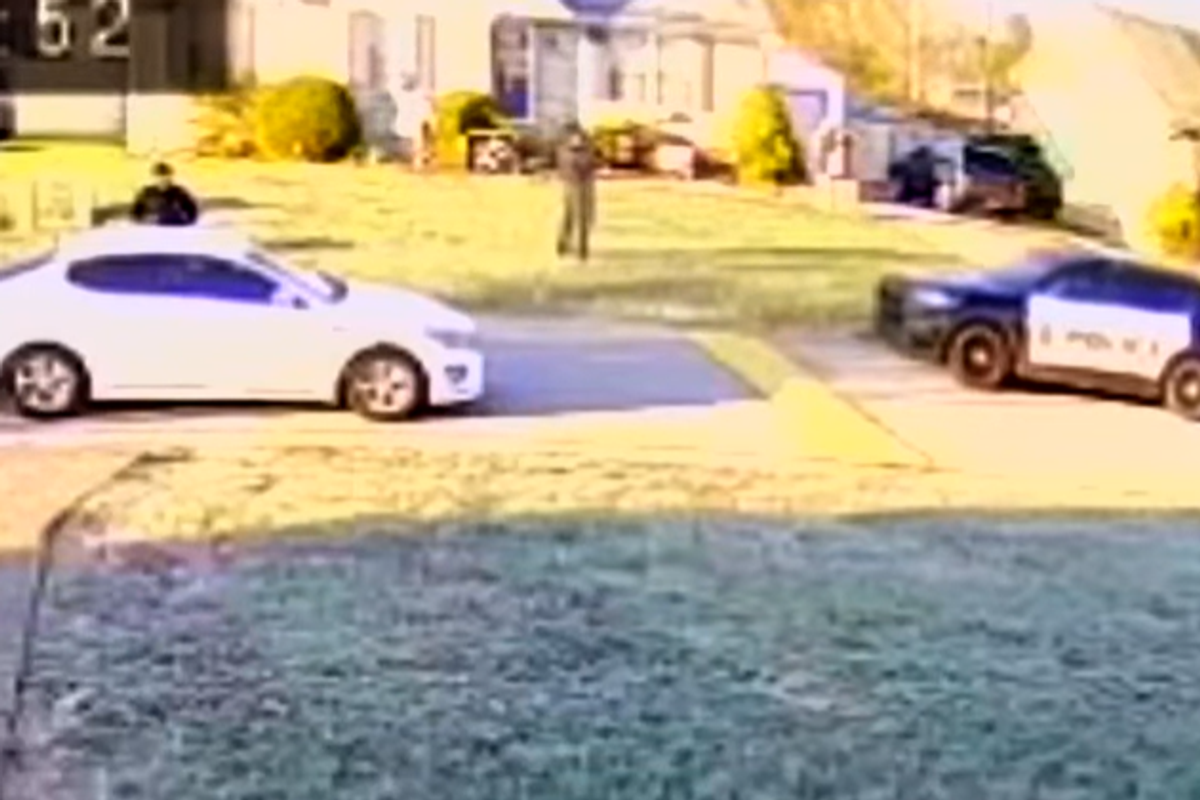 The Shepherdsville, Kentucky, police dispatcher's call to officers sounded serious. "We have a male standing outside," the dispatcher said, according to WDRB. "He is naked. He has a robe covering part of his body. He is exposing himself, and he has a hose between his legs."
However, when the police arrived at the home, they couldn't keep a straight face because it was clear that someone had mistaken a Christmas display featuring Cousin Eddie of "National Lampoon's Christmas Vacation" for an actual predator.
"Umm…it's gonna be 'Uncle Eddie,'" the responding officer told the dispatcher, after arriving on the scene and realizing that there wasn't any crime being committed. He was off on the name by a generation but that's fine. Eddie was an uncle to the Griswold children, Rusty and Audrey.
"Never a dull moment," Shepherdsville Police Chief Rick McCubbin told WDRB.
---
The display was a recreation of the scene in "Christmas Vacation" when Eddie, played by Randy Quaid, dumps the contents of his motorhome's bathroom into Clark Griswold's storm drain. The Cousin Eddie display featured a mannequin wearing a trooper hat and robe, with a cigar in his mouth and beer in his hand. Just like in the film, Cousin Eddie is holding a hose with toxic contents pouring out.
The display also recreates the infamous scene where a cat gets electrocuted in a Christmas tree lighting accident.
The display was created by Joni Keeney who felt the Cousin Eddie character was relatable to most people. "Everybody has a Cousin Eddie, in their family, everybody," Keeney explained. "I just want people to have a good Christmas and get a laugh," she said. "It's been a hit with the neighborhood."
Keeney even posed Eddie for a photo with a neighbor's Rottweiler, who looked a bit like his dog Snots.
Keeney's Christmas display is super clever because it highlights a character that everyone knows and loves although they're probably happy that he's not their relative.
One of the most epic "Christmas Vacation"-themed homes is in La Mirada, California, outside Los Angeles. More than 30,000 people a year stop by the Norton residence to see an elaborately decorated home that's a near-perfect recreation of the Griswold house.
And yes, it has a wonderful depiction of Cousin Eddie dumping the contents of his shi**er into the storm drain.
Just like the home in Shepherdsville, Kentucky, the display has been involved in legal activity. Last year, the City of La Mirada threatened the homeowners with fines for building an unpermitted fake second floor to more closely match the look of the Griswold home. However, after community backlash, the city backed down.
"They were worried about things happening at my house and pretty much we've got all that ironed out," the homeowner, Jeff Norton, told CBS.
As the saying goes, during the Christmas season you can either be a Griswold or you can be a Grinch. Cheers to the folks who are being Griswolds and celebrating the Christmas spirit by making the holiday as fun as possible. Tsk tsk to the people out there who being Grinchy by trying to take down Christmas decorations or worse, calling the police on them for having a little fun.