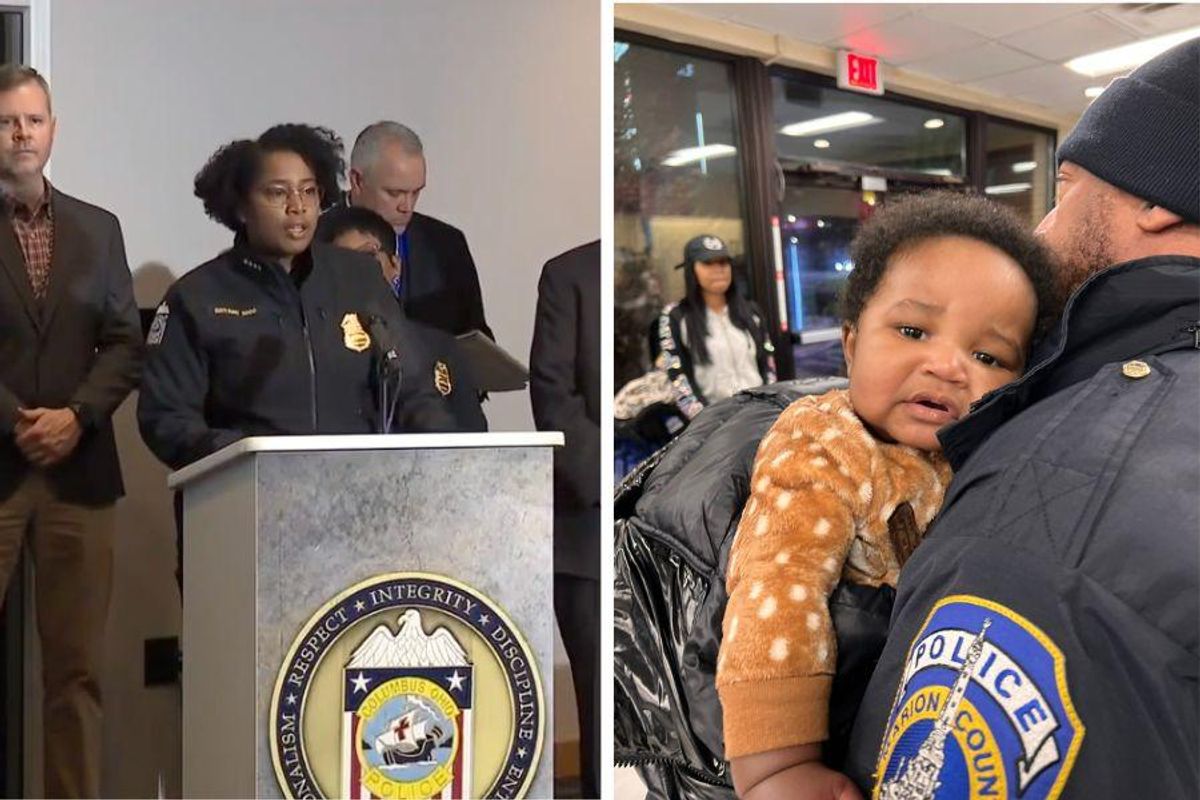 There's a prime market for crime documentaries and it's typically moms. This is totally based on personal observation and not hard data. Flexing your sleuthing skills on a case that's already solved and being aired on multiple networks is easy. Doing it when you're faced with a situation in real life is a bit harder and should likely be left up to the professionals.
But what happens when you're face to face with someone that is accused of kidnapping a baby? Well, two women in Indianapolis put on their detective hats when alarm bells went off after buying toys from a woman who was in front of a gas station. Shyann Delmar and Mecka Curry's hunch led them on a wild ride fit for a Lifetime movie.
December 19, Kason and Ky'air Thomas, 5-month-old twins were in the backseat of their mother's running car in Columbus, Ohio when she ran inside to pick up a Door Dash order. In the short amount of time it took her to retrieve the order and return to the car, Nalah Jackson had hopped in the vehicle and taken off with the boys inside.
---
Jackson left Ky'air at the Dayton International Airport the following morning but the hunt was still on for his twin brother Kason. When it comes to missing children, the clock is ticking immediately for a safe recovery. Unlike adult missing persons, the FBI steps in from the moment an Amber Alert is placed for children of "tender years," which is considered 12 and under. So there was no shortage of people looking for Kason and Jackson.
Delmar purchased toys from Jackson in front of an Indianapolis gas station and gave the woman, who claimed her name was "Mae" a ride to the dollar store when the woman began to act strangely, according to News5 Cleveland. Because the passenger began behaving in an odd manner, Delmar recorded her and exchanged numbers before dropping "Mae" off at the store.
u201cA photo is worth a thousand words. nnThe IMPD is thankful that Kason Thomas was found earlier this evening.nnWe would like to thank the IMPD Officers and Detectives who worked to track down the baby and suspect.nnWe would like to thank community members who helped in locating himu201d

— IMPD (@IMPD)
1671762288
Something felt off to Delmar and when she was surfing social media, she got her first clue. Delmar told News5 Cleveland, "I was scrolling on Facebook and saw a mugshot, of this girl with… blonde hair, and I'm like… she looks familiar." After her grandmother informed her that it was possible for the woman in the mugshot to be someone else, Delmar contacted her cousin Mecka Curry who ultimately helped find the child.
Once the two cousins started working together, they devised a plan to help have the woman apprehended. Since Delmar had exchanged numbers with the woman, when she called to ask if Delmar was interested in buying more toys, that's when the women's plan was set in motion. They were able to get the woman in the car but their attempts to alert the police resulted in them getting the runaround as the police stations didn't believe them.
Eventually someone listened, Curry told New5 Cleveland, "Now the police know what kind of car we in, the police know who we got in the car, the police know what to do, they know where our location is," and the plan worked. They got pulled over with Jackson being none the wiser on who alerted the police as she was being apprehended. But the baby wasn't with Jackson so the cousins went off of their only clue.
Jackson dropped a bus schedule in the backseat of Delmar's car so the ladies retraced the stops on the schedule looking for a snow covered vehicle that had not been touched. The idea was, if Jackson abandoned the car, it would be covered in fresh snow. They were right. The two saw the abandoned car and looking in the window they saw Kason's legs. He was rescued just in the nick of time because Indianapolis was supposed to reach sub zero temperatures that night.
Of course the family is beyond grateful that these ladies didn't ignore their intuition and wouldn't stop until they followed their gut completely. Kason made it home just in time for Christmas to be reunited with his twin brother and both of his parents.
Watch his family's reaction to this incredible rescue below: