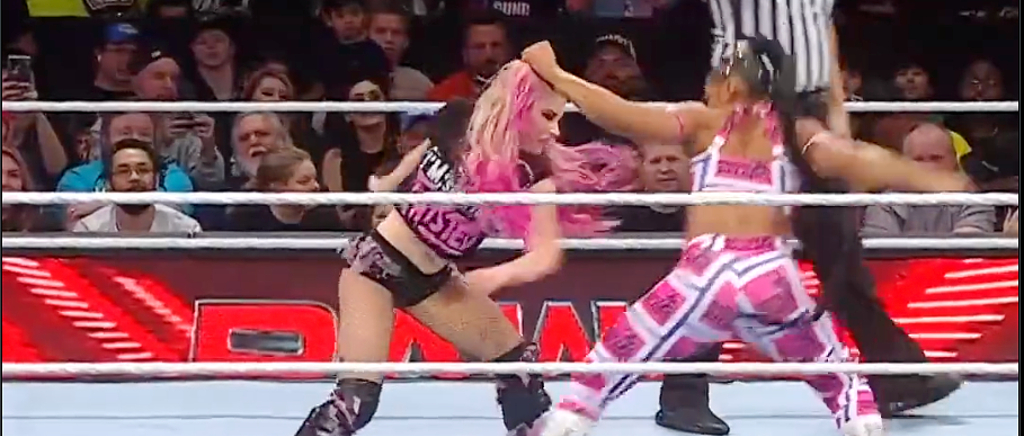 Bianca Belair and Alexa Bliss fought for the Raw Women's Championship title on this week's episode of Monday Night Raw, and some fans noticed that some portions of the match looked oddly familiar.
That's because Belair and Bliss decided to take their match and become legends on social media for doing a shot for shot recreation of the Scary Movie 3 fight scene between Regina Hall and the girl from The Ring. It was something fans had joked about online and Bliss and Belair decided to bring it to life and did so with startling precision, as you can see in these clips that put the match on top of the scene from the movie.
I AM SCREAMING #WWERAW pic.twitter.com/yVlrhUtoyp

— Vin  (@WhoisVindictive) January 3, 2023
They are so unserious #WWERaw pic.twitter.com/Wclw5Ll4ZP

— Vin  (@WhoisVindictive) January 3, 2023
This is art of the highest form, and what's great is the vast majority of the audience had no idea they were just going move for move out of a fight scene from a 2003 spoof comedy. Thankfully, plenty of folks on the internet caught what they were doing and made sure we could all enjoy how they painstakingly crafted this match to go along with the Scary Movie 3 scene. Belair retained her title after Bliss got DQ'd and hopefully when they meet again in the ring they will find a new 20-year-old movie to inspire their moves.