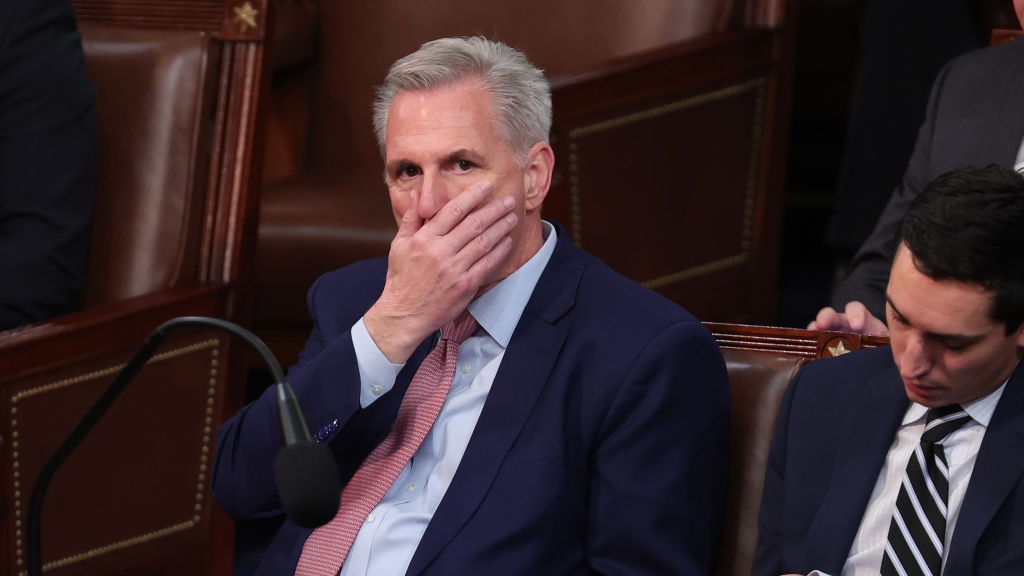 By the time you're actually reading these words, Kevin McCarthy could be the new Speaker of the House. Or Hakeem Jeffries could be. Or your sister's boyfriend's mother's cousin's dog walker's gerbil could have assumed the role. At the time of publication, the House of Representatives is about to start a third round of voting to name the person who will succeed Nancy Pelosi as Republicans take control of the House. Or not.
January 3, 2023 will go down as a strange day in government history. Apparent shyster George Santos — who is under criminal investigation for lying about his entire life and in trouble with authorities in Brazil for writing bad checks to a clothing store for some new threads when he was 19 — is set to be sworn in as a New York congressman. And that's not even the wild part! For the first time in 100 years, according to ABC News, the House will need to hold multiple votes to determine the new Speaker of the House.
When the GOP flipped the House in November, it seemed a foregone conclusion that House Minority Leader McCarthy would simply slide into the House Majority Leader position (in a desperate bid to win the vote, he even promised to give Marjorie Taylor Greene some actual power). But not everyone on his side of the aisle agreed.
In late November, McCarthy himself warned his fellow Republicans that "if we play games," Democrats could end up picking the new speaker. (The Dems' choice? New York congressman Hakeem Jeffries.) That might have done more harm than good.
Ahead of the vote, Texas congressman Dan Crenshaw attempted to lay down the law when he told CNN that any Republicans who refused to vote for McCarthy "are the enemies now." That didn't scare anyone either.
BREAKING: Dan Crenshaw says of Republicans who don't support Kevin McCarthy: "they are the enemies now" and discusses how he and Kevin McCarthy will ruin their careers. https://t.co/XuKtG5dFG0

— Ben Meiselas (@meiselasb) January 3, 2023
Despite that stern warning, in the first round of voting a total of 19 Republicans refused to vote for McCarthy; 10 of those votes went to Andy Biggs, six to Jim Jordan, and Jim Banks, Lee Zeldin, and Byron Donalds each received one vote apiece.
All told, as The Hill reported, Jeffries received more votes than McCarthy in the first go-around. So they went at it again — but chaos is still reigning thanks to "Never Kevins" like Matt Gaetz, who voted for Jordan, who voted for McCarthy.
Matt Gaetz just nominated Jim Jordan for Speaker who just nominated Kevin McCarthy.

You can't make this up.

— Ritchie Torres (@RitchieTorres) January 3, 2023
Again, Jeffries collected more votes in round two than McCarthy did — but not enough to claim a victory. So now they're ready to try it again and see whether the third time really is the charm — and if so, for whom? The last time multiple votes were needed was in 1923, when these political shenanigans went on for two days and required nine separate votes.
Ultimately, the GOP may only have one option…
McCarthy doesn't have the votes.
Scalise doesn't have the votes.
Biggs doesn't have the votes.

There's only one man who can truly unite the Republican Party…

Neurosurgeon, Nobel Prize winner, and WWII hero GEORGE SANTOS.

— Jackson Boaz (@jacksonboaz_) January 3, 2023