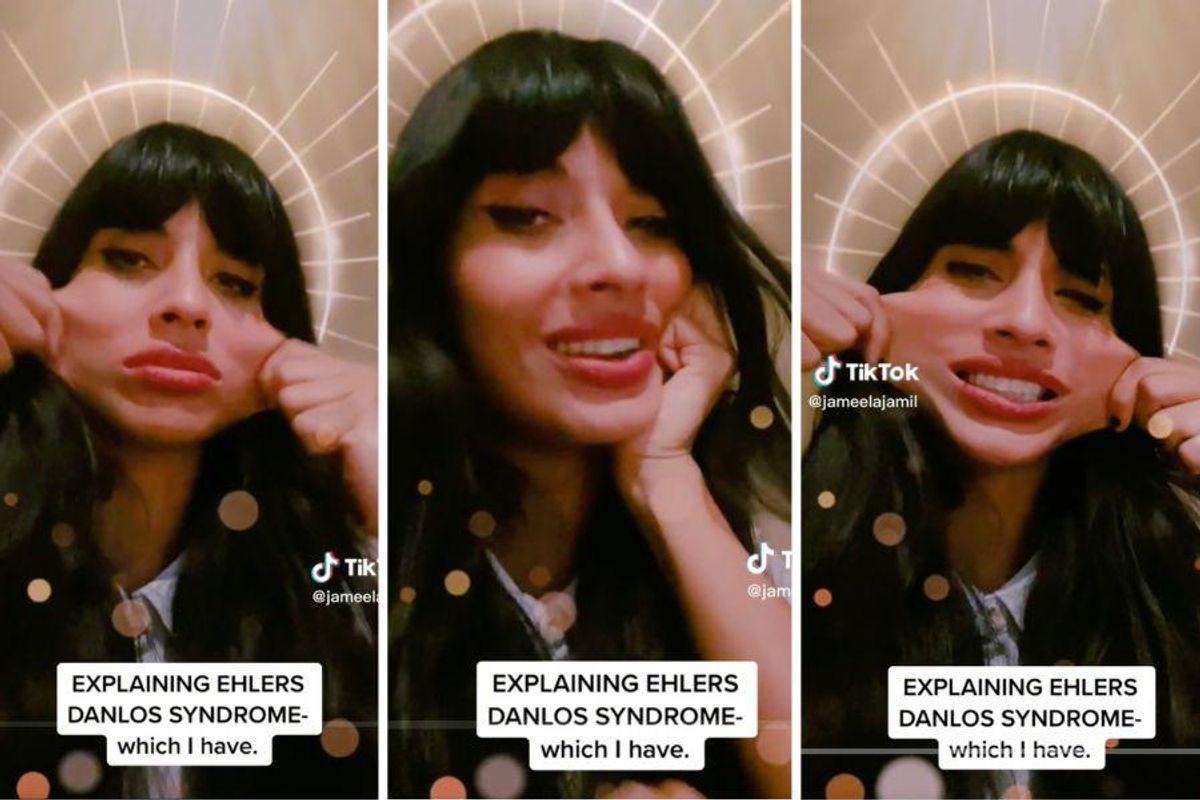 Jameela Jamil might be best known for acting roles on shows like "The Good Place" and "She-Hulk," but she has made a secondary name for herself as an outspoken advocate on social media. Though she touches on a wide range of civil rights issues, health is often a major theme.
Recently, Jamil used her platform to discuss her Ehlers-Danlos syndrome (EDS)—a group of inherited disorders that affects connective tissue, primarily the skin, joints and blood vessel walls. While very rare, EDS causes significant problems, especially for those without a proper diagnosis.
In a video posted to TikTok, Jamil is seen stretching out her cheeks while quipping, "Jesus Christ, that is not an app, that is not a filter, that is just my face. Look how elastic that is." This stretchiness, she explains, is a symptom of EDS.
---
Technically, Jamil has hEDS, which makes her hypermobile. Bending her elbow backwards, she noted that "nothing bends the right way."
Though she joked that "yes, that is very sexy, thanks for asking," her post was a genuine attempt to raise awareness on EDS's more severe effects. "It's a really serious condition and it impacts every single part of your body, and even your mind."
No kidding. Jamil listed that it causes major bleeding, bruising, clumsiness, joint swelling and dislocation, gut issues, fainting and migraines, and that it severely complicates wound healing, childbirth and dental work, and that those with EDS are predisposed to neurodivergence and mast cell activation syndrome (MCAS), which she said leads to "random allergies that just come and go for no reason."
Having received a diagnosis at the age of 9, Jamil was able to avoid things that could put her at a further risk. For example, she never pursued contact sports, doesn't smoke, drink or do drugs, and carries an EpiPen with her everywhere she goes.
But for others, going through life with undiagnosed EDS is, as she put it, "dangerous," especially as those with it might appear very healthy or to have symptoms related to other conditions.
In her caption, Jamil added that she hadn't talked much about her condition due to being made fun of for her other health issues, which made her "suicidal for a while." However, she wrote, "I'm done not talking to the people who MATTER about this hugely important subject because a bunch of people lucky to have good health, have no souls. Let's raise awareness on this subject together, and save some motherfucking lives!"
Clearly her candidness is doing just that. One person on Instagram shared, "I have hEDS too! And I got diagnosed because of something you posted a couple of years ago and it joined the dots on all of my various ailments. Thank you !! Without you mentioning it, I would have never fully understood myself."
Because it can affect the entire body, EDS is very hard to diagnose. But Jamil recommends going to a rheumatologist or geneticist. Though there is no cure, there are treatments available to manage symptoms and avoid further issues.