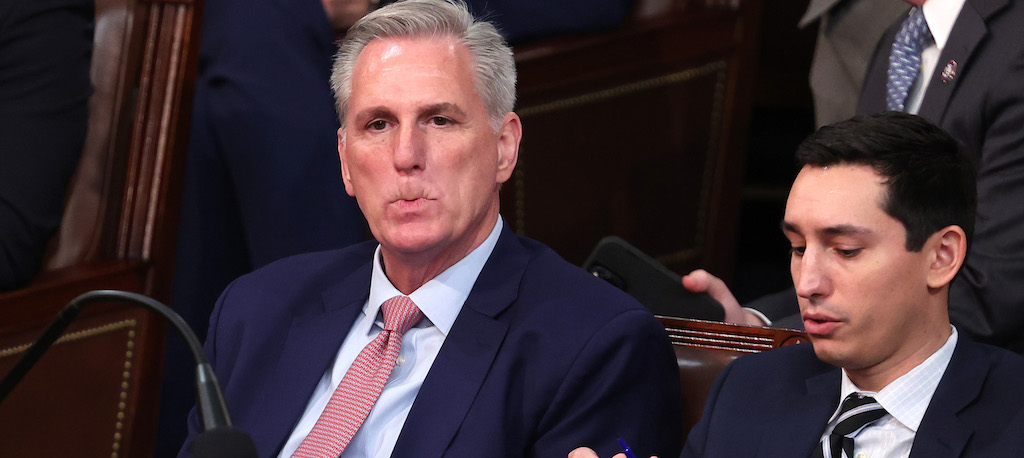 For the last two years, Kevin McCarthy has refused to condemn the MAGA wing of the Republican Party. Surely he thought appeasing them would lead to him becoming Speaker of the House. But on Tuesday, during the first day of the narrowly GOP-controlled chamber, his dreams came to naught. Three separate votes were held to see who would clinch the needed votes to get the job. And just as he feared, three separate times he came up short.
As per The Associated Press, McCarthy, who has been the House Minority Leader since 2019, needs 218 votes to succeed the departing Nancy Pelosi. As a small but pivotal cadre of Trumpy Republicans vowed to block his ascent, McCarthy himself warned that if they "play games" they may wind up handing the House to the Democrats, who had nominated New York congressman Hakeem Jeffries.
They did not listen. In the first round of voting, 19 Republicans refused to vote for McCarthy. He even got fewer votes than Jeffries, who, again, is a Democrat. By round two, McCarthy had only received 203 votes — again, fewer than Jeffries, who still didn't get the magic 218. A third vote was even worse, with McCarthy losing another 20 votes. Eventually everyone called it a day and agreed to try again Wednesday.
It's a historic occurrence. Indeed, the last time a Speaker of the House wasn't voted in on the first ballot was 100 years ago, in 1923, when it took nine votes to find one. That's still not as bad as 1856, when Congress was stalled for a whopping two months.
McCarthy could still nab the gig. Or maybe Jeffries will get it. Jim Jordan, the wackadoodle MAGA maniac, is one of the nominees and in the third ballot he received 30 votes — a good sign that he's not going to get the job. In the meantime, many pointed out that by not snuffing out the extremist parts of his party, McCarthy sold his soul for nothin'.
Kevin McCarthy will never be speaker, and his kissing Trumps ass will have been for nothing.

What a pathetic and shameless loser.

— Justin Horwitz (@JustinAHorwitz) January 3, 2023
There were jokes about alleged 2020 voter fraud.
It is pretty funny to watch a party whose whole platform is "the election was rigged!" unable to elect its own leader

— Ben Wexler (@mrbenwexler) January 3, 2023
McCarthy is so desperate that he's about to call Brad Raffensperger asking him to find him 15 more votes.

— Elie Mystal (@ElieNYC) January 3, 2023
Kevin McCarthy just lost 3 votes in the same room where he voted to throw out yours.

— John Fugelsang (@JohnFugelsang) January 3, 2023
But it was clear to some that McCarthy is one of the least liked people in Congress, appealing to no one.
EVERYONE hates Kevin McCarthy.

Democrats, moderate Republicans, and independents hate him for supporting Trump's January 6 insurrection.

Trump Republicans hate him for not supporting the insurrection enough.

— Tristan Snell (@TristanSnell) January 3, 2023
McCarthy had reportedly already moved some of his stuff into Pelosi's old office, which may have proven premature.
Are McCarthy's suitcases and personal effects being thrown out of the Speaker's office yet?
Was tone deaf for him to move in prematurely.

— Michael Beschloss (@BeschlossDC) January 3, 2023
There was a lot of schadenfreude for McCarthy.
everytime mccarthy loses a vote they should play the curb your enthusiasm theme

— b-boy bouiebaisse (@jbouie) January 3, 2023
And for House Republicans in general, who are now in disarray.
The House has adjourned until noon tomorrow after Kevin McCarthy failed on the third round of voting to gain enough votes for Speaker.

Tune in tomorrow for the next episode of 'As the Clownshow Burns'.#GOPClownShow pic.twitter.com/34waqrPaUg

— Muskrat McRatfucker needs to resign as CEO  (@christoq) January 3, 2023
(Via The AP)