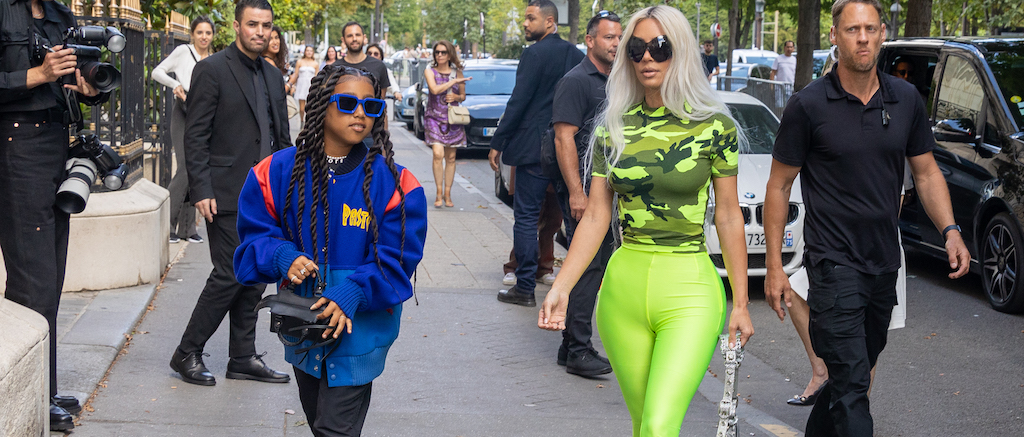 Kanye West is gonna hate, hate, hate, hate, hate this. Nearly a year ago, Ye proclaimed that Kim Kardashian, his ex-wife, and North West, their nine-year-old daughter, have a joint TikTok account "against my will." Kardashian more recently opened up about the presumably impossible task of co-parenting with Ye, calling it "really f*cking hard," so she deserves to dance on TikTok with her daughter.
But it's not just that Kardashian and North posted another harmless TikTok for their 12.1 million followers. This time, they're dancing to "Shake It Off" by noted Ye nemesis Taylor Swift, from the infamous 2009 VMAs interruption to the leaked call about Ye's "Famous" that played some role in fueling Swift's 2017 Reputation era.
In the 55-second video, Kardashian and North perform a choreographed dance and lip-sync of "Shake It Off," wearing matching white outfits in an all-white room.
Last month, a five-year lawsuit against Swift over "Shake It Off" was dismissed after an agreement was reached between Swift and the songwriters alleging copyright infringement (as reported by Billboard). Swifties immediately started speculating over whether that was the final roadblock Swift needed to clear before re-recording 1989, the 2014 album that marked her official transformation into full-blown pop star.
Since the release of Swift's record-breaking October album Midnights, however, all signs point toward Speak Now as the next album to get the "Taylor's Version" treatment.