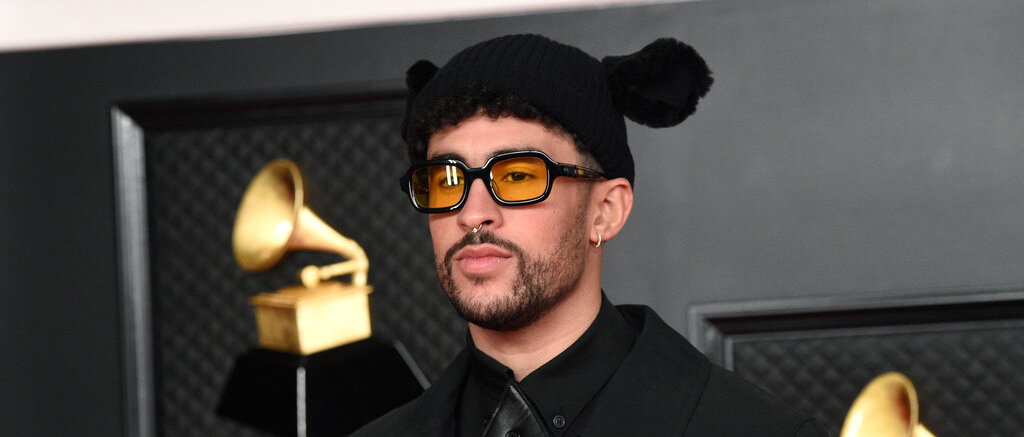 International star Bad Bunny's music was inescapable last year. His breakout album Un Verano Sin Ti earned the Puerto Rico native Apple Music's Artist Of The Yearear title and Spotify Wrapped's most-streamed artist. If that wasn't enough, many predict Bunny will make history at this year's Grammy Awards as he is nominated for Album Of The Year. But with all of the success, controversy is sure to follow.
First, some of the Latin trap rapper's fans were duped out of concert tickets for his show in Mexico City. Second, his fans' admiration for him has become too much for him to handle. While visiting the Dominican Republic, the musician was displeased by locals violating his personal space with cell phones. In a viral clip, Bunny is seen tossing a fan's phone into the nearby water while going for a stroll on the street. During the same visit, another clip surfaced of him destroying a fan's phone inside a club.
Now, fans have realized that it looks like The Simpsons, as it often does, predicted this.
In 2021, The Simpsons and Bad Bunny collaborated for the music star's "Te Deseo Lo Mejor" video, in which Bunny enters the Simpsons universe. In the clip, an animated Bunny breaks Homer's cell phone. While his actions in the clip helped Homer get back on wife Marge's good side, in real life, Dominicans aren't at all happy with him after he released a statement saying, "The people who come up to me to say hello, to tell me something, or just to meet me, will always receive my attention and respect. Those who come to put a f*cking phone in my face I will consider it for what it is, a lack of respect, and I will treat it likewise."
The Simpson's creative team's gift of prophecy may seem like a joke, but to some, it is more accurate than you think. The show foreshadowed Richard Branson's space trip, Donald Trump's presidency, and Las Vegas Monorail's bankruptcy years ahead of time.
Revisit the full "Te Deseo Lo Mejor" video below.