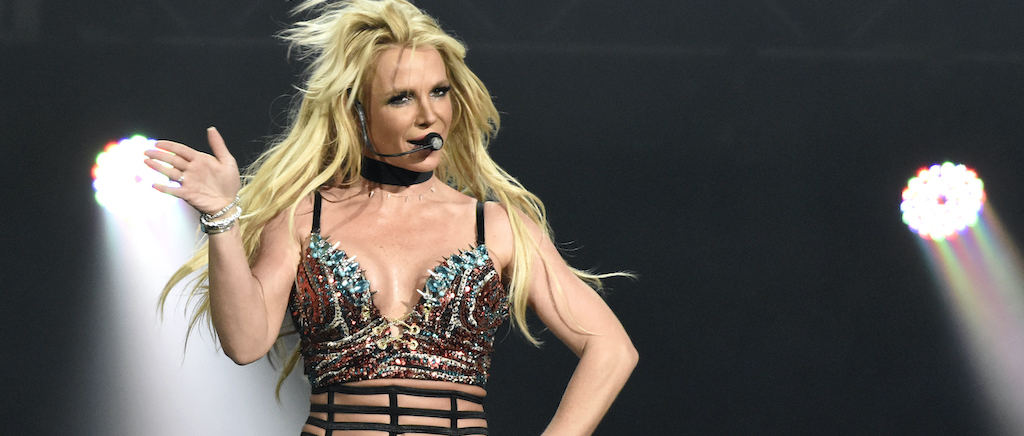 Britney Spears can do it all. Even bring back the dead… Sort of. The pop star's hit song, "Toxic," got the remix treatment with an Elvis classic to create the mashup, "Toxic Las Vegas: Jamieson Shaw Remix." While the song appears in Baz Luhrmann's 2022 film, Elvis, it had yet to see an official release.
"I Love Brit Brit and I love 'Toxic'… but when you're doing that kind of pop, you're just in a bubble," Luhrmann previously said of the mashup decision during an interview with Entertainment.ie. "And that bubble will break, as it does for Elvis."
Spears herself even has paid homage to Elvis in the past, as she channeled his iconic white jumpsuit for promoting her 2001 Live From Las Vegas special.
Presley's birthday would be this Sunday. So, in spirit, the remix is part of a large-scale tribute package.
In addition, Elvis will be screened for free across North America — and is available to stream on HBO Max, in case you don't feel like leaving your house. The streaming platform is honoring the King by dropping a 30-minute behind-the-scenes special, Just A Boy From Tupelo: Bringing Elvis To The Big Screen.
Last but certainly not least, Elvis' Graceland home is hosting four days of fun events, including "The Making Of Elvis" exhibition that lets fans see costumes and other gear from Luhrmann's blockbuster film.
Listen to Britney Spears and Elvis join forces on the "Toxic Las Vegas: Jamieson Shaw Remix" above.