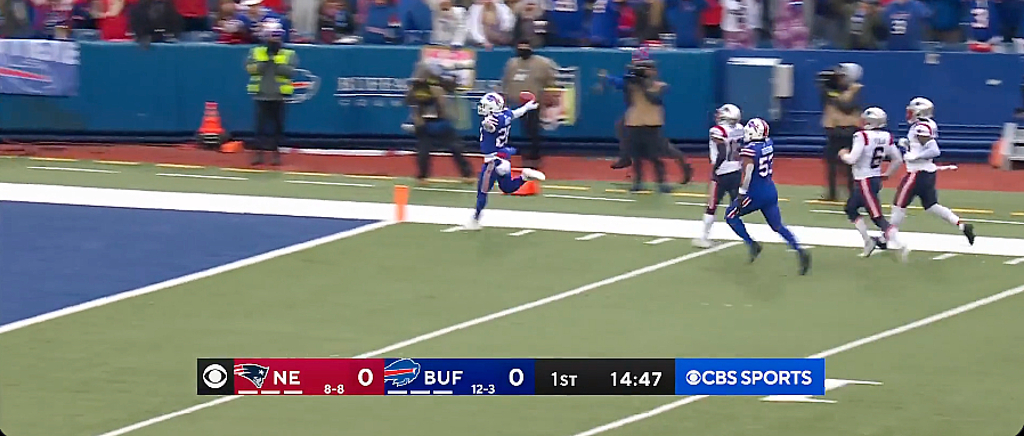 No NFL team has ever had to deal with the emotions the Buffalo Bills have this week after seeing Damar Hamlin collapse on the field in Cincinnati, requiring CPR on the field to restore his heartbeat. After that game was cancelled, the Bills were solely focused on the health of their teammate, waiting and praying for some kind of positive update after the terrifying scene on Monday night.
Happily, those positive updates came rolling in late this week, as Hamlin improved dramatically, first starting to show signs of being neurologically intact, then being able to ask who won the game, and eventually having his breathing tube removed so he could FaceTime with his teammates this weekend and post updates on social media. All of that built up to an unbelievable atmosphere in Orchard Park, NY for the Bills' Week 18 game against the Patriots on Sunday, where the 2-seed would be theirs with a win, but more importantly they could pay tribute to and celebrate the positive updates on Damar Hamlin.
The team all had patches with Hamlin's No. 3 on their uniforms, and the stadium erupted before the game to give a standing ovation when asked to show Hamlin how much he is loved in Buffalo.
#LoveForDamar | #ForDamar pic.twitter.com/c0fH6RFRf2

— Buffalo Bills (@BuffaloBills) January 8, 2023
After all of that, it was time for kickoff, which produced an all-time moment when Nyheim Hines took the opening kick all the way for a touchdown, sending the Bills crowd (and Hamlin watching from the hospital) into a frenzy.
The @BuffaloBills return the opening kick. You couldn't write this script.

: #NEvsBUF on CBS
: Stream on NFL+ https://t.co/Zuxd3911Wt pic.twitter.com/8SexEVXpTN

— NFL (@NFL) January 8, 2023
It's as cool a moment as you can get in sports, and an incredible way for the game to start. The Bills sideline was almost in disbelief at what Hines had pulled off given the moment and the emotion was overwhelming, as Hamlin was still very clearly front of mind for all of his teammates.