Meditating more is a goal I seem to make for myself every year, and every year life inevitably gets in the way of a solid practice. While we are all surely aware of the benefits of meditation and breathwork – stress relief, increased focus, lower heart rate and blood pressure – it can be difficult to create a habit that sticks.
But as interest in meditation and breathwork has grown worldwide, the market for apps that guide through the process has skyrocketed. Bringing accountability, guidance, and authority, these apps aim to help us stick to our mindfulness goals long term. James Clear, the bestselling author of Atomic Habits, stresses that in order for behaviors to change, one of the rules for the new behavior is that it must be easy. And what's easier than opening up an app on your phone?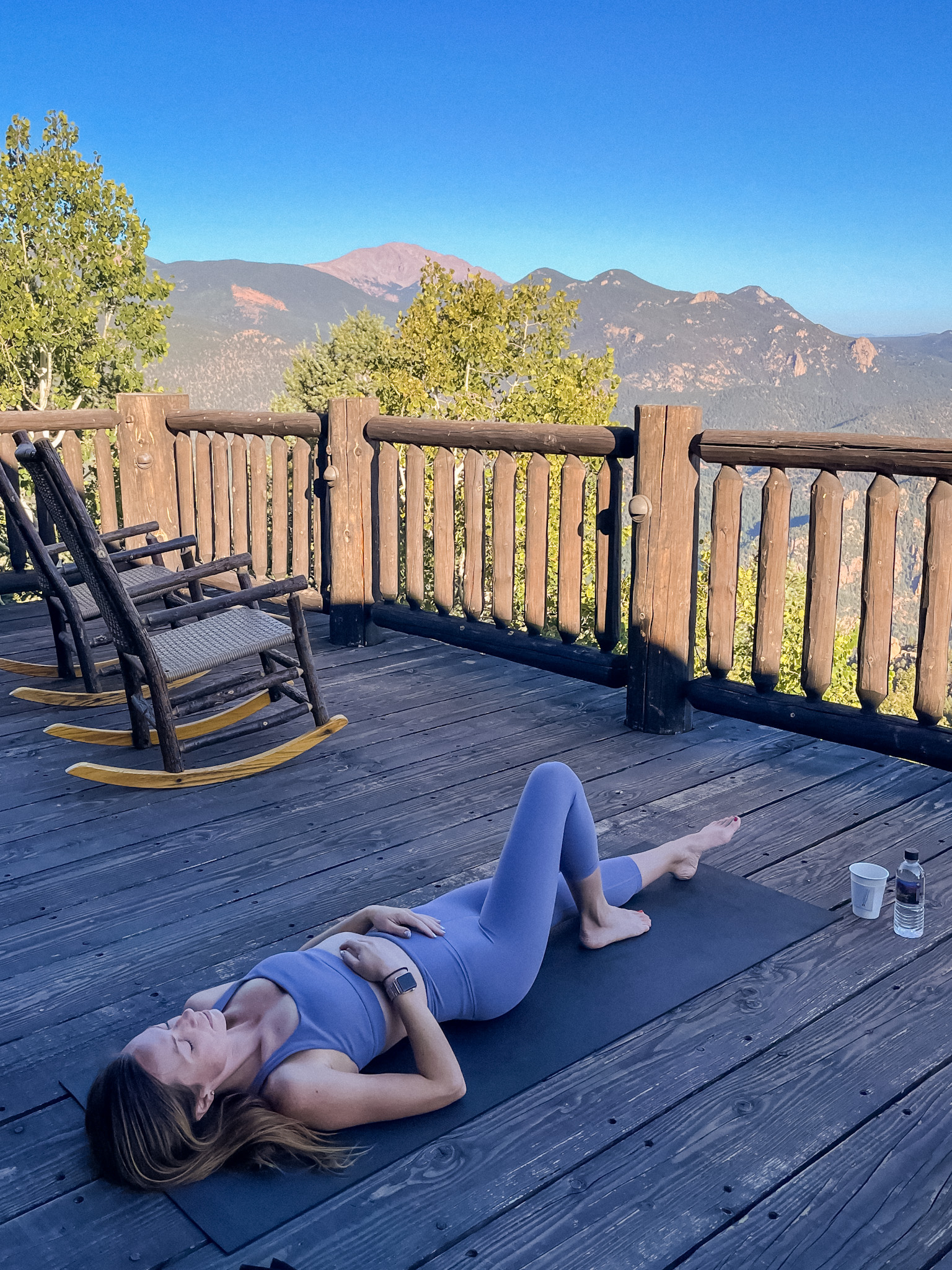 So where to begin? There are seemingly endless apps to choose from – all promising the same results of consistent practice, with different methods and interfaces. In 2023 there is truly an app for everyone. We tested some of the most popular on the market, and recommend these to start your year strong:
FOR THE "KEEP IT SIMPLE" CROWD — Insight Timer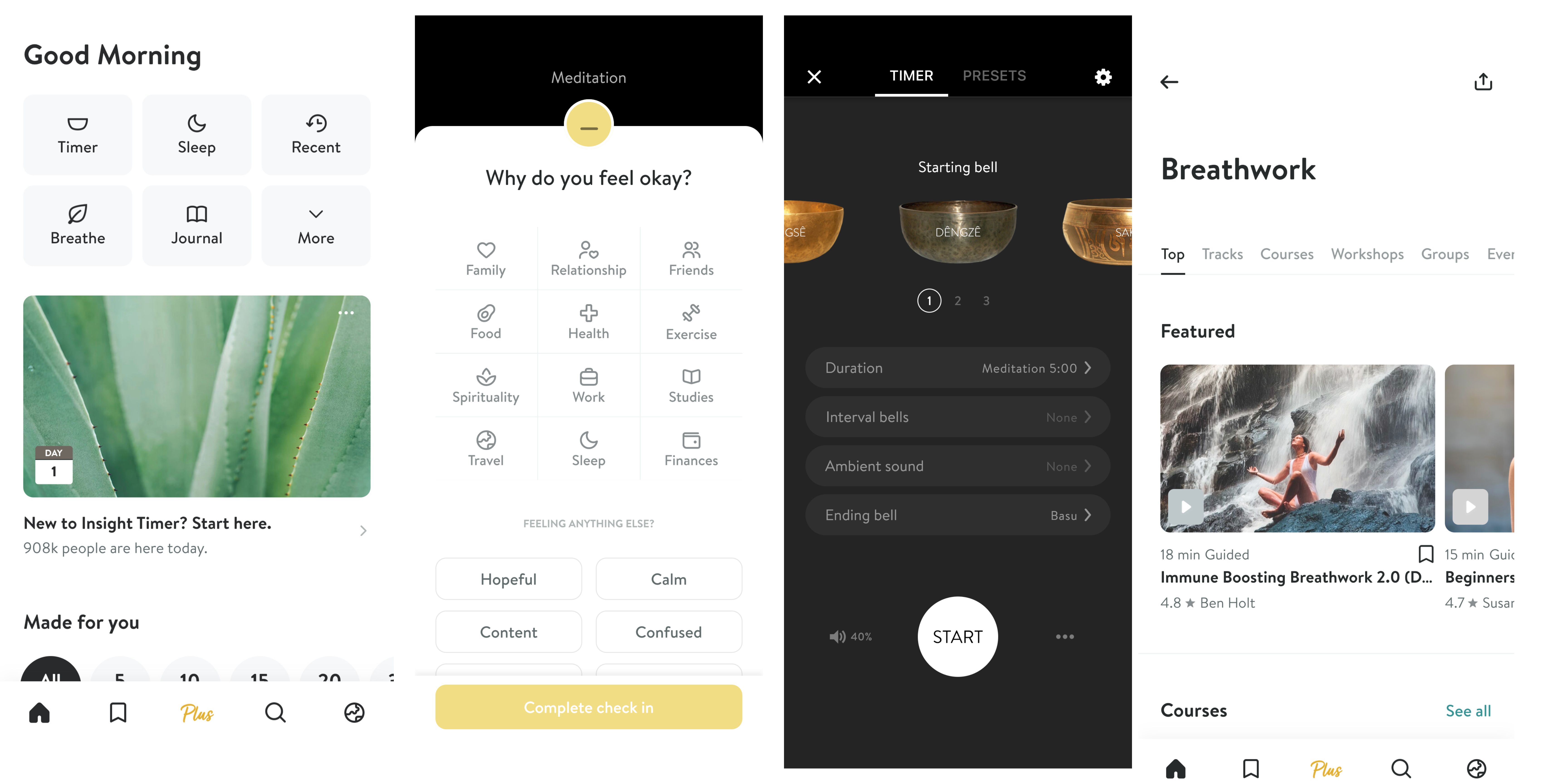 Cost for unlimited access:
Insight Timer offers an incredible amount of content for free, but to become a Member Plus and access all of the content, you'll pay $59.99 per year after a one-week free trial.
WHY IT'S GREAT:
If I had to choose an "all-around" best meditation app, it would be Insight Timer. The app has a huge library of guided meditations, sleep stories and soundscapes, and guided breathwork, as well as yoga workouts, spaces for journaling, check-ins, and inspirational quotes. And that's barely scratching the surface. It's robust, but honestly what I find myself using most is the simple timer with starting and interval bells.
I set the timer for 5 or 10 minutes throughout the day, choose the bell, and get going. It's simple, yet effective for me.
Pros:
The meditation library is huge — with lots of topics that are relevant and meaningful. The live yoga classes are unique and the music section is also robust and well-organized. It checks the box for everything I am looking for in a mediation and breathwork app.
Cons:
There are so many components to this app that it can be overwhelming, especially if you are new to meditation.
FOR THOSE WHO LOVE PERSONALIZATION — Aura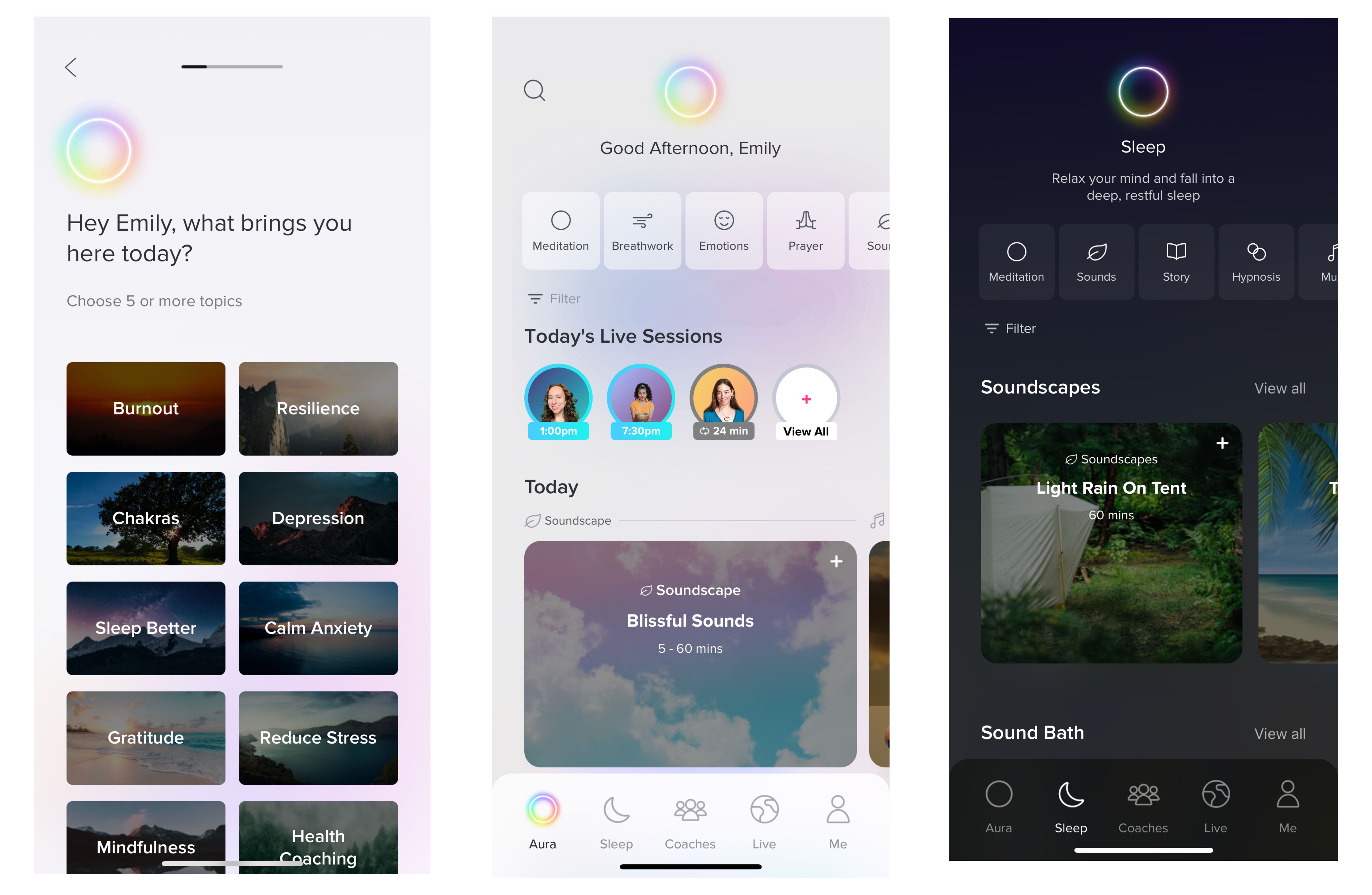 Cost for unlimited access:
7-day free trial then $59.99/year
WHY IT'S GREAT:
Aura touts itself as your "All-In-One App for Mindfulness and Wellbeing." And with thousands of guided meditations, live sessions, sleep stories and sounds, one on one coaching, and even ASMR tracks – it does seem to be a one-stop shop (er.. app) to keep you satisfied and hitting your new years goals.
Pros:
Aura stands out to me in terms of personalization. While there are several apps that tailor recommendations, Aura's recommendations felt the most precise. When signing up you'll take a quiz that asks questions about your needs and interests, then Aura uses billions of data points to pinpoint recommendations. I also love the option for mood tracking, gratitude journaling and even hypnosis – it's all covered within one app.
Cons:
If I had to complain about one thing it's that the free trial is only 7 days which may not be enough time to fully integrate the app into your life and get into a habit. Although there are some free meditations available, it is a very small selection in comparison to the paid version.
FOR THE NEWBIES — Headspace
Cost for unlimited access:
$69.99 annually after 14-day trial or $12.99 /month after 7-day trial (free for educators)
WHY IT'S GREAT:
Headspace is an OG in the meditation app space, and for good reason. With millions of downloads and monthly users, Headspace is easy to navigate and offers guided meditations at all levels – including for children and those new to the practice.
Pros:
Very beginner friendly, with a "basics of meditation and mindfulness" course available when you begin, and recommended exercises for each part of your day. The app design and animations are cheerful and clean, with options to pick different teachers that you connect with.
Cons:
The free version of the app doesn't offer much, and the paid version – while easy to navigate – also doesn't feel as robust as some of the others I tried.
FOR THOSE WANTING TO LEARN FROM AN EXPERT — Calm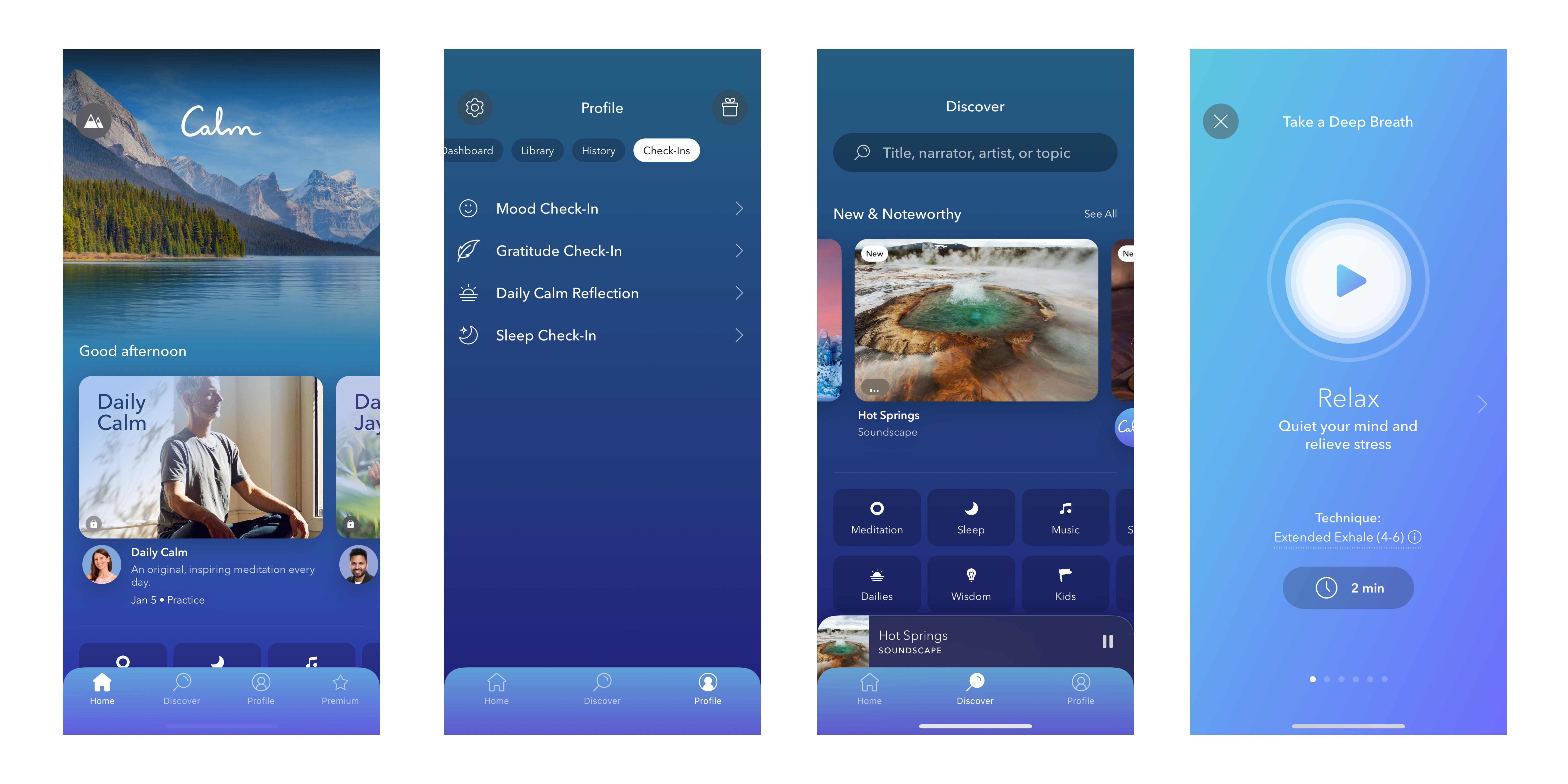 Cost for unlimited access:
7-day free trial then $69.99/year (free version for educators)
WHY IT'S GREAT:
Calm is one of the most downloaded meditation apps on the market. With many guided meditations, movement exercises, wisdom component, sleep stories, breath work, and music – it is well-rounded and, well, calming. The app itself is designed with backgrounds of beautiful scenes from nature that are tranquil immediately upon opening, and there are also specific exercises geared toward kids and teens.
Pros:
I love the Masterclasses available on Calm. With topics like personal growth and incredible teachers like Tara Brach, Ryan Holiday and Pico Iyer, these courses are very informative and helpful to me while still being short and sweet. I especially love the Masterclass on Radical Self-Compassion. Another pro for Calm (like Headspace) is that there is a free version for educators. This is an incredible opportunity for educators to use themselves and also to integrate mindfulness and meditation into their classrooms.
Cons:
Like many of the apps on this list, the free content is limited.
FOR THE MEDITATION SKEPTIC — Ten Percent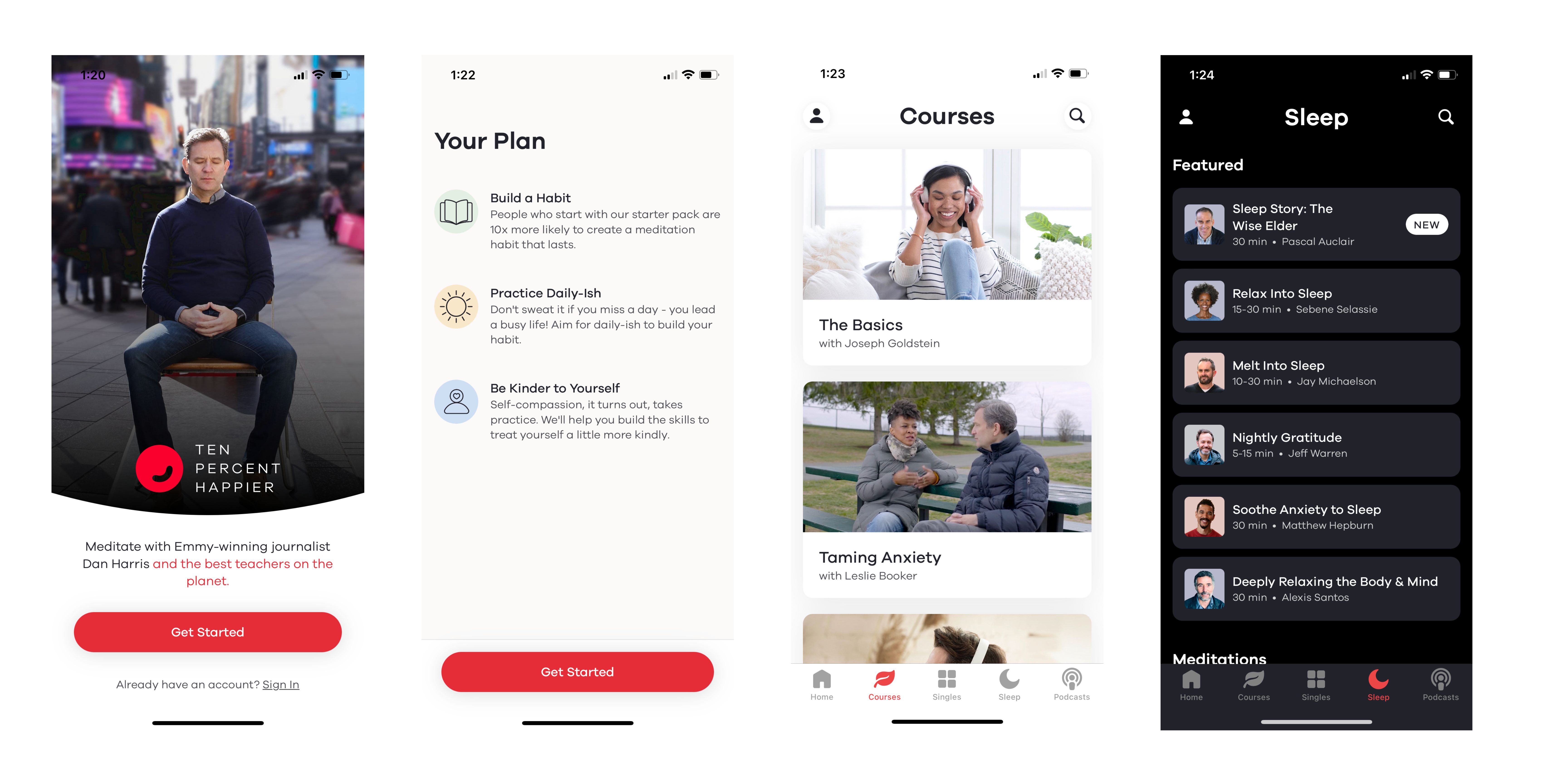 Cost for unlimited access:
14 day free trial and $99.99/year after
WHY IT'S GREAT:
Born from former ABC journalists Dan Harris' books "10% Happier: How I Tamed the Voice in My Head, Reduced Stress Without Losing My Edge, and Found Self-Help That Actually Works – A True Story" and "Meditation for Fidgety Skeptics: A 10% Happier How-to Book" – this app brings meditation and mindfulness down to earth a bit.
With courses for beginners, skeptics, advanced meditators, and everything in between – it is a robust app. With courses, single meditations, unguided timers, sleep meditations, and access to podcasts, and world-renowned teachers, it is a great option for those who want to focus on meditation in the new year.
Pros:
The topics covered are specific and helpful – grounded in real-life concerns like mindful eating, focus, ethics, emotions, stress, and habits. The app boasts world-renowned teachers – like the Dalai Lama – which brings legitimacy to those who may be skeptical of the benefits of meditation.
Cons:
The price is quite a bit more per year than other similar apps at $99.99. There are no music features or specific sections for breath work (although there are breath-focused meditations).
FOR THE COLD-PLUNGE FANATIC — Wim Hof Method (WHM)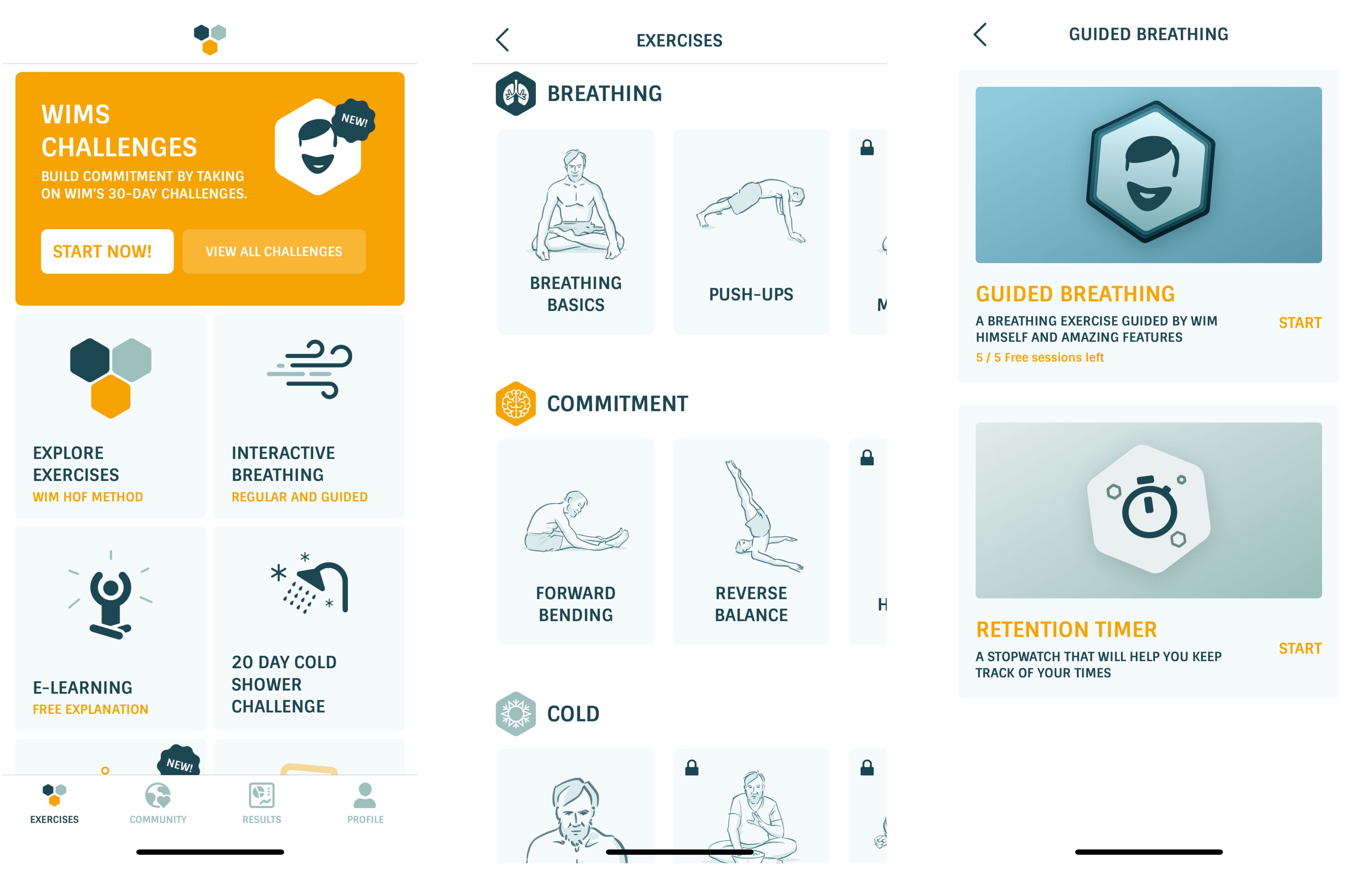 Cost for unlimited access:
Membership and access to most of the app is $42.99/year or $5.99/month
WHY IT'S GREAT:
Wim Hof, "The Iceman", is legendary for his ability to withstand extremely cold temperatures for long periods of time. The Wim Hof Method is a combination of breathing, cold exposure, and meditation that he credits this ability to – and that he teaches others in part through motivational speaking and the WHM app.
The app is made up of breathing, exercise, and cold challenges with audio, e-learning, and interactive breathing taught by Hof himself.
Pros:
I love the "Wim's Challenges" section of the app. From push-up challenges to a 20-day cold shower challenge, and endurance challenges – these give the app more value than just traditional meditation and breathwork. The breathing exercises are tracked with statistics and badges you can achieve.
Cons:
There is limited access for the free version. This also isn't by any means a traditional meditation or breathwork app – as the practice is one of a kind. This could be a benefit or con depending on what you are looking for in a meditation practice.
FOR THE PHILOSOPHERS AND THEORISTS — Waking Up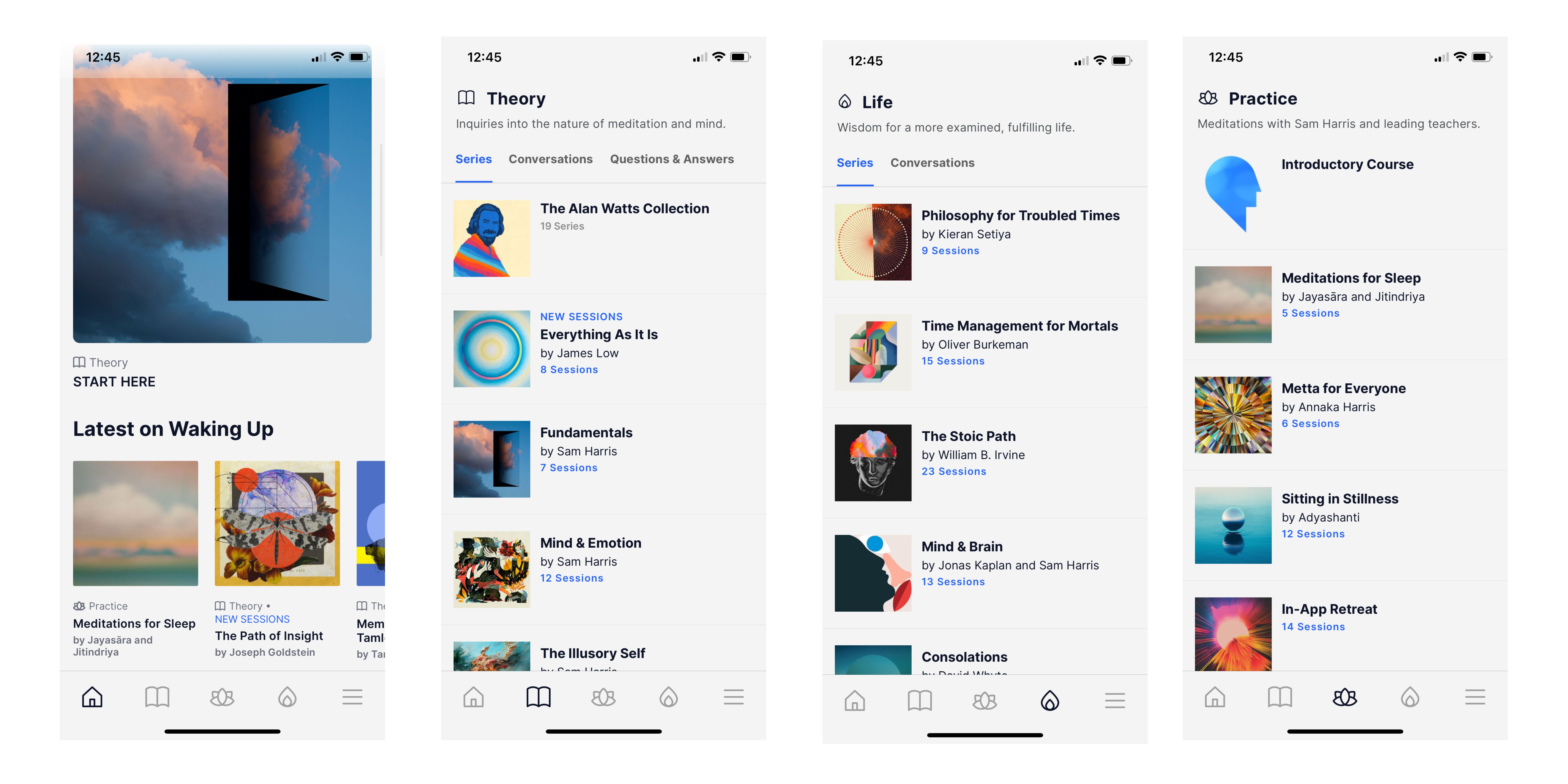 Cost for unlimited access:
14-day free trial then either $119.99/year or $14.99/month (need based scholarships available)
WHY IT'S GREAT:
Waking Up is an app from philosopher, neuroscientist and author Sam Harris. Created for anyone who wants to learn to meditate from a more scientific context, the Waking Up app is chock full of theory as well as practice. With guided meditations from Harris himself and others, an entire library on theory, and sessions that pertain to daily life this is an app for the intellectually curious.
Pros:
I like the design of this app a lot. The visuals are beautiful and the theory, practice, life organization makes sense to me. While the selection seems more limited than other apps at first glance, many of the exercises are much more thorough and longer than with others I tried. The Theory section sets this app apart with content from experts in their fields.
Cons:
The cost is a bit higher than other meditation apps and it doesn't focus as much on relaxation or stress reduction in a focused way as others. It may not be a great choice for beginners.
FOR THE BREATHWORK PURISTS — Breathwrk
Cost for unlimited access:
7 day free-trial then $49/year or $9/month
WHY IT'S GREAT:
While many of the apps on this list have some components of meditation and breathwork – Breathwrk is focused solely on, well, breathwork. And its singular focus has made it one of the most popular breathwork apps on the market. Breathwrk offers a huge library of exercises, classes, and habits. With breath tests and a "Top Breather" board, this app is designed to not just teach you new breathing techniques, but to integrate it into your life each day.
Pros:
I love the variety of short breathwork exercises. With many at just 1-2 minutes, I find myself often using the breath exercises for waking up productivity. The catalog is clearly designed with breath exercises for calming, nighttime, energizing, performance and health – with sub categories within each. The daily breath schedule keeps me on track and the "Panic Button" breath is a useful feature for me when I feel anxiety or panic.
Cons:
It's only focus is breathwork, so if you want an all-in-one option for meditation, mindfulness and breathwork you'd need another app to fill the gaps.
FOR THE NON-COMMITTAL MEDITATOR — Balance
Cost for unlimited access:
free (donation encouraged) for your first year and $69.99/year after
WHY IT'S GREAT:
Balance is a meditation app that offers daily meditations, courses, sleep stories, and immersive soundscapes. While it does not have as large of a library as other apps, it is intuitive and cleanly designed, with focused plans for beginners through advanced practitioners, stress relief and mood support. It also offers an incredible one-year free trial in an effort to bring meditation to more people without the barriers of cost.
Pros:
The one-year free trial is incredible – no other app with its functionality offers something on this level. I also love the skills section of the user profile, where I can focus on skills like breath focus, labeling, loving-kindness, and visualization in a structured way. The app is also unique in the way that it adapts to your preferences each day.
Cons:
The library seems to be smaller than with many other apps. There are no specific movement exercises that I could find.
FOR THE EXPERIENCED BREATHWORK PRACTITIONER — Othership
Cost for unlimited access:
$129.99/year with first 14 days or $17.99/monthly and first 7 days free
WHY IT'S GREAT:
Othership is another app focused solely on breathwork. Its sleek design and a large library of daily and weekly practices. You can participate in a breathwork journey with focuses on things like productivity, energetic alignment, sleep, and sessions specifically for beginners.
Pros:
There is a large library of guided breathwork sessions on Othership. I like the journey option to maintain structure and accountability for myself. The design and interface are stylish and easy to navigate, with motivational aspects like streak days and achievement tracking.
Cons:
There aren't many free sessions available, and the cost is high in comparison to other apps on the list that also have both breathwork and meditation support. Some of the sessions are longer and may be more suitable for intermediate or advanced practitioners.
FOR THE BUDGET CONSCIOUS — iBreathe
Cost for unlimited access:
Totally free with an option to pay $1.99 to remove ads
WHY IT'S GREAT:
iBreathe is another breathwork-focused app, but different from others on this list in some key areas. With a small section where you can read about breathing benefits; otherwise, this is mostly just a visual aid and timer to help you breathe in intervals. While it is completely free (with ads or $1.99 to remove them), the simple app allows you to select one of three predetermined intervals (you can also create custom intervals) and then guides you through the breathing cycle.
Pros:
This is by far the most cost-effective option if you are simply looking for a visual guide to complete simple breathing techniques. It is extremely simple and easy to use, with clear visuals to help you breathe in intervals.
Cons:
It's very simple and does not offer much education or personalization.