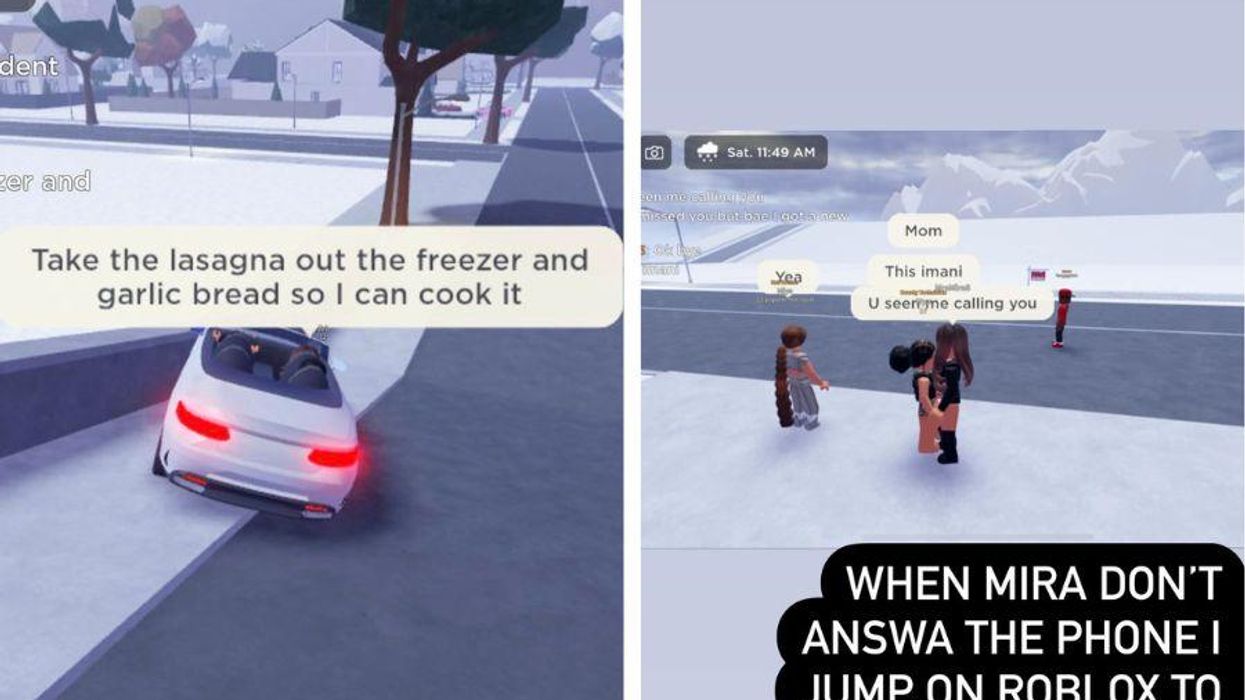 Parents have been contending with kids and video games since the first arcade game was introduced. Kids get immersed in the fictional world and forget—or sometimes downright ignore—that there are responsibilities to take care of outside of the game. A mom from Chicago, ChaCha Watson, used the Roblox video game to get her daughter's full attention.
Watson repeatedly called her 11-year-old daughter, Miracle, to tell her to take dinner out of the freezer to defrost but Miracle didn't answer. Instead of jumping to the worst-case scenario, Watson knew exactly what her daughter was up to and how to get her attention.
Miracle was immersed in the video game Roblox instead of answering her mom's phone calls, so Watson decided to join. Yep, the savvy mom hopped into the Roblox game from her location and jumped into the car with her daughter's avatar to tell her to take the lasagna out of the freezer. She shared the screenshots of the exchange on Facebook where it went viral.
---
Watson told Today, "She just so happens to be in the beginning stage when you first pop up on the game. So when I popped up, she just so happened to pull up. And I said, 'You see me calling you!' and then she was like, 'I'm sorry mom.'" Roblox has been around for a while now. It's an interactive game where kids can create avatars that look like them, build things and apparently, drive cars. Watson had been playing the game with her daughter as a way to bond with her, she told Today.
If you've ever been a "latchkey kid" or just the oldest child at home while your parents step out, then you know the cardinal sin is to forget to take the food out for dinner. There's really no way to fake your way out of unthawed food because the rock solid item will tell on you every time. Before video games, parents didn't have the luxury of popping into one of their kids' video games to remind them to unthaw dinner.
Parents across social media are loving this mother's ingenuity of getting her daughter's attention. One parent tagged a friend and said, "We gotta figure out how to do this."
Another person replied, "Screaming! It was the 2nd pic 'It's your mom, I know you saw me calling you,'" with multiple rolling on the floor laughing emojis.
It seems that most parents commenting on the post are planning to download Roblox and Minecraft to drop in on their kids when they're being ignored. But Watson advised that parents actually try playing the game with their kids and not just download it to tell them what to do, according to Today.
Watson told Today, "Being a single parent, you just want to make sure that you're spending time with your kids. That's really important to me — to make sure I'm spending quality time with her. So I downloaded Roblox and … that was just one of the best things ever."