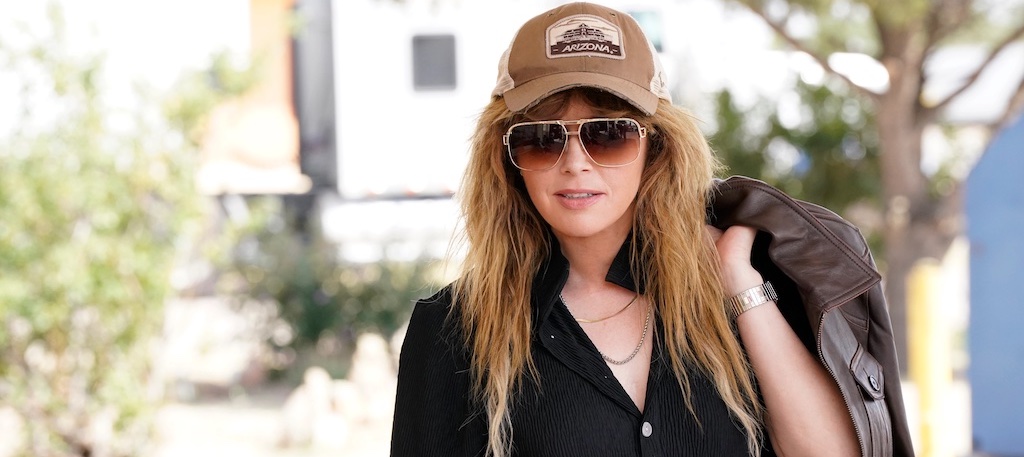 Natasha Lyonne is one of our most eccentric screen stars. She's also one of our most eccentric interviews. Like her characters on Russian Doll and the forthcoming detective show Poker Face, the actress-filmmaker thinks and talks a mile a minute. That produces some, shall we say, very original thoughts, ones that only she could produce. Such as one in a new Rolling Stone profile about brains, you know, just chilling together while lifeless bodies smoke in bed.
The Orange is the New Black alum spoke with the publication's Alan Sepinwall about her new series, in which she plays Charlie Cale, a cardsharp-turned-cocktail-waitress-turned-amateur sleuth whose superpower is she can always tell when people are lying. It teams her with a new king of the mystery format: Rian Johnson, who started Poker Face while he was doing post-production on Glass Onion. She met Johnson through his wife, You Must Remember This podcaster Karina Longworth — two very brainy people who know how to get stuff done. Talking about them prompted her to go off on quite the tangent.
"I think I have some sort of smart-people boner disease, just to seem as smart as I can in this moment," Lyonne said. "I am very hot for very smart people. They really do it for me. I don't want to possess their bodies. I want to possess their brains. I want to put their brains in a jar in a room. I want to take my brain out of my body, put it in its own jar. And then I want to sit in my bed like Ray Liotta in Hannibal, sit there with my skull just open, watching the brains play together and hang out while my brainless self sits in bed smoking cigarettes. That's my fantasy, you see."
It's quite the image! Brains monkeying around together, Lyonne doing her best scalpless Liotta, a cigarette dangling from her mouth. There's a good chance no one else has said anything remotely like these exact words.
Lyonne also talked about how her busy schedule leaves little free time. But she's cool with working "to the bone," as she puts it. "No life, no kids. It's just me and Rootbeer," she said, referring to her dog, a little Maltipoo.
Poker Face brings back the bygone mystery-of-the-week format of '70s shows like Columbo, McMillan & Wife, and Lanigan's Rabbi. It's not as self-contained as it was back in the day; apart from acquiring a Basset Hound early on in the series, then tending to him every now and then, Peter Falk's Lt. Frank Columbo had no character arc, and each episode is its own discrete entity. This one has both a continuing story and a new murder every week.
Poker Face premieres on Peacock on January 23, and if it's anything like this Rolling Stone interview, it's going to be a corker.
(Via Rolling Stone)