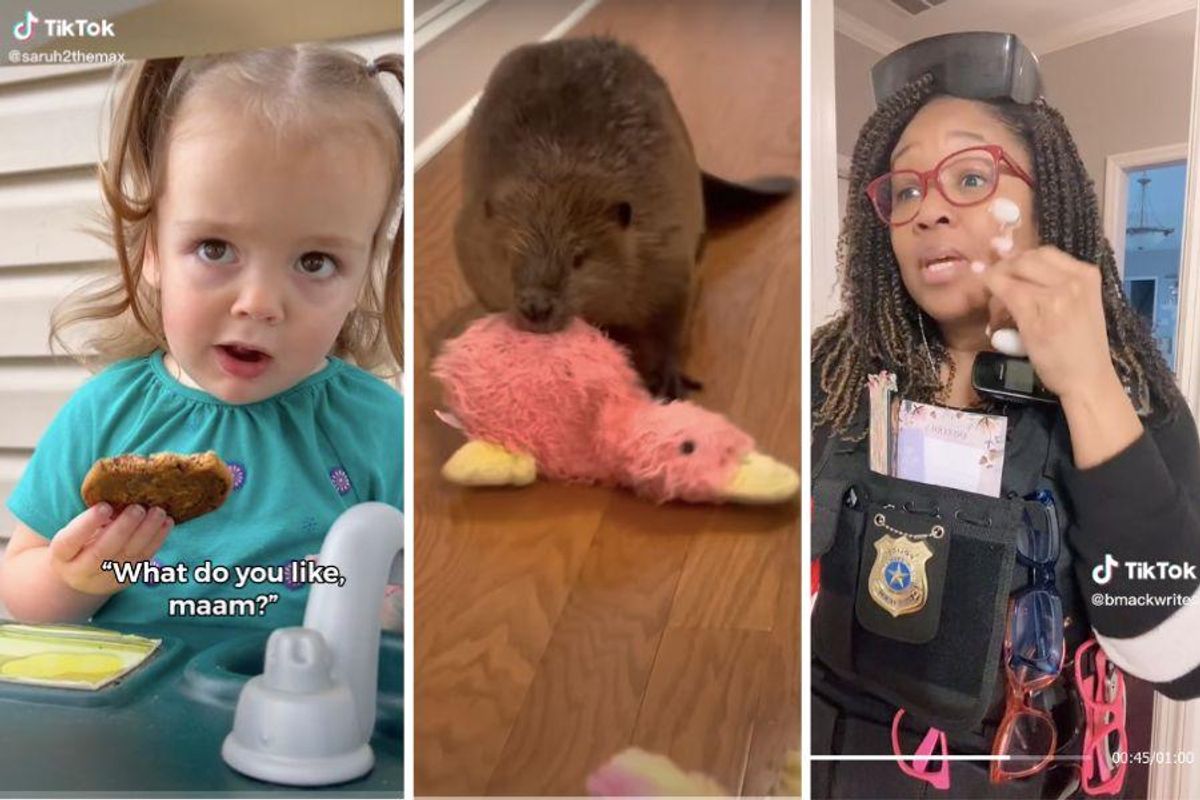 Have you ever seen a beaver build a "dam" out of stuffed animals and Christmas decorations? How about someone singing "Baby Got Back" opera-style?
This week's 10 things list is a veritable feast of unusual delights. In addition to the indoor beaver dam and operatic "Baby Got Back," we have a quick-witted "molice" (mom police) officer, a diner-owning toddler who serves broccoli to patrons who order cookies, and a hilarious mix-up between a kid named Jesús and the actual biblical Jesus.
We love to laugh here at Upworthy, but we also like to cry happy tears. It wouldn't be a genuine roundup of joy without a few heart-tuggers in there. We've got you covered on all joy fronts. (Get ready to giggle, but grab a tissue or two as well is what I'm saying.)
---
Without further ado, please enjoy these 10 things that made us smile this week.
1. Mom's hilarious 'molice' skits have parents everywhere nodding and chuckling.

@bmackwrites

Episode 2: Teen won't clean room #molice #bmackwrites
Her vest. The face roller. That giggle at the end. And there's more where this came from. See more of Bridgett Mack's "molice" videos here.
2. Wee one painting her mom's nails does a spot-on Leslie Jordan impression.
@addytok2022

She tried her best honey 😂 #fyp #fypage #trending
It's unintentional, surely, but it's like hearing Leslie Jordan being channeled through a toddler. Read more about Addy and her family here.
3. Watch Sawyer the rescue beaver meticulously build a 'dam' in her rehabber's hallway.
Marine mammal researcher Dr. Holley Muraco shared with us how Sawyer came to live with her and it's a fascinating look into beaver rehabilitation. Learn all about Sawyer and her fellow rescue beavers, Huck and Finn (yes, really!) here.
4. A mom got confused by a 'birthday party for Jesus' invitation and it's a hilarious mix-up.
"Are you Jésus' mom?" "I don't even know who Jésus is." Holy moly, too funny. Read the full story here.
5. A son gets a first look at his mom before he walks her down the aisle, and here's where the tissues come in.
"I'm so happy for you." Oof. How sweet is that kiddo?
6. Two-year-old runs her diner like a middle-aged woman who tolerates no nonsense.
@saruh2themax

I got put on a strict diet due to my audacity. #willowpenelope #willowsdiner #cute #funnytoddler
"Willow's Diner" has become an incredibly popular TikTok series and you can see why with those facial expressions and toddler unpredictability. Check out more Willow's Diner videos here.
7. Jason Derulo sings "Baby Got Back" opera-style and nails it.
Derulo is a pop singer, but one who has been classically trained and it shows. That vibrato on "spruuuuuuung"? Come on. Read the full story here.
8. Kid belts out every word of song from new 'Matilda' film and Dad's reaction is too relatable.
u201cWe love to see the rise of a new theater kid. Protect him.u201d

— Ayanna P. (@Ayanna P.)
1673269370
Math facts woes aside, Nathan appears to have a bright musical theater future ahead of him. Another video of him singing a "Hamilton" song went viral with this one and got the attention of Leslie Odom Jr. himself. Read the full story here.
9. Eight-year-old surprises his beloved auntie with his portrait painting of her at an art show.
Another good cry here. What a sweetheart and Auntie Steph's reaction is so pure. Love, love, love.
10. Swipe through these 'wholesome secrets' and see if they inspire some quiet acts of kindness.
Some of the greatest acts of human kindness are the ones we never see. In an age where everyone shares everything on social media, isn't it heartwarming to hear about people being helpful behind the scenes, just for the good of it?
Hope that brought you some joy!
If you want these roundups sent straight to your inbox each week, sign up for our free newsletter, The Upworthiest, here.