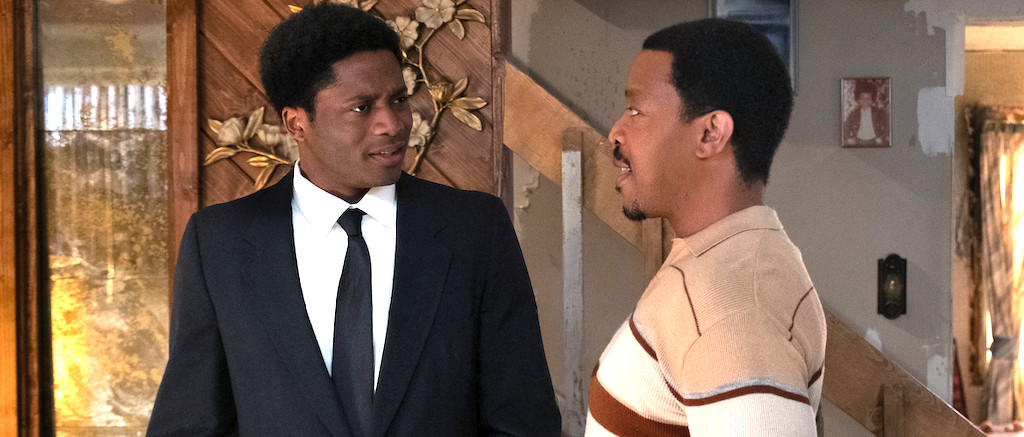 (SPOILERS for this week's BMF episode will be found below.)
Each week for the 'BMF' To Blowin' Money Fast series, we'll recap the episode by looking at a few key things to see how they hurt Meech and Terry's money-making goals. Each item will be marked as a profit or a loss, the former keeping them in the black and the latter pushing them into the red. Throughout the course of the season, something that was once unprofitable could turn profitable, and vice versa, but we'll have to wait and see what that might be.
Last week on BMF, we watched the official beginning of the Black Mafia Family. Meech launched the group — which combined The 50 Boyz and his previous rival, 12th Street Boyz — following a deal with K-9, a top drug supplier in Detroit. Meech makes these moves with help from B-Mickie, rather than Terry, as the Flenory boys are still at odds over season one disagreements. Terry decided to exit the drug game and start a car-ride service with his father Charles, but that hasn't gotten off to the smoothest start. Elsewhere, B-Mickie is still under the highly watchful eye of Detective Bryant, who is blackmailing him for information on Meech that will lead to an arrest.
For "Family Business," the second episode of season two, we spend more time with the Flenory family. Despite Meech and Terry's differences, we see that they have to spend more time around each other than they'd like. Lucille and Nicole are heading to Cleveland from Detroit (a 2.5-hour drive) to visit Lucille's mother for her birthday. There, Meech makes a move to expand the drug business into Cleveland thanks to help from his younger cousin. Meanwhile back home, Terry is set on learning and making new business decisions that will expand the car-ride service. In both Meech and Terry's cases, they run into issues with their partners that make their lives a lot more difficult than it needs to be.
Terry Flenory
PROFIT
Terry is going to make the car-ride service a lot of money, and in episode two, he's determined to prove it to his father. After speaking with Markeisha at the insurance office, he learns that there are a few things he can do to make more money. First, he can stock the cars with refreshments, or "good ass snacks" as Terry called them, to improve customer experience. Secondly, Markeisha also tells him that picking up passengers from the airport can prove to be more profitable because they're willing to pay more. Terry puts both of those ideas into action and learns that Markeisha was absolutely right. He's set on continuously putting these ideas into action, which will surely help the car-ride service and help them get the third driver they're looking for. The only issue is his father Charles isn't so convinced.
Charles Flenory
LOSS
Charles Flenory is one aggravating person. Between conversations and interactions with Terry or his wife Lucille, Charles is just… (*pulls strands of hair out*). Starting with Terry, despite the fact that the car-ride service started with Terry's lawsuit money and the fact Terry and Charles are equal partners, Charles refuses to take Terry's opinions into consideration. He calls Terry's idea to stock the car with refreshments "a waste of money" and he tells Terry to "stick to who and what we know" in regard to picking up passengers from the airport. Additionally, he hires a third driver without consulting with Terry first. As for Lucille, Charles neglects her emotional needs in favor of building up the car-ride service. Their romance is gone and their family struggles are hurting their relationship even more. Lucille feels neglected, and she also thinks her children are being neglected as well — especially Nicole. However, with his focus on the car-ride service, Lucille's wants and needs have taken a backseat and it's only a matter of time before they leave the car altogether.
Markeisha Taylor
PROFIT
Markeisha Taylor, played by La La Anthony, is an interesting addition to season two BMF. She plays the role of an associate at an insurance company, the same one the Flenory car-ride service uses. Markeisha is also Terry's growing love interest who first caught his attention at a basketball game in episode one. While Markeisha denied Terry's advances in episode one, because she's married, they spend some more time together in episode two as she offers to help teach him some better business practices for the car-ride service. Markeisha is the one that told Terry to start picking up passengers from the airport. She's also the one that told him to stock the car with refreshments. It all proves to be effective for the business, and the stack of cash Terry put on the table in front of Charles is proof of that. While Terry may not be able to have a romantic relationship with Markeisha, she's definitely someone he should keep around because of her business mind.
Ferrero Rocher
PROFIT
When it comes to candy, you can rarely lose when it comes to Ferrero Rocher. The only case is if you're allergic to chocolate or nuts which is unfortunate for you because Ferrero Rocher is such a great commodity. Markeisha tells Terry to fill the car with these and other candies to please customers, and sure enough, it does just that. A first-class passenger is pleased to see them in Terry's car after he picks her up from the airport, and she promises to recommend the Flenory car-ride service to her colleagues. Though I consider myself to be a sour patches connoisseur, I too would make a recommendation in the name of Ferrero Rocher. This small piece of chocolate candy also proves that the small things count in business whether it's a car-ride service or a drug operation. Terry and Meech are going to learn of its value whether it's at a profit or a loss.
Credit Cards & X-Rated Magazines
LOSS
I know we've touched on Charles and Lucille's relationship already, but this episode really showed the tension that lives within it. Lucille's frustration with Charles and the family's low income causes her to open a credit card in Nicole's name in order to buy some things for the both of them. Lucille's frustration has also wiped out her and Charles' intimate moments, which pushed Charles to purchase x-rated magazines as a way to spice things up on his end. Things come to blow when Charles confronts Lucille about the credit card, all for her to clap back with the magazines. In the end, Lucille and Charles both resorted to the credit card and x-rated magazines respectively in order to solve a problem they both had in their lives, all for it to bring them more issues. Lucille will have to figure out how to pay the credit card off, despite their financial struggles, so that Nicole's isn't credit damaged. Charles, on the other hand, is probably regretting that magazine purchase. Either way, it wasn't worth the money or the stress.
New episodes of 'BMF' are available on the STARZ app on Fridays at 12:00 am EST and on the STARZ TV channel at 8:00 pm EST.