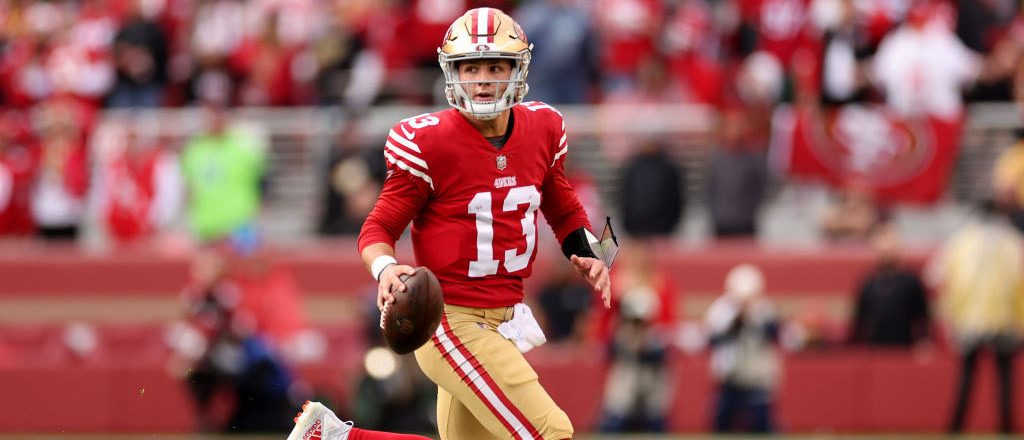 Brock Purdy put on a show in the San Francisco 49ers' Wild Card win over the Seattle Seahawks. While Purdy looked like a rookie signal caller making his playoff debut during the game's first half, he rallied and was magnificent as San Francisco poured it on en route to an emphatic, 41-23 victory.
On the day, Purdy completed 18 of his 30 passes for 332 yards, three touchdowns, and no interceptions. He picked up another 16 yards on the ground, along with the team's only rushing touchdown. He caught the attention of a whole lot of folks, including LeBron James, who tweeted after one touchdown pass an endorsement of the guy taken with the final pick of the 2022 NFL Draft.
James tweeting his thoughts about whatever game he has on his TV is nothing new, but for a 23-year-old dude who was thrust into a starting quarterback job due to multiple injuries and has thrived in the aftermath, getting this sort of praise from arguably the greatest basketball player of all time is pretty cool. For proof of this, here is the video of Purdy reacting to James' tweet during his postgame press conference.
You can tell that he's blown away by all of this, as evidenced by the look of shock on his face that he follows up with a gigantic smile. As for what's next for the Purdy and the Niners, they'll wait and see which non-Eagles team they'll play next week in the aftermath of Sunday's Giants-Vikings and Cowboys-Buccaneers games.