Megyn Kelly's got "giant penis" on the brain. The former Fox News host, who has practically made a career out of letting controversial things spill out of her mouth — like the time she admitted that she doesn't understand why dressing in blackface is racist (and lost her gig at NBC because of it) — is making headlines again for her thoughts on "Embrace," a new sculpture in Boston that memorializes a famous photo of Martin Luther King, Jr. with his arm around his beloved wife, Coretta Scott King.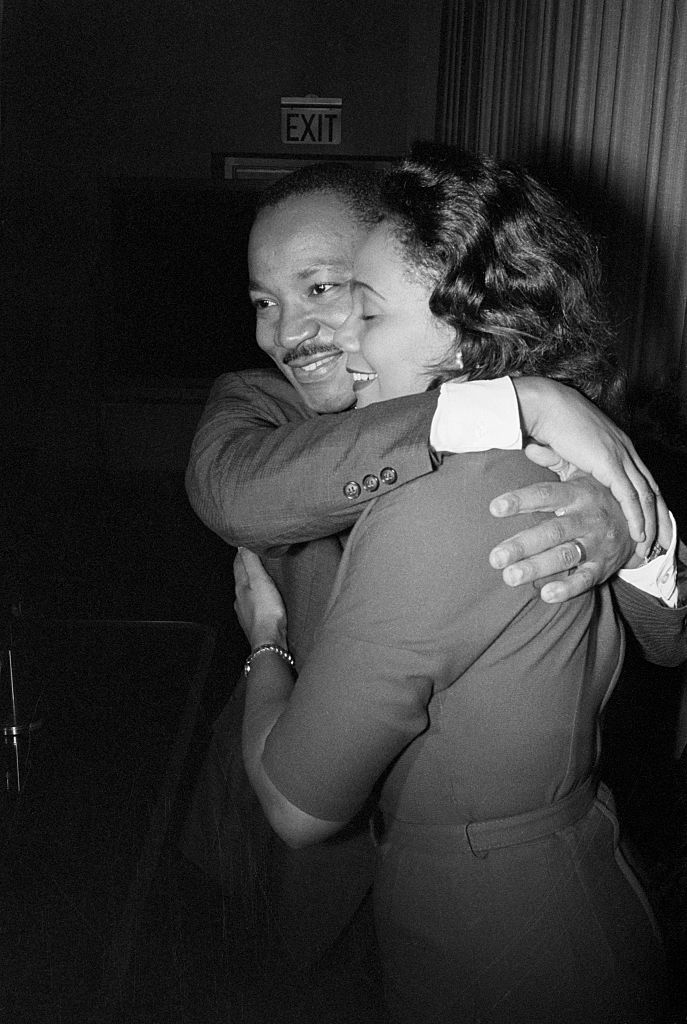 The photo was taken during a press conference shortly after it was announced that King was being awarded the Nobel Peace Prize, and shows King embracing his wife.
While not everyone is a fan of the new monument, which was unveiled on Friday in Boston — the city where the couple first met — Mediaite reports that Kelly took her artistic commentary to another level on Monday's episode of her SiriusXM radio show. As she explained:
So they wanted to do a statue. They hired Hank Willis Thomas to create this sculpture that would wind up in Boston Common. Sitting on the 1965 Freedom Plaza, which honors 69 local civil rights leaders… It was meant to be just, be the arms and the hands of the hug. What it looks like, I'm just gonna say it — is a giant penis being held by two hands.

Look at this. Look, YouTubers, I'm sorry, but that's a — that looks like a giant penis right there. I'm sorry.
Megyn Kelly: Keeping it classy.
Kelly's guests included two editors from the National Review, a conservative news magazine. Editor-in-chief Rich Lowry agreed with Kelly: "This is why you need to run stuff by people close to you — your spouse. You know, 'What do you think of the design, honey? Well, it looks like a schlong, dear.'" You can watch the full conversation here.
Others also took issue with the statue, but for different reasons.
It doesn't sit well with me that Martin Luther King and Coretta Scott King are reduced to body parts– just their arms. Not their faces- their expressions.

For such a large statue, dismembering MLK and Coretta Scott King is… a choice. A deliberate one. pic.twitter.com/Asi0SCHtPg

— Karen Attiah IS ON INSTAGRAM @karenattiah (@KarenAttiah) January 16, 2023
Some of the public discourse around "Embrace" (MLK Statue) by Hank Willis Thomas is so disheartening, especially from those within the black community. No matter what your opinion may be… tearing down another black man who's genuinely a great artist and good human is gross. pic.twitter.com/szTBbYPJe0

— Everette (@Everette) January 17, 2023
(Via Mediaite)