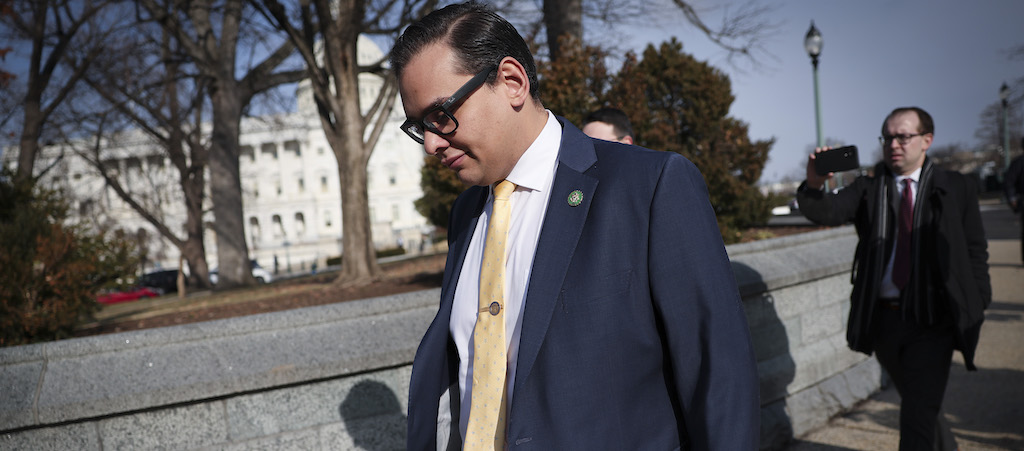 On Tuesday, after weeks of one alarming/unexpected/weird revelation after another, George Santos was "punished": He was only named to two lesser House committees. House Speaker Kevin McCarthy was disturbed but not that disturbed by him misleading and outright lying to voters to score a sweet government job. It's likely not even this new claim will change his mind: On top of everything else, Santos is now being accused of stealing from a veteran's GoFundMe to save his dying dog.
As per the New York rag Patch (as caught by The Daily Beast), Richard Osthoff, a former member of the U.S. Navy, said that when his beloved service dog was diagnosed with a life-threatening form of stomach cancer, he got some help from a stranger. Osthoff said his name was "Anthony Devolder." If you've been following all the many Santos stories, you know that that was one of Santos' aliases.
Santos/Devolder promised Osthoff he could raise $3,000 on a GoFundMe. In 2016, when the fundraiser closed, eh did, "and then some," Osthoff said. Santos/Devolder then abruptly disappeared, along with all the money they'd raised to save the dog's life. The dog died the following year. Osthoff, who had been out of work for a year by that point, had to turn to panhandling to pay for the dog's euthanasia and its cremation — what he called "one of the most degrading things I ever had to do."
The GoFundMe was deleted and no archival record of it exists. But contemporaneous Facebook posts by Osthoff mention this Anthony Devolder character — a name Santos even used with certain former roommates.
Santos was sworn in a week-and-a-half ago, after the four chaotic days it took for the House to elect McCarthy to his Speaker position. And now he's on committees, his fingers on the lives of over a million New York constituents.
(Via Patch and The Daily Beast)