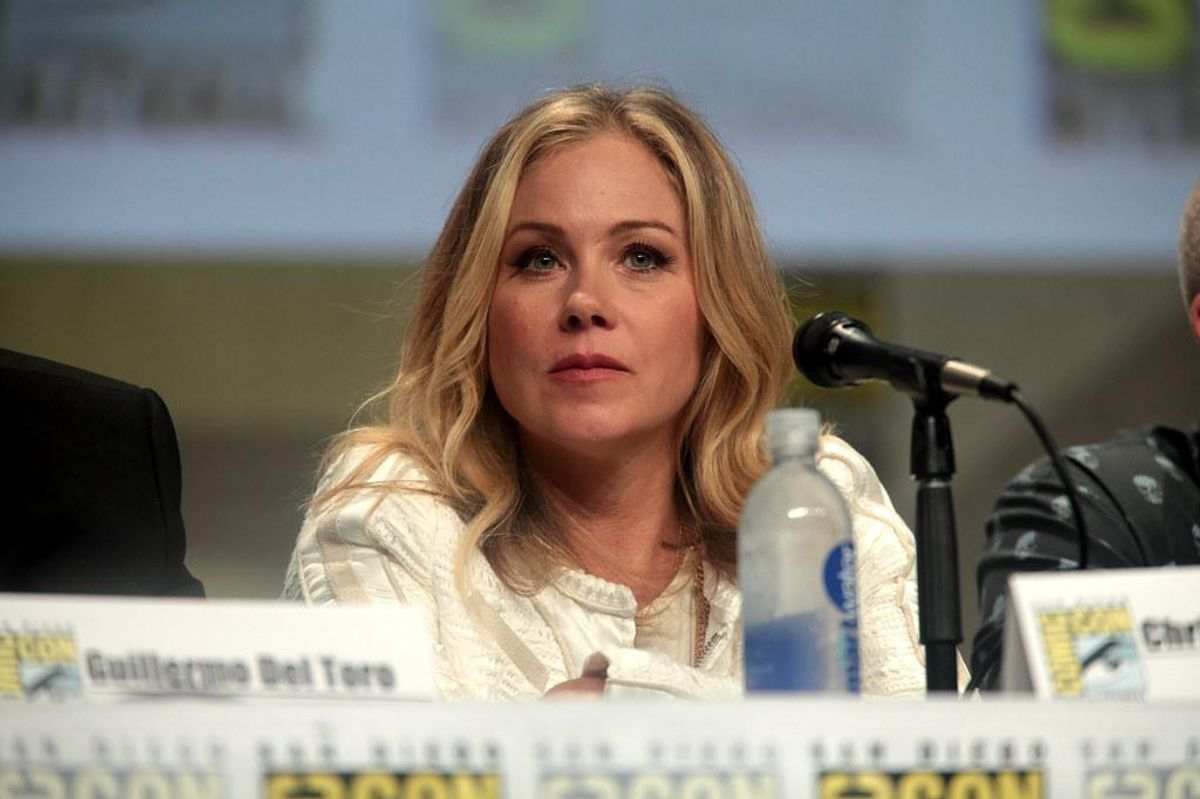 In the age of the internet, most people have run into their fair share of internet trolls. You know, the people that just look for a reason to say something mean for no real reason at all. It's also pretty safe to assume that celebrities see more trolls looking to hurt their feelings than the average person.
Recently, Christina Applegate had a run-in with a commenter who decided the actress needed to know she didn't care for her face. The comment was left under an article about Applegate attending her first red carpet event since she announced her diagnosis of MS in August 2021. The "Dead to Me" actress attended the Critics Choice Awards with her daughter, Sadie Grace LeNoble, 11, and the duo rocked all black.
Applegate admitted to being nervous about the event in a tweet, but somehow I don't think someone being upset about what her face looked like was at the top of her concerns. The unidentified person wrote the rude remark to which Applegate decided to respond to via private message to tell the person their comment "wasn't nice." The exchange was unfortunate to say the least.
---
The vocal critic replied to Applegate's direct message by saying, "MS didn't make you look that way a plastic surgeon did," before going on to call the actress a scammer. To be fair, it's not often a celebrity sends a non-celebrity a private message, so the scammer comment might be able to be overlooked. But the follow-up message from the person just confirmed they were likely looking to hurt feelings, as it simply read, "A bad plastic surgeon at that."
u201cSooooo I made the unfortunate decision to look at some comments on an article from people mag about me and my kids at the CCA.Of course I told her that it wasnu2019t nice. This was her reply.What is wrong with people. By the way, I laughed.u201d

— christina applegate (@christina applegate)
1673975331
The internet was having none of those shenanigans from the unidentified commenter and immediately came to the actress's defense.
"Some people are ugly on the inside. That's not you. It's never been you. And they are just jealous you're beautiful inside and out," one commenter wrote.
Another said, "You are beautiful. Period. So many people suck these days and strangely I'm always so shocked by it. You are beautiful and no matter what anyone says you are a bad ass and beautiful. Keep laughing!"
While Applegate said she laughed at the messages from the troll, it's clear from the comment section that people want to make sure that the actress knows they have her back. "People who are actual loving human beings who care for one another wish you all the happiness and bliss away from these types of people. Continue to live YOUR best life, and especially with your kids," another person wrote.
u201cJust a fun fact, the suit my kid is wearing was Scott Weilandu2019s suit from one of his solo album covers. Scott gave my husband, Martyn, that suit long ago in the glorious 90u2019s Also we were quite a pair last night. She fractured her ankle this week, hence the boot, and meu2026MSu201d

— christina applegate (@christina applegate)
1673932719
One person told the actress, "You are beloved. An icon. Your career is enviable. I thought, and so did my boyfriend, that you looked beautiful. It's beyond sad what people choose to think or post these days. Reading comments is always a 'brace yourself' kind of choice. Stay strong!"
Surely the troll is feeling a bit sheepish after discovering that she was indeed messaging the real Christina Applegate and hopefully it serves as a lesson to be kind in the future.