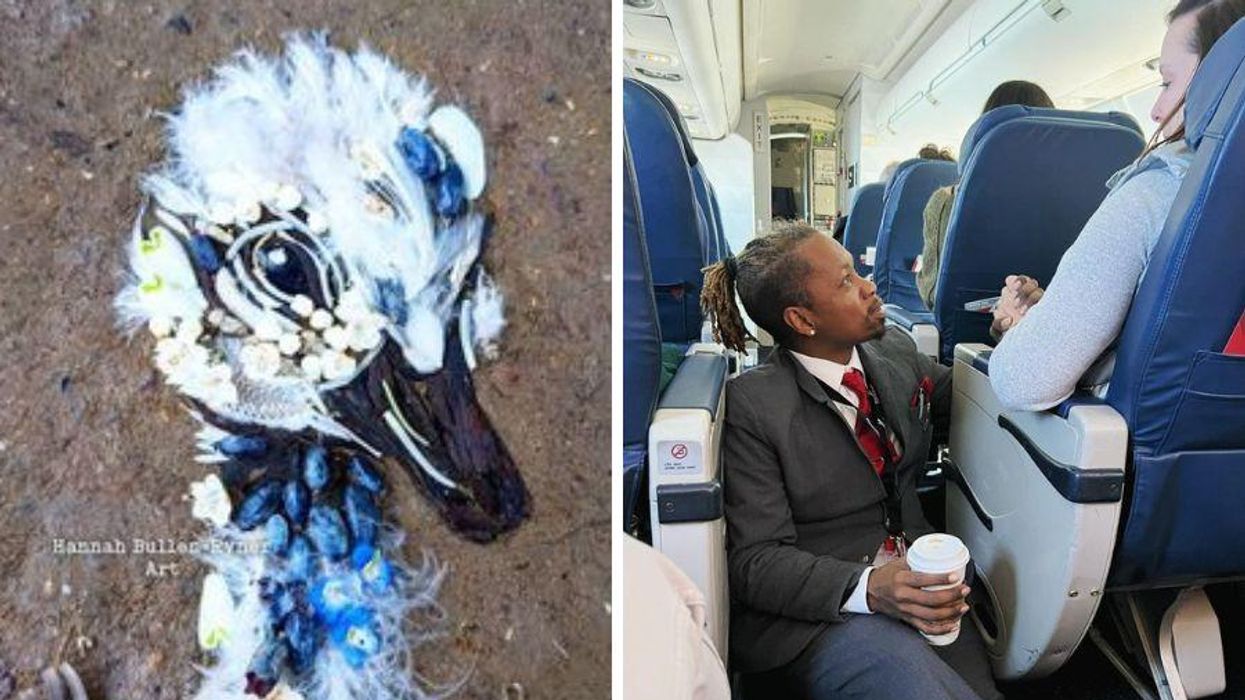 Hey all!
We're back with another roundup of joy this week and we've got some sweet, sweet finds. Enjoy!
1. An angel flight attendant went above and beyond for a woman who was anxious about flying.
Delta flight attendant Floyd Dean-Shannon explained to the woman what all the different sounds and movements of the plane were to help ease her anxiety. And when it all got to be too much for her, he sat down in the aisle and held her hand. Incredible customer service and simply beautiful human-to-human understanding. Love to see it. Read the full story here.
---
2. A man found an abandoned newborn squirrel in his driveway and raised it. Their relationship is flippin' adorable.
@robertsquirrel

From an interview on Newsner who has 30 million followers in 11 languages
Robert T. Squirrel (the "T" stands for "The") has quite the life! He has his own squirrel family now as well—his "wife" Barbara Ann and four youngsters named Peepers, Jeepers, Creepers and Sneekers—who live in his backyard squirrel house. (I know. My heart can't take it, either.)
3. This artist's animal 'portraits' made from foraged, natural materials are absolutely stunning.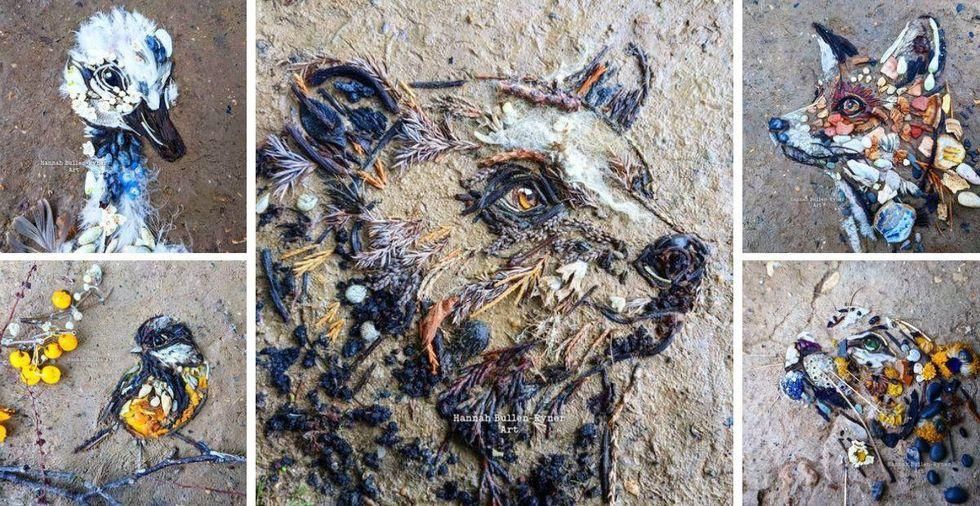 Hannah Bullen-Ryner creates one of these creatures each day in the fields near her apartment in the U.K. and each one seems miraculous. They don't last—they are left shortly after being made to be blown away by the elements—but she does capture them on camera before they return to nature. See more of Bullen-Ryner's ephemeral animal portraits and learn more about her process here.
4. Actor F. Murray Abraham's reaction to the crowd cheering for him is so wholesome.
Abraham gained recognition playing Antonio Salieri in the 1984 film "Amadeus," a role for which he won an Academy Award and a Golden Globe, but he's not exactly a "household name" kind of actor. He is a prolific film, television and stage performer, however, and it's so sweet to see a career actor like him be so excited for fans to cheer him on.
5. Elementary students led the charge to raise $300,000 for inclusive playground equipment for their classmates.
u201cHopkins, Minnesota: nnGlen Lake Elementary.nnMaybe take a momentu2026u201d

— Rex Chapmanud83cudfc7ud83cudffc (@Rex Chapmanud83cudfc7ud83cudffc)
1673659745
Dang it, where is that box of tissues? What a wonderful story of support and inclusivity. Read the full story here.
6. Plain White T's singer surprises Delilah, who has been fighting cancer for four years, with her favorite song.
Such a special gift from Tom Higgenson. The power of music truly can't be underestimated.
7. Man shares his sweet story of how he built his entire family from a single dollar bill.
Swipe through to see the dollar bill framed. Awww. Anyone else want to see this rom-com?
8. Women are finding inspiration in this picture of Jamie Lee Curtis and Michelle Yeoh at the Golden Globes.
"Ladies, this is your vibe for 2023: unabashed hype woman," wrote Erin Gallagher as the opening of an empowering post about women supporting other women's successes instead of seeing one another as competition. It's an awesome read inspired by an awesome moment. Check it out here.
9. Four guys, one guitar and an awesome cover of Queen's 'Another One Bites the Dust'
These guys are too fun. And that voice! Dang. See more of Adam and the Metal Hawks on Instagram.
10. Do we need to see a baby kangaroo hug its mama? Yes, yes we do.
u201cA mother and her child nhttps://t.co/eDOH1ZrAnku201d

— Science girl (@Science girl)
1673871290
That's just pure oxytocin right there.
Hope that brought you some much-needed joy!
Did you know you can get these roundups of joy delivered to your inbox each week by signing up for our free newsletter, The Upworthiest? Subscribe here.