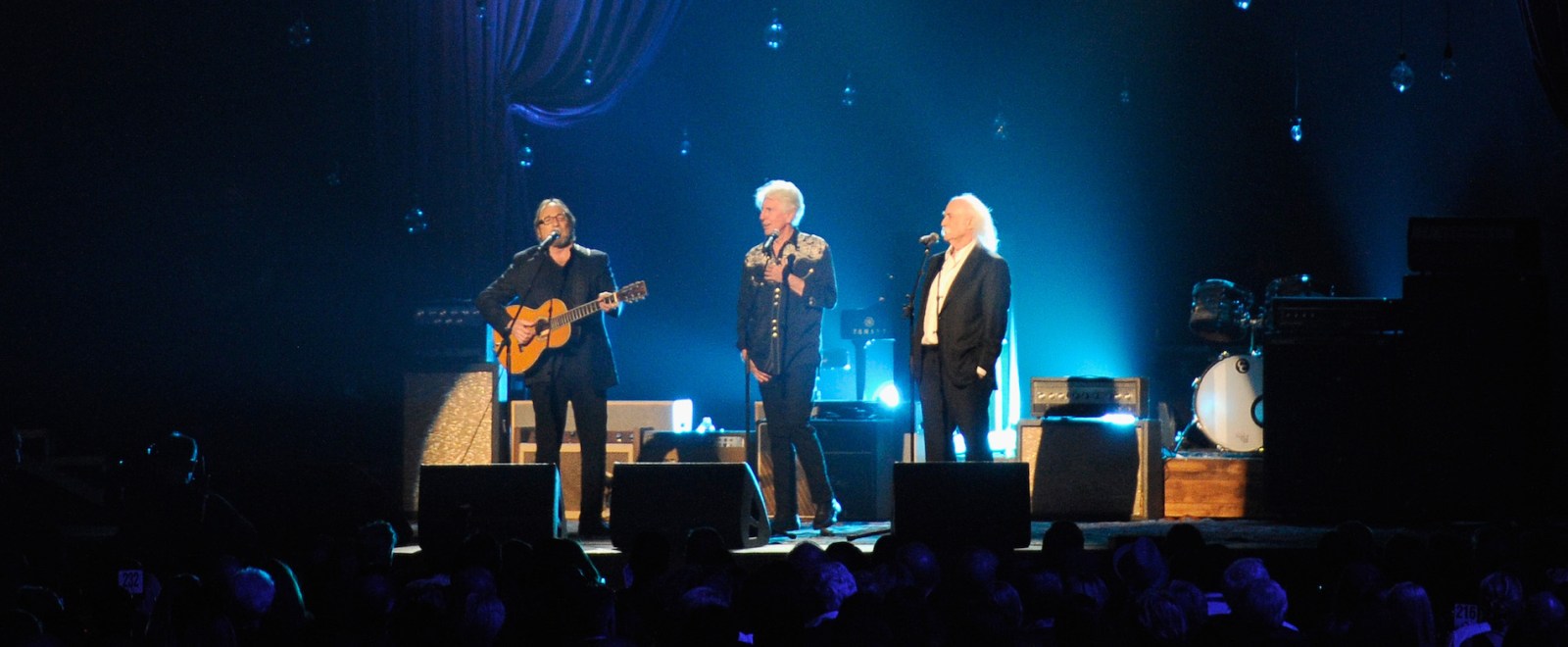 Yesterday (January 19), the music world learned that David Crosby is dead at 81 years old. Tributes have poured in since then, most notably from his Crosby, Stills & Nash bandmates Stephen Stills and Graham Nash.
Stills shared a statement with Rolling Stone that reads:
"I read a quote in this morning's paper attributed to compose Gustav Mahler that stopped me for a moment:
'Death has, on placid cat's paws, entered the room.'
I shoulda known something was up.
David and I butted heads a lot over time, but they were mostly glancing blows, yet still left us numb skulls.
I was happy to be at peace with him.
He was without question a giant of a musician, and his harmonic sensibilities were nothing short of genius.
The glue that held us together as our vocals soared, like Icarus, towards the sun.
I am deeply saddened at his passing and shall miss him beyond measure."
In an Instagram post, Nash wrote, "It is with a deep and profound sadness that I learned that my friend David Crosby has passed. I know people tend to focus on how volatile our relationship has been at times, but what has always mattered to David and me more than anything was the pure joy of the music we created together, the sound we discovered with one another, and the deep friendship we shared over all these many long years. David was fearless in life and in music. He leaves behind a tremendous void as far as sheer personality and talent in this world. He spoke his mind, his heart, and his passion through his beautiful music and leaves an incredible legacy. These are the things that matter most. My heart is truly with his wife, Jan, his son, Django, and all of the people he has touched in this world."
Neil Young — who joined the CSN trio to form Crosby, Stills, Nash & Young — has yet to offer a public comment about Crosby's death.
Chris Hillman, Crosby's bandmate in The Byrds, also paid tribute, writing on Facebook, "I lost my friend, David, today. Whose beautiful voice softened life's blows, and brought so much joy to us all. He was my mentor, my big brother, my friend. The many miles we traveled together will always hold a special place in my heart. Singing with David was a blessing beyond words. I pray God grants him peace, and peace to his wife Jan, and his son Django. "Then the dust returns to the earth, And the sprit returns to God who gave it' (Ecclesiastes 12:7)."
Some artists covered here are Warner Music artists. Uproxx is an independent subsidiary of Warner Music Group.