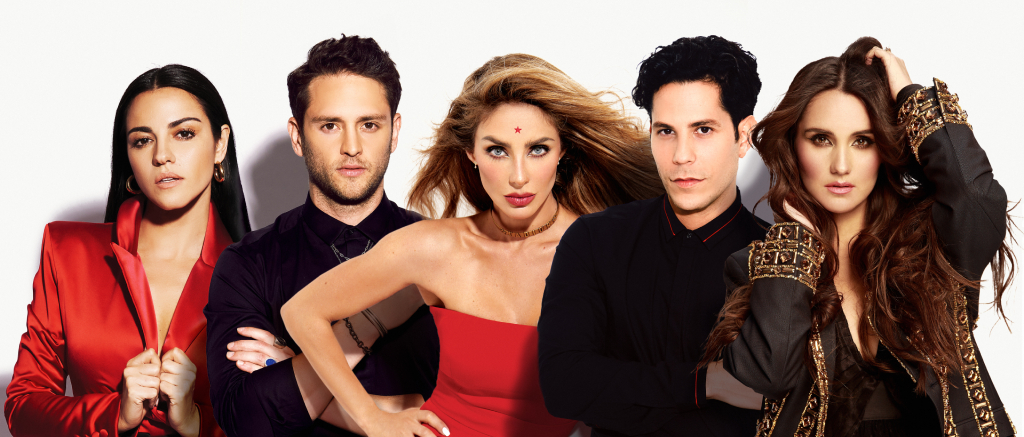 After 15 years since the band's last time on stage together, RBD will be touring the US this summer. Last night (January 19), the Mexican pop group revealed the dates for its highly-anticipated reunion trek Soy Rebelde Tour 2023.
Anahí, Dulce María, Christian Chávez, Christopher von Uckermann, and Maite Perroni will reunite under the RBD name to tour the US, Mexico, and Brazil. Alfonso "Poncho" Herrera decided not to return for the reunion tour. The title of the Soy Rebelde Tour 2023 is a reference to the Mexican telenovela Rebelde where the band was formed in 2004. The red tie in the tour logo is an homage to RBD's school uniforms on the show. In posts across social media, RBD celebrated the band's return.
"It's a reality!!!" RBD wrote in Spanish on Twitter. "We'll see you all very soon!"
Es una realidad!!! #SoyRebeldeTour@soyrebeldetour para información oficial. Nos vemos muy pronto! pic.twitter.com/h5QM1I9MfD

— RBD Oficial (@RBD_oficial) January 20, 2023
Soy Rebelde Tour 2023 will consist of 26 concert dates. RBD will visit arenas and stadiums across the US for 21 of those dates. The tour kicks off on August 25 at the Sun Bowl Stadium in El Paso. The first concert of the tour will take place near the US and Mexico border as a sign of RBD's international appeal. On December 1, RBD will close out the tour with a homecoming concert in Mexico City.
Tickets for the Soy Rebelde Tour 2023 will be available on January 27. Fans can check out RBD's official website for more information on the tour.
Find RBD's upcoming tour dates below.
08/25/2023 — Sun Bowl Stadium in El Paso
08/27/2023 — Minute Maid Park in Houston
09/01/2023 — MSG in New York City
09/02/2023 — Eaglebank Arena in Fairfax
09/03/2023 — Greensboro Coliseum Complex in Greensboro
09/08/2023 — Guaranteed Rate Field in Chicago
09/10/2023 — Ball Arena in Denver
09/13/2023 — Desert Diamond Arena in Phoenix
09/14/2023 — MGM Grand Arena in Las Vegas
09/22/2023 — Miami-Dade Arena in Miami
09/23/2023 — Amway Center in Orlando
09/24/2023 — Lakewood Amphitheatre in Atlanta
09/27/2023 — Bert Ogden Arena in Edinburg
09/30/2023 — Globe Life Field in Arlington
10/01/2023 — Moody Center in Austin
10/06/2023 — Sap Center in San Jose
10/07/2023 — Golden 1 Center in Sacramento
10/08/2023 — Chase Center in San Fransisco
10/13/2023 — Viejas Arena in San Diego
10/15/2023 — Save Mart Center in Fresno
10/19/2023 — Banc of California Stadium in Los Angeles
11/17/2023 — Allianz Parque in São Paulo
11/19/2023 — Est. Nilton Santos Engenhão in Rio de Janeiro
11/24/2023 — Estadio Mobil Super in Monterrey
11/26/2023 — Estadio 3 de Marzo in Guadalajara
12/01/2023 — Foro Sol in Cuidad de Mexico