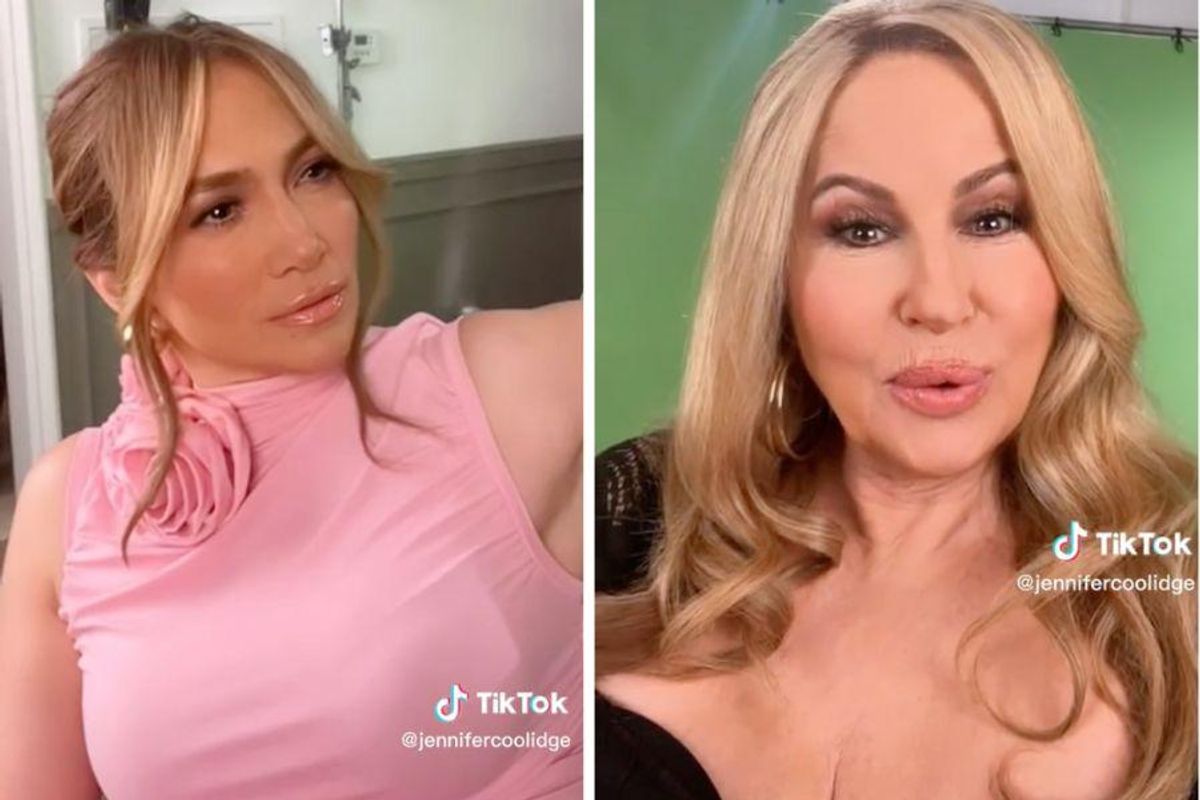 Just when you thought Jennifer Coolidge's renaissance in pop culture couldn't get any better, guess again. We've seen her completely steal the show on television, film and even music videos, but now the Emmy award-winning actress is expanding her talents to new platforms with her very first TikTok.
All glammed up and in front of a green screen, Coolidge, in an attempt to do "something cool" for her TikTok debut, begins reciting the millennial hit "Jenny From The Block" like she's onstage at a slam poetry night.
Coolidge then cuts to none other than the OG Jenny from the block herself—Jennifer Lopez.
---
Needless to say, this video went viral instantly.
Coolidge's video got instant approval from fans. I think the person who wrote this comment sums up the general consensus: "Only Jennifer Coolidge would be able to master TikTok on her first TikTok."
Another added, "Not since Leslie Jordan have I been so excited to see someone join TikTok."
There's just no denying that Coolidge has a delightful brand of weird that is so well suited for a place like TikTok. While this might have been the "White Lotus" star's first personal contribution to the platform, she has definitely had viral moments on it before, as with a delightful dance remix based on her character from the show's second season. So to expect anything less from a video created by the comedy queen herself—with the help of a fellow queen named Jennifer—would be foolish.
Folks who are loving this JCool/JLo combo (which, c'mon, is everyone) can look forward to the upcoming action-comedy movie "Shotgun Wedding," premiering on Jan 27 on Amazon Prime. The trailer promises Coolidge as a curlers-wearing, shotgun-wielding mother-in-law to be. What's not to like about that?
In the meantime, we'll be watching this TikTok on repeat.