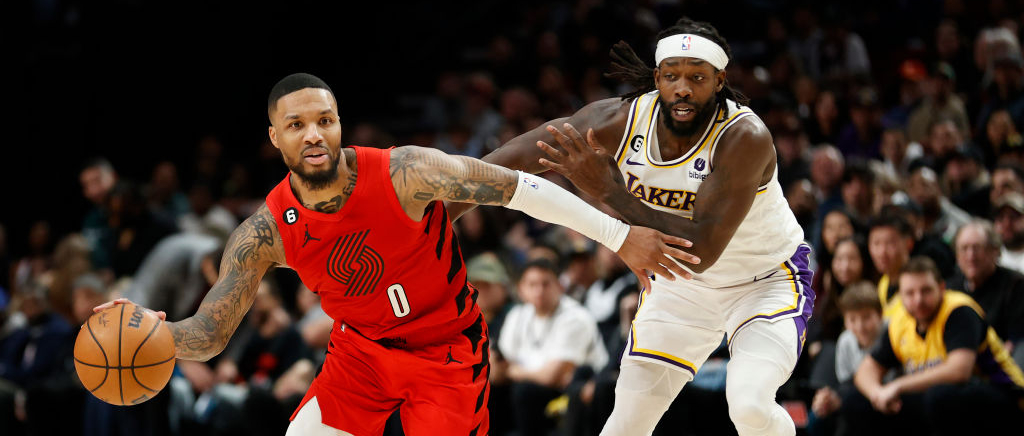 Patrick Beverley doesn't have an awful lot of friends around the NBA, as he has made a career out of pestering and annoying opposing point guards to the point that most take delight in seeing his downfall.
Among those that can't stand Beverley is Damian Lillard, and the two went at it again on Sunday night in Portland. Beverley picked up a technical foul in the second quarter after he kept jawing at Lillard while Dame was getting ready for free throws, and the Blazers ran off a massive run after that to take a 25-point lead at the half.
Dame and Pat Bev chirping pic.twitter.com/NLANKDRE79

— Bleacher Report (@BleacherReport) January 23, 2023
It seemed like it might be another chance for Beverley mockery, but the Lakers stormed back in the third quarter to cut the deficit to single digits, before ultimately completing the comeback. That provided Pat with the chance to get the last laugh, as he mocked Lillard's "Dame Time" celebration in the closing seconds of the game, delighting in the heat he got from the Blazers crowd.
Pat Bev trolling "Dame Time" pic.twitter.com/dMoWBXisUy

— Bleacher Report (@BleacherReport) January 23, 2023
After the game, Beverley bristled at the idea Lillard had a "slow shooting night" against him when asked about it by a reporter, and that video got the attention of Lillard, who called him a "con man" likening him to Flip from Above The Rim.
Beverley's response was short and sweet.
Lillard's "con man" critique of Beverley falls in line with past comments from others, most notably Beverley's now-teammate Russell Westbrook who famously said he "trick y'all" when it comes to his defensive impact. We'll get one more chance to see Lillard and Beverley play each other this year, as they meet on February 13 again in Portland just before the All-Star break, and it seems safe to assume there will be a little added juice to the matchup and plenty of animosity coming Beverley's way in Portland.