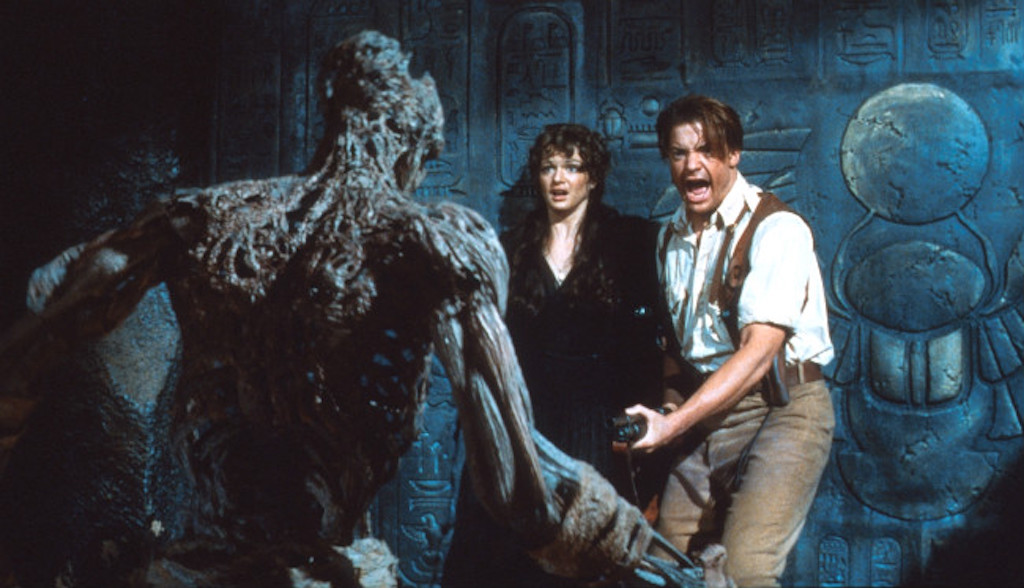 Sometimes it takes a little bit of time for people to jump on the bandwagon and finally celebrate actors who have been around for some time. Even though Brendan Fraser has been churning out hit films since the early '90s, the actor has only recently been acknowledged as someone who is very good at their job, and he recently secured his first-ever Oscar nomination.
But he never forgot his humble beginnings as Rick O'Connell, the witty explorer in The Mummy franchise. And he is really proud of that movie! So proud that he decided to crash a screening of the 1999 action flick in London last week, much to the delight of everyone in the theater.
"I am proud to stand before you tonight," Fraser began after hopping on stage wearing a look inspired by his Mummy character. He was met with a standing ovation. "This is a film that was made in Britain. You should know that! Even the second one, too. Be proud. Thank you for being here." Even though it was filmed in Britain, the movie actually takes place in the fictional Hamunaptra, the City of the Dead, but we all know what he means.
The Mummy starred Fraser as the fast-talking adventurer who sets out to find the lost city. The movie became a moderate hit and spawned two sequels before Tom Cruise tried to reboot it in 2017. It's clearly still a beloved film, which is why they were showing it in theaters on a random January evening.
Fraser then went on to explain the process of filming the movie in Britain, which famously underwent many rewrites and reshoots, and how they really had no idea what they were dealing with. "We had no idea what kind of movie we were making when we shot this. We didn't know if it was a drama or a comedy or straight ahead action or romance or horror picture … all the above. We had no idea until it tested in front of British audiences. Thank you for that," he added in between cheers from the audience.
Thanks to his buzzy performance in The Whale, Fraser has been having a moment in Hollywood after taking years away from the spotlight. He will next star in Martin Scorsese's upcoming AppleTV movie, Killers of the Flower Moon, alongside Leonardo DiCaprio, be he has also expressed interest in returning to The Mummy because it "sounds fun." And it does.