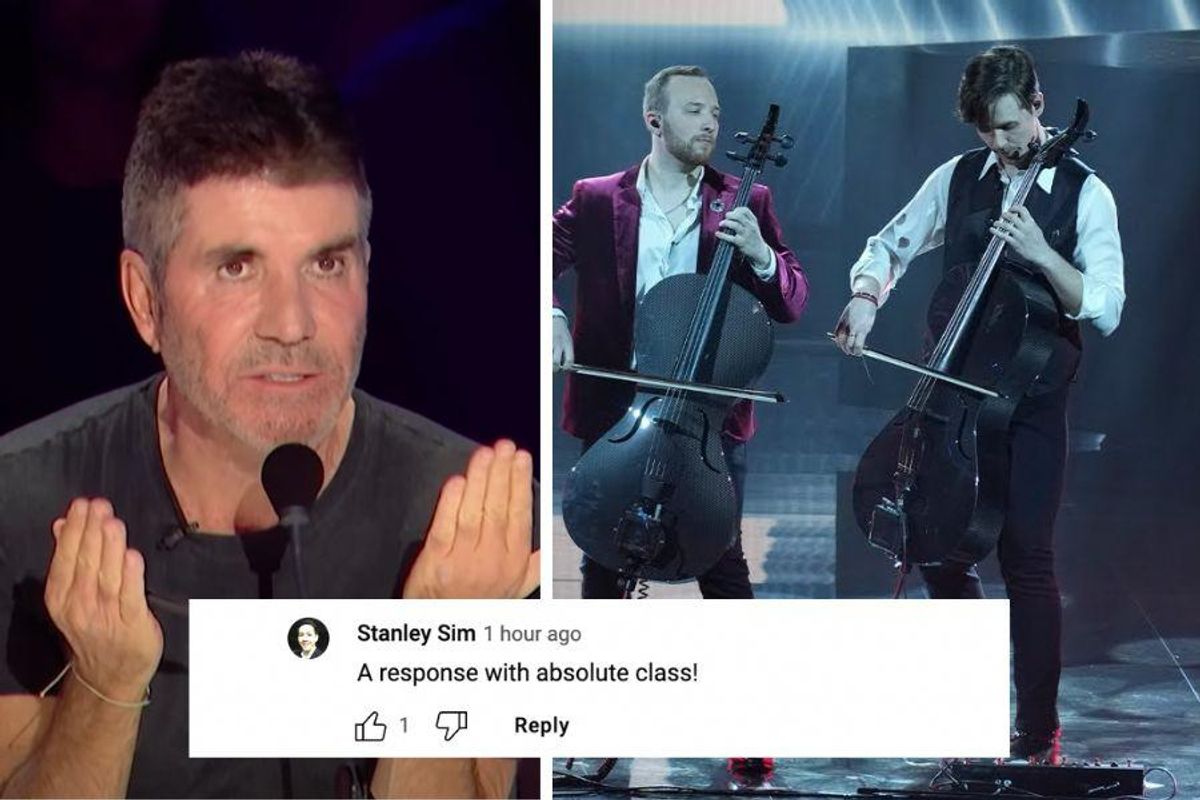 Back in 2014, cello-playing brothers Emil and Dariel wowed "America's Got Talent" audiences with their cello rendition of Jimi Hendrix's "Purple Haze," even becoming finalists for the season.
After getting invited back to participate in "America's Got Talent: All Stars," the duo once again rocked the house with an epic cover of "Take On Me." This classic A-ha tune has been covered a lot, so the fact that these two gave it fresh new life is no easy feat.
However, judge Simon Cowell remained unimpressed.
---
While he admitted that "the track is great," he ultimately dubbed the performers as "boring." And when the two cellists shared that they were actually pursuing a career in dentistry, not stardom, Cowell became visibly flustered, even going so far as to mime stabbing himself in the chest with a pen.
"This is not enough. There must be a dream. Something that's inspired you. You can't just say, 'I want to be a dentist,'" the judge lamented.
"Wow… We are so humbled by the heartfelt outpouring of support you have shown us since the airing of our performance on AGT All Stars," the duo wrote. "[It] warms our hearts and reminds us why we set out to perform in the first place."
While they explained how their story was "sadly cut in the edit"—leaving out an anecdote about learning to play cello and pursue the American Dream from their immigrant grandfather, as well as their intention to "light a spark of inspiration in the hearts of the kids that are labeled as 'outcasts' or 'uncool'" through their music—the main purpose of their statement was to address Cowell's "derogatory comments towards our lifelong dream of becoming dentists."
It's lengthy, but worth a read. They held nothing back.
"Dear Simon,
Hopefully, this message finds you well. The purpose of this letter is not to direct any negativity towards you, rather we hope this will serve as an eye-opener to the impact of your words. On Monday, January 23rd, the episode in which you called us out and went out of your way to belittle us for pursuing a career in dentistry debuted. On behalf of the outpouring of current and aspiring health care professionals from around the world who have reached out in response to your comments making a mockery of our choice to pursue a career in dentistry, we demand you take responsibility for your actions and issue a formal apology to the more than 700,000 dentists around the world who are committed to serving their communities.
Since we were little kids, aside from being classically trained cellists, we had the dream of following in our dad's footsteps to become dentists. Coming from a family of three generations of dental professionals beginning in Kiev, Ukraine, this profession runs in our blood. This profession means more to us than a line of work; it's our family lineage and calling. We are proud of our decision to pursue a craft that will allow us to positively impact people's lives. The dental profession is hard at work every day with the mission of helping people attain the health and confidence they desire.
In response to why we decided to be a part of your show, we are well-attuned to the fact that you're not searching for America's Next Top Dentist. But you/your producers invited us, as finalists from Season 9, to perform among the 'best of the best' to share what we have been up to since the last time the world saw us. What an honor to be considered 'All Stars,' we thought. We presupposed this is far different from a typical AGT audition. After much deliberation, we ultimately decided to carve time out of our busy school schedules and perform due to the show's wide reach with the hopes that someone watching us will think they too could feel cool playing an instrument that was never traditionally considered as such.
We love playing music together, especially rock n' roll. Always have and always will. But we have no intention of making a career out of music. This may be atypical for someone in your line of work, but there are those individuals in the world who find a noble purpose outside of pursuing 'stardom,' not that there is anything wrong with that.
Please know this: Your words do not offend us, as they have no bearing on our life's trajectory. They do, however, have weight and consequences on the decisions of young, aspiring health care professionals listening to you that may think twice about pursuing a noble career in caring for others. We are proud to be dental professionals and will not pretend otherwise, no matter how many times your producers attempt to rewrite our story. Above all, we are proud to dedicate our lives to building people up instead of putting them down. We were expecting that your disparaging remarks would make air, after experiencing the beatdown in person. But we did not expect the footage to be so heavily manipulated from what actually happened. Thankfully, most viewers saw right through that, but there are still those that place value behind what a man of your privileged stature says, which is why you, Simon, should consider thinking twice before you speak. Thank you for your valuable time.
Best wishes,
Emil & Dariel"
Perhaps they have a point. While it might not make for good television (which is entirely debatable), there is nothing wrong with having an artistic passion and focusing on what could be labeled as a more "humble" profession. Not everyone wants to make their art into a career. That doesn't make the art any less important. And, as the statement pointed out, there is nothing undignified about wanting to help people. What's really inspiring here isn't Emil and Dariel's musical talents, or even seeing them stand up for their beliefs. It's that they have decided, no matter what they do in life, to be a force for good in the world. That's an act that never gets boring.