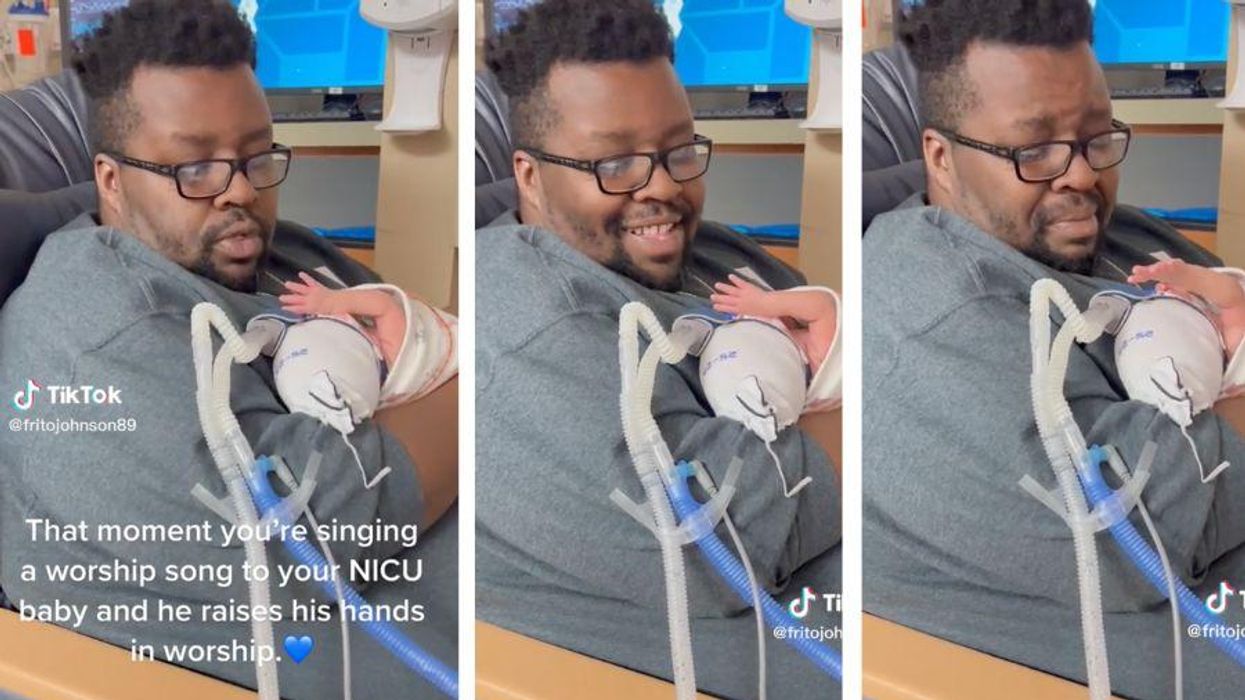 An incredible moment captured between a father and his newborn son has brought viewers to tears.
The viral video shows Daniel Johnson singing the worship song "Hallelujah Here Below" by Elevation Worship as he cradles his preemie son, Remington Hayze, in the neonatal intensive care unit (NICU).
Miraculously, as soon as Johnson begins singing a chorus of "hallelujahs," Remington's tiny hand raises as though he were carried away by the music. Seeing this, Johnson is instantly overcome with emotion and can't finish the song.
---
The video's caption explains that little Remington was born four months early and given a 21% chance of survival. He turned 2 1/2 months old the day the video was posted.
Daniel's wife Emily, who filmed the video, shared with Good Morning America that since being born prematurely at 22 weeks, Remington has received a "variety of treatments for his underdeveloped organs, including steroids for his lungs and shots for his eyes."
Thanks to the NICU workers at Baylor Scott & White Medical Center in Temple, Texas, Remington's condition has vastly improved over the past couple of months. He is currently being weaned off of a CPAP machine and no longer needs any medications.
This positive news reflects a recent study from Stanford Medicine, which showed a significant increase in survival rates for preemies born at Remington's age (22 weeks) who underwent active treatment. For those born at 23 weeks, the survival rate was as high as 55%.
Still, this must be a harrowing experience for any parent going through it, even with the help of dedicated professionals. So for the Johnsons, seeing their son respond to his father's voice in such a pure way felt like a saving grace.
"It's been an emotional ride and…the video definitely showed how I felt because he's a miracle baby in every sense of the word," Daniel told GMA.
Watch the amazing moment below:
Congrats to the Johnson family and their miracle baby. And thank you for sharing this beautiful story with the world.