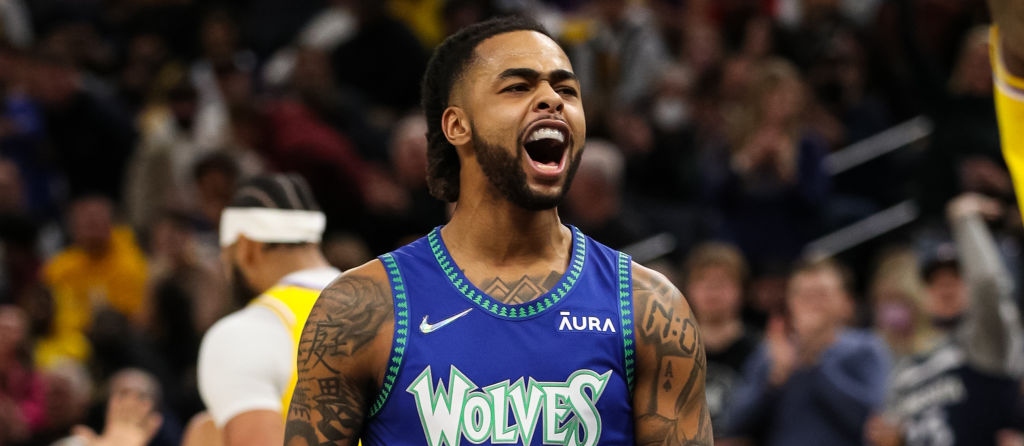 The Russell Westbrook era with the Los Angeles Lakers is on the verge of coming to an end, and it will lead to them being reunited with a former top draft pick. Adrian Wojnarowski of ESPN reported on Wednesday that the Lakers were in talks with the Minnesota Timberwolves on a trade that would land them D'Angelo Russell, who the team selected second overall in the 2015 NBA Draft.
Shortly after, Shams Charania and Tony Jones of The Athletic dropped a bombshell: Talks are ongoing on a deal that will send Russell back to Los Angeles, but Westbrook will not be sent to Minnesota in a straight swap. Instead, Charania reports that Westbrook and draft compensation will head to the Utah Jazz, which will get in on the deal by sending Mike Conley to the Timberwolves. This reporting was confirmed by Wojnarowski.
The Lakers, Jazz and Timberwolves are in discussions on a three-team deal that would send D'Angelo Russell to the Lakers, Russell Westbrook and draft compensation such as a first-round pick to Utah and Mike Conley Jr. to Minnesota, sources tell me and @Tjonesonthenba.

— Shams Charania (@ShamsCharania) February 8, 2023
Three-way talks with Lakers, Jazz and Timberwolves would potentially land D'Angelo Russell and Malik Beasley with LA, Mike Conley, Jr., and picks with Timberwolves and Russell Westbrook and picks with Jazz, per sources. Jazz remain engaged elsewhere on Conley Jr., too.

— Adrian Wojnarowski (@wojespn) February 8, 2023
Both Charnia and Jake Fischer of Yahoo reported that both Jarred Vanderbilt and Malik Beasley – two Jazz players in high demand on the trade market — would also be in the deal, with Charania mentioning that they would end up going to the Lakers.
LAL, UTA, MIN have indeed been discussing a three-team trade that would send D'Angelo Russell to Los Angeles, Mike Conley Jr. to Minnesota and Russell Westbrook to Utah. Malik Beasley and Jarred Vanderbilt have also been included in the versions of the framework, sources said. https://t.co/uHXQYciEWY

— Jake Fischer (@JakeLFischer) February 8, 2023
Ongoing discussions have included Utah's Malik Beasley and Jarred Vanderbilt as part of the potential three-team deal to the Lakers, sources said. Sides are working through pick protections and additional draft compensation too, per sources. https://t.co/DoI0EBOBVq

— Shams Charania (@ShamsCharania) February 8, 2023
The Lakers had Russell on the roster for the first two years of his career before they sent him to the Brooklyn Nets in a trade in 2017. Russell is averaging 17.9 points and 6.2 assists per game this season on 46.5/39.1/85.6 shooting splits. Conley will go to Minnesota where they swap out a scorer for a steadying veteran hand at point guard with experience playing with Rudy Gobert, as he's averaging 10.7 points and 7.7 assists per game. Westbrook, meanwhile is expected to be bought out by Utah, per Chris Haynes.
In three-team deal being discussed between Lakers, Wolves and Jazz, a buyout for Russell Westbrook in Utah would be the likely path, league sources tell @NBAonTNT, @BleacherReport.

— Chris Haynes (@ChrisBHaynes) February 8, 2023
It's quite the shakeup for the Lakers, whose high profile loss on Tuesday night in LeBron's coronation as the league's all-time leading scorer (days after seeing Kyrie Irving get traded to Dallas) seems to have provided the impetus to finally make a big move. Russell will bring them more scoring pop in the backcourt, while Vanderbilt is a quality rebounder and defender and Beasley gives them a spot-up shooter off the bench. The Jazz continue to stack first round picks, while the Timberwolves get something in return for Russell, who could've walked as a free agent, and will hope a steadying, veteran presence will help them in the stretch run.
The final, official details — after the Wolves tried shopping D'Angelo Russell to other teams — sees the Wolves get some second round picks along with Conley and Nickeil Alexander-Walker, with Russell, Vanderbilt, and Beasley going to L.A., and Westbrook, Damian Jones, Juan Toscano-Anderson, and the Lakers' 2027 first round pick (protected 1-4) going to Utah.
ESPN Sources: The Lakers are finalizing deal to land Minnesota's D'Angelo Russell, Malik Beasley and Jarred Vanderbilt in trade including Mike Conley and picks to Timberwolves and Russell Westbrook and a lightly protected 2027 LA first-round pick to Jazz.

— Adrian Wojnarowski (@wojespn) February 9, 2023
Also in deal: Juan Toscano-Anderson and Damian Jones to Jazz, Nickeil Alexander-Walker to the Timberwolves, sources said.

— Adrian Wojnarowski (@wojespn) February 9, 2023
Lakers, Jazz and Timberwolves are finalizing trade sending D'Angelo Russell, Malik Beasley and Jarred Vanderbilt to Los Angeles, Russell Westbrook and first-round pick to Utah and Mike Conley Jr. and second-round pick compensation to Minnesota, sources tell @TheAthletic @Stadium.

— Shams Charania (@ShamsCharania) February 9, 2023
Minnesota gets 2024 lesser of Washington-Memphis second round pick and 2025 and 2026 second-round picks via Utah, sources tell ESPN.

— Adrian Wojnarowski (@wojespn) February 9, 2023