Super Bowl Sunday is the perfect party to break out your batched cocktail skills. Who wants to be shaking and stirring cocktails all day (and night) when you should be socializing, eating wings, and watching the game? Wouldn't it be much easier to simply pour a delicious and batched old fashioned over some ice and dive in?! But batching cocktails isn't as simple as increasing ingredients and hoping for the best. There's some nuance and I'm here to guide you.
The key to batching ready-to-serve cocktails is knowing the dilution ratio. Very quickly, every cocktail is a mix of a base spirit, sugar, bitters, and water. Usually, water is added to the cocktail during the stirring or shaking step when the ice melts into the drink (and cools it). It's crucial to creating a balanced drink and is the most often skipped step when making ready-to-drink batched cocktails.
Sure, you can batch a cocktail that you then stir or shake with every drink so that you get that vital water element. But that adds time to the whole process and kind of negates batching cocktails in the first place. So below, I'm going to lay out how easy it is to batch a ready-to-drink old fashioned cocktail that you can just pour over some ice and serve. Let's dive in!
Also Read: The Top Five Cocktail Recipes of the Last Six Months
Batched Old Fashioned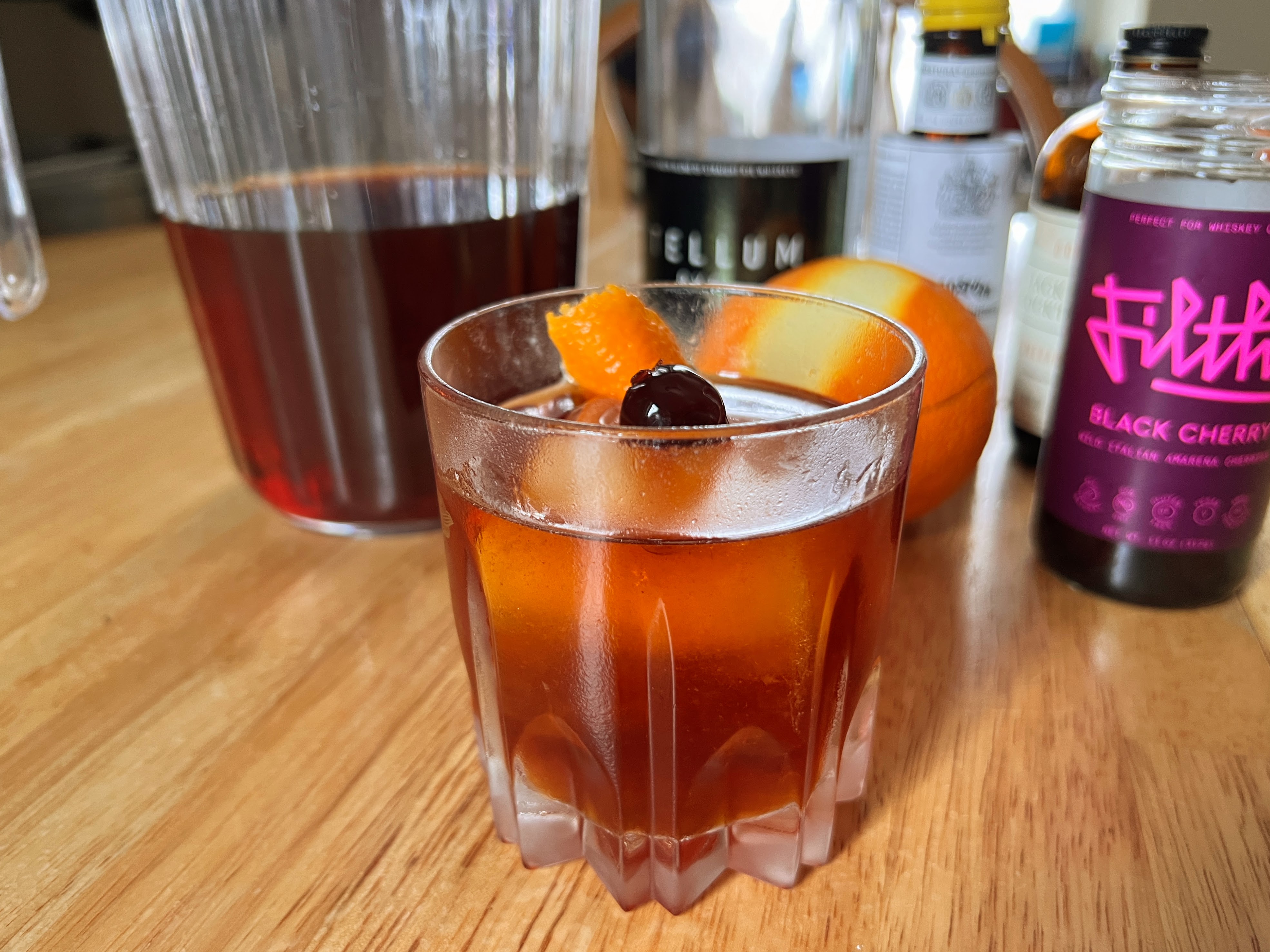 Ingredients:
1 bottle of rye whiskey (750ml)
4 oz. water
2.5 oz. Angostura Bitters
2.5 oz. demerara sugar
Large ice cubes
Orange peel
Cherry
I'm using a barrel-proof rye whiskey that's really tasty. Always make cocktails with booze that you actually enjoy drinking. No rotgut. No swill.
You'll end up with 35 ounces of old fashioned with this recipe. Aim for three-ounce pours. You don't have to be exact, but you should be able to get 10-12 pours from this batch.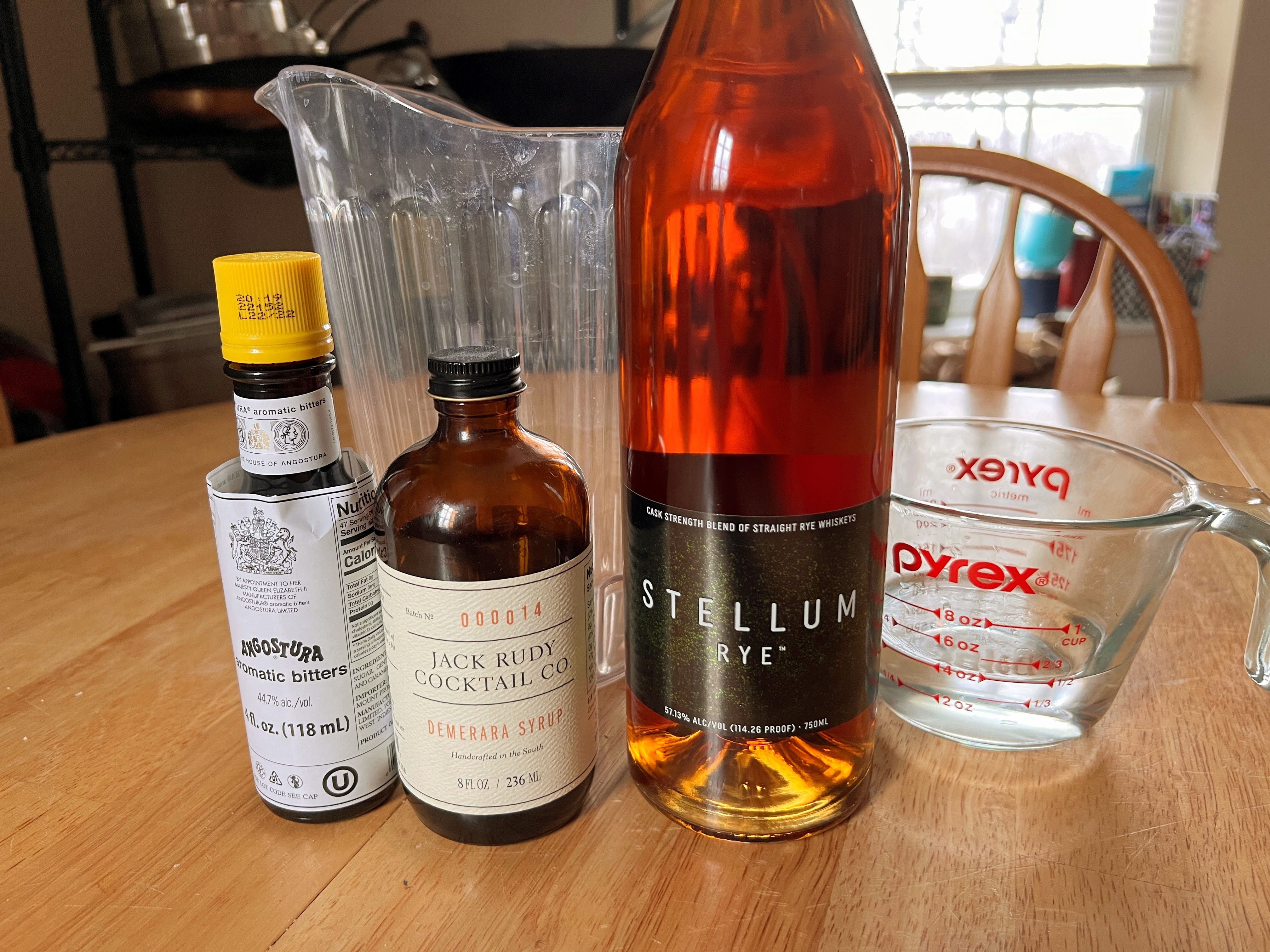 What You'll Need:
Pitcher
Barspoon
Measuring cup
Rock glass
Method:
Add all the ingredients to the pitcher. Stir until well incorporated. Taste for sweetness and overall flavor. I didn't need more sweetness, but an extra 0.5 oz. of sugar will go a long way if you want it sweeter.
Place a lid on the pitcher or funnel into a bottle and keep it in the refrigerator.
Prechill a glass and place a large cube in it. Pour the batched old fashioned over the cube and garnish with an orange peel (make sure to express the oils over the cocktail) and cherry. Serve.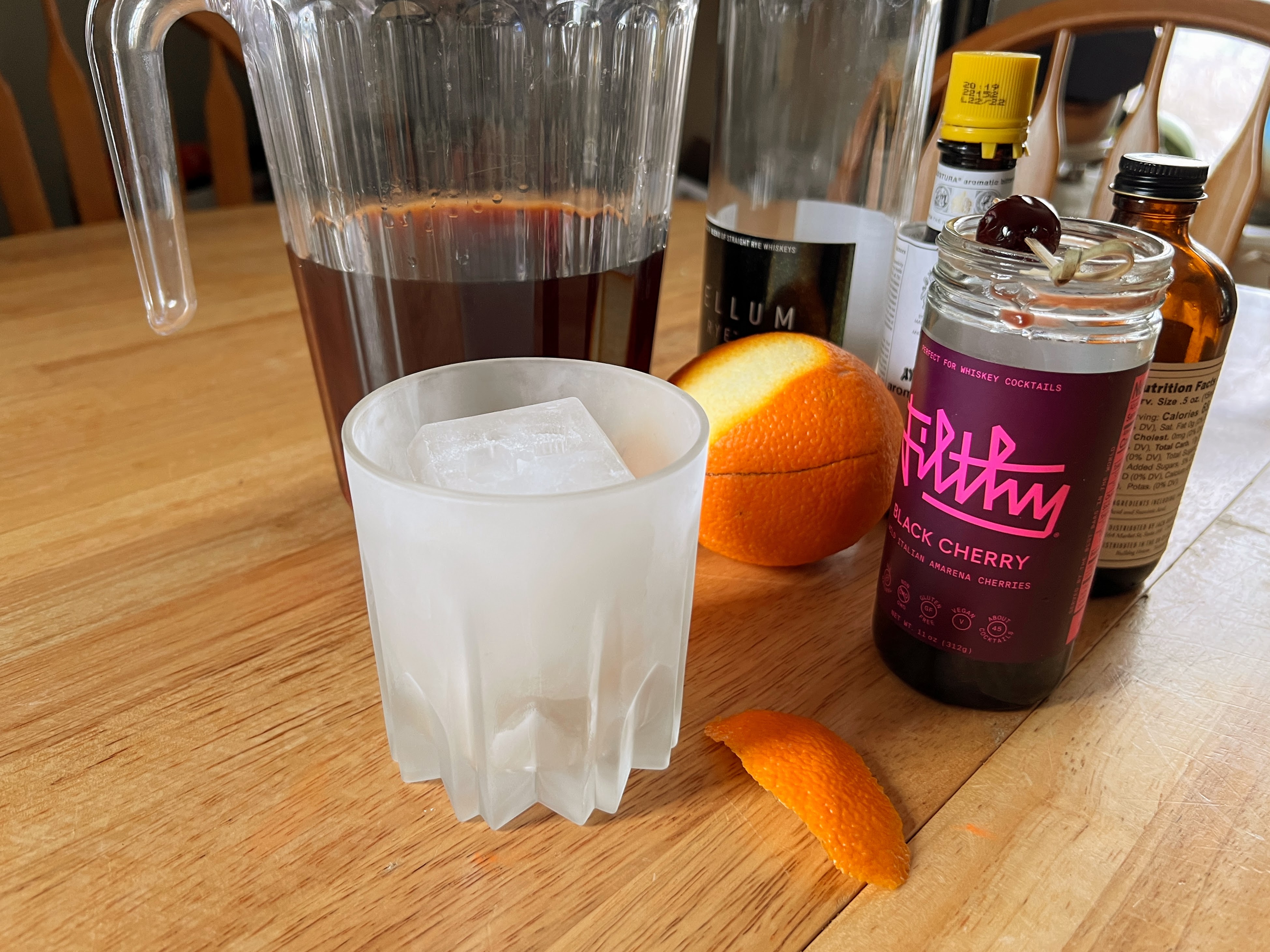 Bottom Line:
This is delicious. I shocked myself (not easy these days) with the depth of the flavor profile of this cocktail. The Stellum Rye really popped with a deep dark cherry next to clove, cinnamon, and cedar bark that's accented by the rich botanical barks from the bitters. The sweetness was just there, adding a nice lush mouthfeel (thanks to using thicker sugar syrup). The orange oils expressed over the cocktail really tied everything together and helped it pop on the palate.
Not to brag but.. this is the best old fashioned I've had in a while.
Since I'm making this ahead of time, I put it into a storage bottle and put it in the fridge. But I'm guessing I'm going to have to refill this bottle before Sunday.