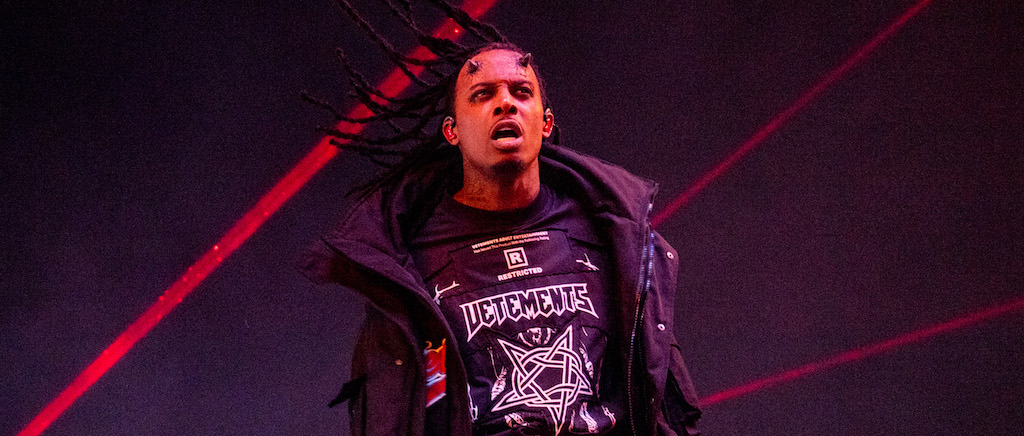 Social media users are looking to ensure Playboi Carti isn't feeling the love this Valentine's Day. While the rapper, whose real name is Jordan Carter, has his eye set on headlining a few major international music festivals, such as Wireless Fest in London and Rolling Loud Portugal, these performances might not happen because of his latest arrest.
According to TMZ, Carti was arrested for felony aggravated assault back in December in Fulton County, Georgia, for allegedly grabbing his rumored pregnant girlfriend by the throat and pushing her. Around the same time, the rapper quietly stepped away from social media, which prompted fans to speculate that new music was on the way. However, his departure from the public could possibly have been directly tied to the incident.
The outlet also reported that the incident began as an argument over a paternity test. During the identified woman's statement to the police, she said she feared for her life during the attack as Carti allegedly held her neck until she could barely breathe. The alleged victim, a witness to the matter, did intervene to try and break up the fight and help her escape his grasp. But Carti then attacked her again as she attempted to flee to her vehicle. However, once Carti caught up to her, the rapper attempted to pull her out of the vehicle and put his hand over her mouth as she tried to use the car's SOS feature to call the police.
Playboi Carti was arrested for felony aggravated assault in December 2022 after allegedly choking his pregnant girlfriend following an argument over a paternity test (via TMZ) pic.twitter.com/ZAiykW95Wq

— Kurrco (@Kurrco) February 14, 2023
Carti has not yet issued a statement regarding the matter, but his lawyer, Brian Steel, did provide one on his behalf to Complex. In an email, Steel wrote, "Mr. Carter was falsely accused. Pursuant to my communications with the Fulton County District Attorney's Office, this case will be dismissed without any prosecution or litigation."