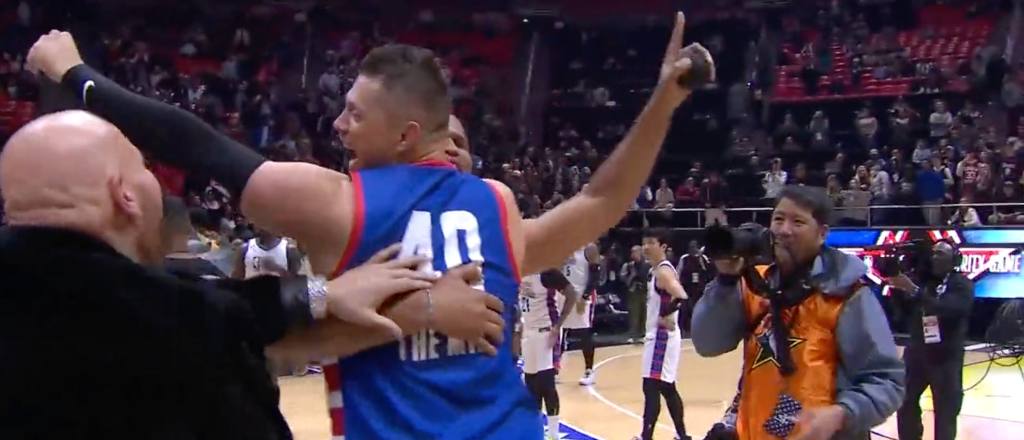 The Miz's best moment since he cashed in his Money in the Bank contract at the 2021 Elimination Chamber pay-per-view ended up being for naught. The WWE superstar competed in Friday night's Celebrity Game at the NBA's All-Star weekend as a member of the team led by Utah Jazz owner Ryan Smith.
Like most Celebrity Game participants, Miz seemed like he had a pretty good time, but ultimately, his number one priority looked like it was having fun. That changed at the end of the game, though, as Team Ryan trailed by five points with two seconds left. But after a stolen inbounds pass and a layup, Smith's team needed a three to tie or one of the game's four-point shots to win.
Simu Liu tried to chuck the ball down the court to DK Metcalf with the hopes that he would catch it and run out the clock — admittedly a very good idea — but instead, Miz was able to reel in the pass. He threw up a prayer from halfcourt, and wouldn't you know it, his prayer was answered.
The half-court shot didn't count, but what a WILD ending to the #RufflesCelebGame @RUFFLES | #NBAAllStar pic.twitter.com/qx2jUbog9d

— NBA (@NBA) February 18, 2023
Metcalf, whose team suddenly lost due to this being a four pointer, was in complete shock.
.@mikethemiz's halfcourt shot had DK shook pic.twitter.com/NpwIojhHsV

— SportsCenter (@SportsCenter) February 18, 2023
It was pretty obviously late, though, and the referees ruled this out. Team Dwyane won on the scoreboard, but I think it's safe to say The Miz won the hearts of everyone who watched.