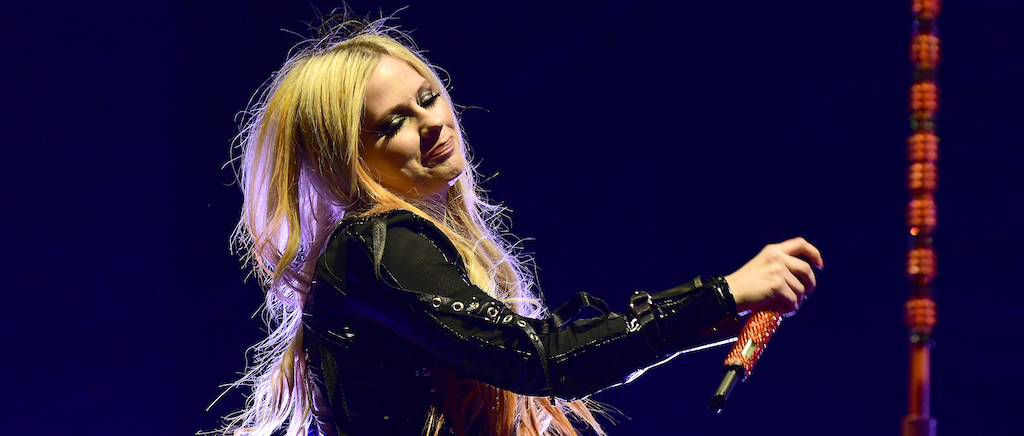 Less than a year after announcing their engagement, Avril Lavigne and Mod Sun have apparently called it quits, according to TMZ. The news comes just after rumors surfaced speculating that Avril had been getting cozy with Compton rapper Tyga; this will undoubtedly add fuel to those rumors now that she's apparently single.
Lavigne and Mod Sun, whose real name is Derek Ryan Smith, had apparently been dating for about a year before he proposed in Paris. At the time, Lavigne said, ""I knew we had a very strong unstoppable connection from the first week of writing and working together in the studio. Immediately. He made every day better. It was like I had known him forever. As time went on, things kept getting better, and it felt incredibly natural. […] I look forward to having fun, creating, working together, touring together, growing together. It feels good to have someone who can help celebrate the good times, hold you through the tough ones, and be there for all the moments in between."
It looks like she has since changed her mind, although no reason was given for the breakup. According to TMZ's sources, neither side cheated, they just couldn't seem to get on the same page. Oddly, a rep for Mod Sun told TMZ, "They were together and engaged as of 3 days ago when he left for tour so if anything has changed that's news to him." They were together as recently as Grammys weekend, when they attended an event together.
Meanwhile, as far as those dating rumors with Tyga are concerned, TMZ says the two are good friends and have been for a long time, but are not romantic.