Scotch whisky gets really good when its price lands right under $100 per bottle. This is where the bottles start going beyond "entry-level" and toward longer aging, special finishing, and that little something extra that make them special and (quite often but not always) delicious. Also, there's more Scotch whisky on the shelf at this price point since Scotch whisky is inherently more expensive in the U.S. than, say, bourbon or rye whiskey.
That makes deciding which bottle to buy a little bit more of a question mark. To help you, I'm going to list 15 Scotch whiskies — single malt and blended expressions — that you absolutely should buy, drink, and perhaps even add to your regular rotation. For this list, list I'm covering peated and unpeated whiskies. As mentioned above, there are blended whiskies (a blend of grain and single malt barrels) and single malts expressions. In essence, there's something for everyone listed below. My advice is to read the tasting notes, find something that speaks to you or sparks your curiosity, and hit that price link to see if you can find it in your neck of the woods.
A quick note, these prices are set for delivery (Total Wine, Drizly, ReserveBar) in Lousiville, Kentucky. Local prices and availability with vary depending on your region. Let's dive in!
Also Read: The Top 5 UPROXX Scotch Whisky Posts of The Last Six Months
15. anCnoc Highland Single Malt Scotch Whisky Rascan
ABV: 46%
Average Price: $94
The Whisky:
Hailing from the famed Knockdhu Distillery, this single malt (pronounced "uh-KNOCK") is named after the rake-like tool that breaks up the sod so harvesters can dig out some peat. The whisky is made from malt that's barely been kissed with the smoke from a peat fire, keeping the phenols (that's the smoke compound in the barley) very low. The juice is loaded into ex-bourbon barrels where it's allowed to rest for "nearly" 10 years before proofing and bottling.
Tasting Notes:
Nose: There's a rush of fresh Granny Smith apples on the nose next to Honey Nut Cheerios with the smallest spritz of orange oils.
Palate: The fresh honey sweetness builds, as a slight and almost woody bourbon vanilla sneaks onto the palate with a sharp edge of eggnog spice.
Finish: The sip slowly fades towards smoked dried apple tobacco with a touch of old, soft leather and dried heather.
Bottom Line:
This is a great place to start for American whiskey palates. The bourbon aging adds a nice and soft vanilla backbone and sharp spiced edge that plays really well with malty honeyed sweetness and orchard fruit vibes. The peated "smokiness" is so dialed back, that you might miss it on the first sip, which is great for anyone who's a little peat hesitant.
14. Tobermory Single Malt Scotch Whisky Aged 12 Years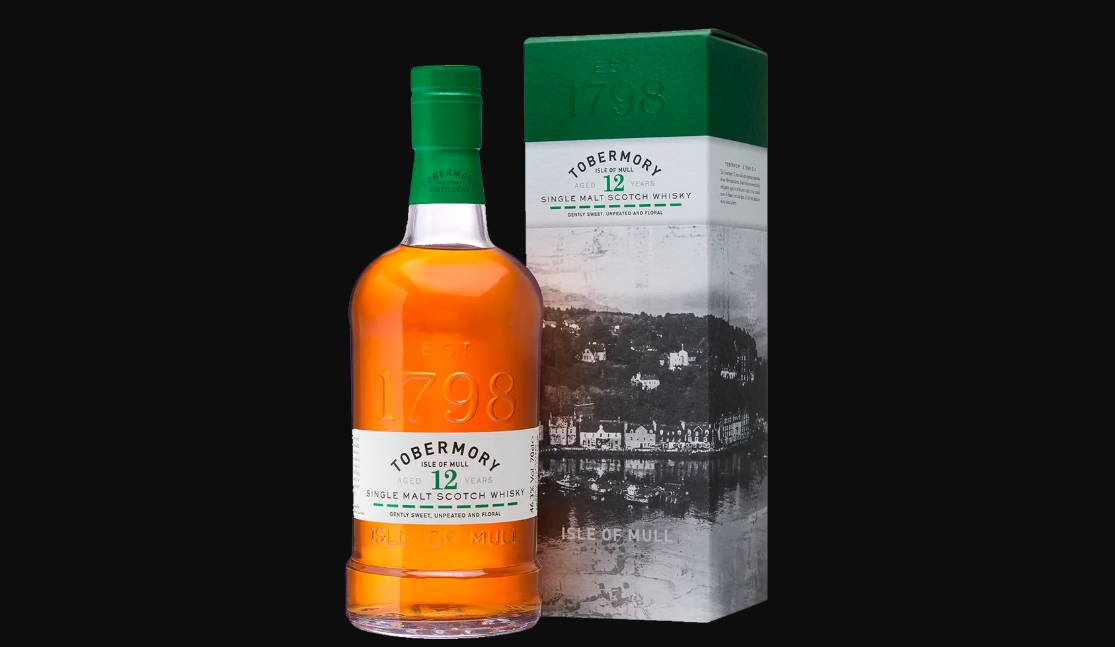 ABV: 46.3%
Average Price: $97
The Whisky:
This unpeated malt from the Isle of Mull spends 12 years aging in first-fill ex-bourbon barrels (those are barrels that haven't had anything but bourbon in them so far). Once that whisky is just right, the malt is transferred to new American oak barrels for nine more months of mellowing before bottling at cask strength with no fussing whatsoever.
Tasting Notes:
Nose: Bourbon vanilla comes through on the nose with a deep creaminess that's punctuated by orange zest, woody cinnamon, and a light hint of granite.
Palate: The palate leans into warm and soft malts as soft hints of orchard fruit lead to pencil shavings and a touch of chili-chocolate tobacco.
Finish: The end is a mix of winter spices with a woody edge next to soft suede, more vanilla cream, and soft maltiness that's nearly chocolate custard.
Bottom Line:
This is another great "bridge" whisky that's also niche enough that you'll get some serious whisky street cred for knowing that it exists. That bridge is, of course, between bourbon and unpeated single malt. There's a deep sense of chocolate malts that are wonderfully accented by rich bourbon vanilla and chili-spiced bourbon oak staves. It all really comes together well, making it a great pour for a bourbon fan looking for a good starter single malt.
13. Laphroaig Islay Single Malt Scotch Whisky Càirdeas Warehouse 1
ABV: 52.2%
Average Price: $99
The Whisky:
This year's Càirdeas release celebrates the Friends of Laphroaig and how they keep the brand going. The whisky in the bottle is made from Laphroaig's high-phenol peated malt right next to the sea on Islay. The hot spirit was then filled in first-fill limited edition single barrel Maker's Mark bourbon barrels. The barrels were then stored in the famed four-story Warehouse 1 right next to the crashing sea until they were just right and then bottled as-is after vatting.
Tasting Notes:
Nose: The nose opens with a huge note of smoked grainy malts next to an un-opened box of Band-Aids, peppery smoked brisket with plenty of smoked fat, and smoked sea salt counterpointed by vanilla sheet cake with a honey icing and dusted with cinnamon and nutmeg.
Palate: The palate opens with burnt yet buttery toffee next to white wildflowers, dried fennel, and rich and creamy honey smoothness and sweetness.
Finish: The end gets a little woody with a fatty smoked peppery vibe next to more toffee and a dash of seawater-washed granite.
Bottom Line:
This is for the peat seekers. This stuff is bold and unforgiving if your palate is not ready for hefty ashy peat and deep medicinal whisky vibes. That said, if you build your palate over time, this whisky will bloom and reveal beautiful layers of buttery sweetness, soft florals, and spiced honey sweetness with a nutty creaminess.
12. The Singleton Single Malt Scotch Whiskey 18 Years Old Glendullan Distillery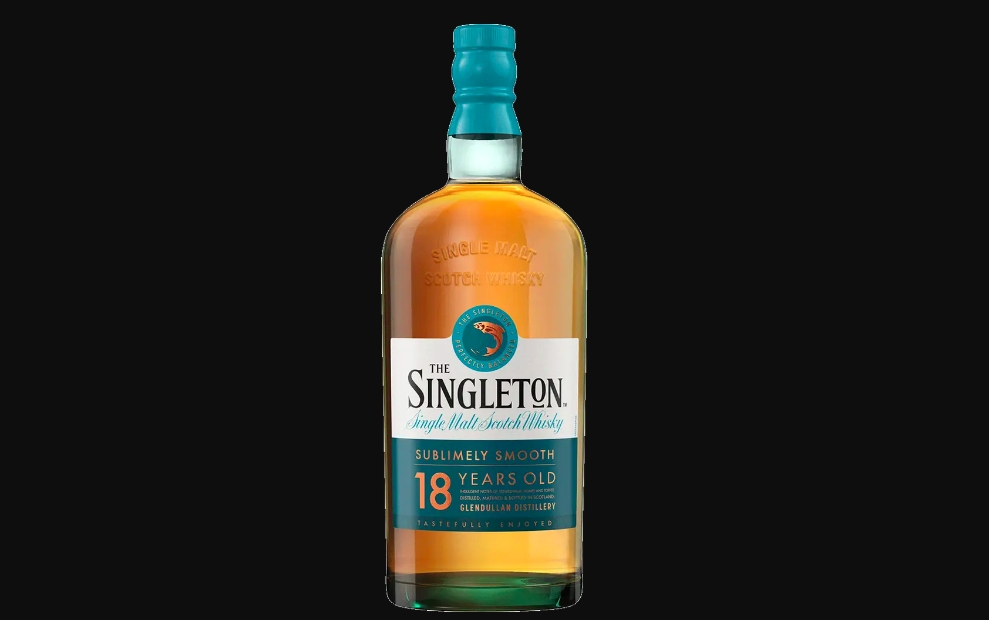 ABV: 40%
Average Price: $99
The Whisky:
This Speyside whisky rests mostly in ex-bourbon casks. The final product adds in a few finishing barrels from Europe to mellow out the heavier bourbon barrels. That blend is then cut down to a low 80-proof for bottling.
Tasting Notes:
Nose: The nose opens with hints of cedar and winter spice underneath caramel candies, roasted almonds, and a hint of stewed orchard fruits.
Palate: The palate largely carries on those flavors with a subtle hint of bourbon vanilla and spicy tobacco warmth attached to the maltiness, with an echo of dark chocolate-covered hazelnuts.
Finish: The finish leans into the cedar and tobacco with a slightly mineral water base.
Bottom Line:
This is a very easy-sipping whisky experience. You don't need a rock to calm this one down, it's already as mellow as can be. Mellowness aside, this is still a complex and rewarding whisky that's well-built and pretty damn tasty. If you're looking for an easy start to your unpeated single malt journey, this is about the softest landing/easiest entry point that you can find in the whole single malt game.
11. Longrow Peated Campbeltown Single Malt Scotch Whisky
ABV: 46%
Average Price: $99
The Whisky:
This Campbeltown whisky is distilled at the iconic Springbank Distillery. The whisky is a no-age-statement release that leans into the peatier end of the Springbank offerings. The whisky is bottled with a bit of water added to cut the proof down but without filtration or added color.
Tasting Notes:
Nose: Vanilla pudding mingles with a line of smoke from a smoldering backyard firepit while a savory herb garden grows nearby and then the nose veers toward singed marshmallows and burning fruitwood.
Palate: The palate leans into that burning fruity wood before creamy vanilla leads to a brand new Ace Bandage.
Finish: That medicinal note gives way to a wet clay with a nice minerality before the sweet and fruity smoke kicks back in and layers together vanilla, winter spice, and leather on the finish.
Bottom Line:
This is funky and fresh with a nice balance of peated ashiness and medicinal qualities front and center. This isn't as unforgiving as a Laphroaig, but it is 100% and acquired taste that'll take time for your palate to truly enjoy. So take your time with it. If you're already far down your peated whisky road, then this is simply a must-have bottle that you can actually find from a pretty un-gettable whisky distillery.
10. Glenmorangie The Cadboll Estate Highland Single Malt Scotch Whisky Aged 15 Years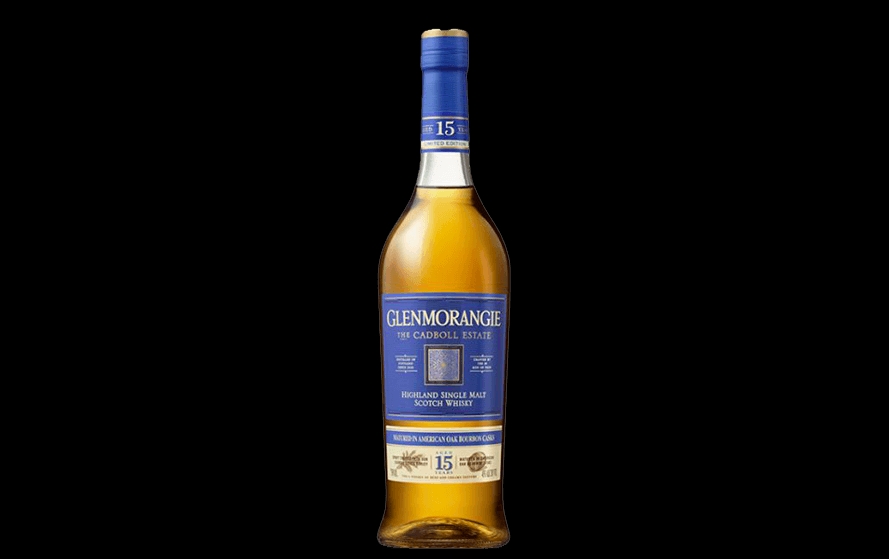 ABV: 43%
Average Price: $94
The Whisky:
Glenmorangie has finally made this a regular drop on the North American market. The whisky is made from Highland barley grown exclusively on the 440-acre Cadboll Estate, which surrounds the distillery. The hot juice is then filled into French casks which held Muscat and Sémillon wines. It's then left alone for 15 years to mature. Finally, those barrels are batched and brought down to a low 86 proof with local highland spring water.
Tasting Notes:
Nose: There's a sense of buttered scones with lemon curd next to a good dose of vanilla and a touch of savory herbs on the nose.
Palate: The palate really holds onto that biscuity nature while adding in a caramel candy note next to a bit of butter with a white sugar cube vibe.
Finish: That lemon comes back on the short finish with hints of old straw and strawberry jam.
Bottom Line:
This is a quintessential unpeated single malt that's a little extra thanks to that single estate barley in the mix. This is soft and inviting and a great example of the beauty brands like the Glenmorangie can achieve. That makes this the perfect bottle to add to your bar cart if you're looking to take a big step up from the standard 12-year expressions out there.
9. Grand Old Parr Aged 18 Years Blended Scotch Whisky
ABV: 40%
Average Price: $93
The Whisky:
This old-school brand just expanded into 18-year territory for the U.S. market. The whisky is made from malts and grain whiskies mostly pulled from the famed Cragganmore distillery. Those whiskies are vatted/batched, proofed, and bottled in this old-school stubby bottle.
Tasting Notes:
Nose: Dark and meaty dates and figs are countered by a hint of vanilla cream, woody cinnamon, and … I want to say … oyster or clam shell.
Palate: The palate is a classic malty experience with a touch of sage over caramelized root vegetables with a whisper of vanilla cake filled with spicy stewed plums.
Finish: The end has a mild woodiness that's attached to the spices with a hint of oak and mustiness.
Bottom Line:
This feels old-school, kind of like you're drinking endless Scotch on the rocks pours in the 1950s in a dark and dank club somewhere in Edinburgh. Nostalgia aside, this whisky is a great on-the-rocks pour that's funky and classic at the same time. It's a nice balance. If you're looking for something old that feels new, this is the bottle to buy.
8. Bowmore Islay Single Malt Scotch Whisky Aged 15 Years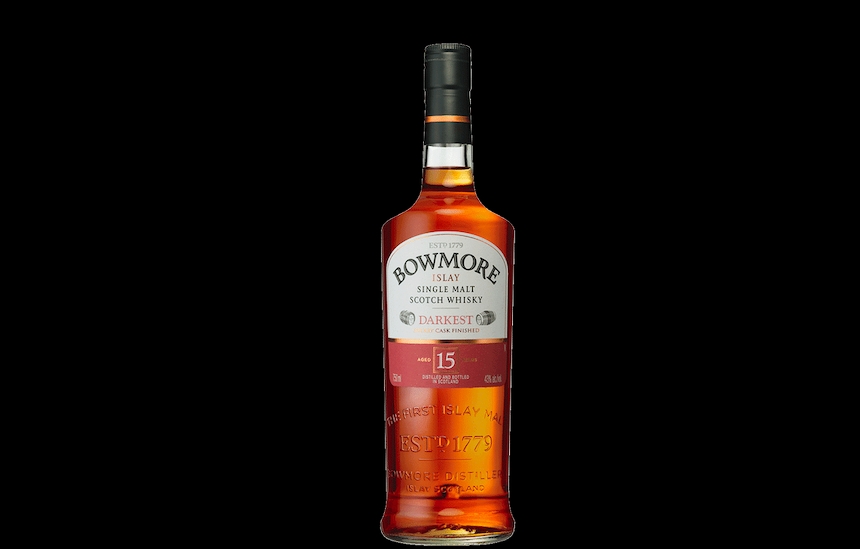 ABV: 43%
Average Price: $99
The Whisky:
This bottle from Islay's Bowmore is a 15-year-old whisky that's a blend of American and European oak. For the first 12 years, this whisky rests in ex-bourbon barrels. For the last three years, the whisky is transferred to Oloroso sherry casks. The whisky is then finished with local spring water, bringing it down to a very approachable 86-proof.
Tasting Notes:
Nose: Bowmore's low peatiness shines through on the nose with a hint of smoked chocolate malts next to raisins, dates, and plums with a hint of smoked fig next to mild sourdough scones.
Palate: The palate leans into a cedar box full of spicy tobacco that's dipped in Karo syrup with more of those dried fruits lurking in the background of the sip.
Finish: Those sweet and dried fruits move the mid-palate towards oat cakes touched with cinnamon and a dry yet sweet tobacco vibe on the end.
Bottom Line:
This is another peated whisky that you'd be forgiven for missing that it was peated at all. The smokiness is tied to the sweet chocolate malts and dark fruits. There are no "ashy" or "medicinal" peated vibes at all. This is a bourbon-forward single malt that has serious depth and really serves as a great introduction to the beautiful subtly of Bowmare as a distillery.
7. Clynelish Single Malt Scotch Whisky Aged 14 Years
ABV: 46%
Average Price: $95
The Whisky:
Up on the cold northern coast of Scotland, you'll find a little town called Brora. There used to be a distillery there of the same name, which made peat monsters up unit the 1980s. Clynelish took over the location and started making their own peated malts, this time while leaning more into the sea than the peat. And in this case, they've created a very lightly peated single malt that spends a decade and a half resting near that sea until it's just right.
Tasting Notes:
Nose: This has a nostalgic sense of a cold, rainy beach. You're not necessarily on that beach but you can remember to sea spray, the salt on your lips, the smell of dried seaweed, and a touch of old smoke from a nearly dead fire.
Palate: The taste dances between notes of burnt orange peels, old leather tobacco pouches, and this soft mineral water mouthfeel that carries with it a creamy vanilla just touched with sea salt.
Finish: The end is medium-length, salty, and has this mildly bitter edge that's akin to a cocoa bean pith.
Bottom Line:
This is the perfect blend of sea and roasted malt that's creamy and salty more than ashy or funky. It's so subtle and soft with a sense of rich creaminess thanks to the vanilla and choco aura that you can't help but adore it from the first nose and sip. If you're looking for a truly elevated and subtle peated malt experience, this is the bottle to dive into.
6. Glenkinchie Single Malt Scotch Whisky Distillers Edition
ABV: 43%
Average Price: $98
The Whisky:
This limited edition expression from last year's Diageo Distiller's Editions is expertly crafted Lowland whisky. The malt is finished in a specially made barrel that is constructed from used and new American oak that's then filled with Amontillado sherry for a month. Once that fortified wine is dumped, the whisky goes in for its final maturation.
Tasting Notes:
Nose: The nose is a soft mix of cedar, red berry, and vanilla pods next to a bowl of fruity candy with a hint of caramel and raisin.
Palate: The palate starts off watery but then explodes with flavor — black pepper, brie rinds, sour candy, a dirt cellar floor, smooth malts, and a hint of sour apple tobacco all make appearances.
Finish: The finish continues to build with a cheese cellar vibe next to fresh cream touched with winter spices, dried red fruits, soft cedar, and vanilla on the back end.
Bottom Line:
This is a rare-ish whisky that the whisky authorities will rave about (like me) but is still pretty under the radar. Part of that is that Lowland whisky is a tiny region relatively. Another part of that whisky is a limited edition. All of that aside, this is a great option for anyone to truly up their Scotch whisky game with a delicious whisky that will 100% gain them some serious esteem as a whisky drinker in the know.
5. Johnnie Walker Aged 18 Years Blended Scotch Whisky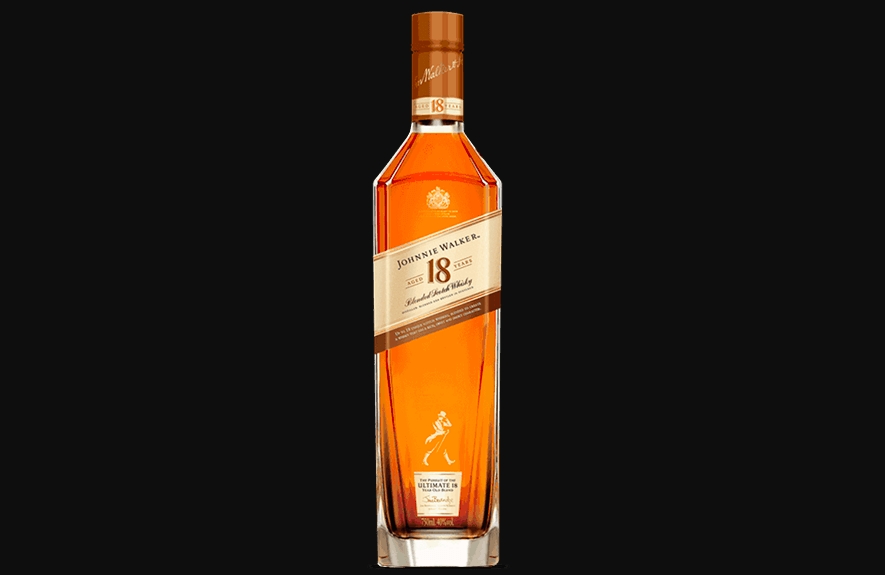 ABV: 40%
Average Price: $99
The Whisky:
This blend used to be called Johnnie Walker Platinum, which was also aged for 18 years. You might still see some of those bottles on shelves where scotch sells slowly. This is the same whisky comprised of 18 whiskies — all of which are a minimum of 18 years old. The primary distilleries in the bottle are Blair Athol, Cardhu, Glen Elgin, and Auchroisk.
Tasting Notes:
Nose: Applewood and buttery toffee draw you in on the nose with nice notes of fresh and ripe fruit, worn jacket leather, and soft malts just touched with winter spices.
Palate: Caramel leads the palate toward rich marzipan, vanilla pudding, and freshly peeled tangerines.
Finish: Sweet yet dark cacao drives the mid-palate toward the softest line of sweet smoke just touched with dry chili spice and that applewood.
Bottom Line:
This is another great bottle of whisky from Johnnie Walker. When you get into these higher expressions from the brand, you really start to see why Johnnie Walker is so beloved around the world. It's just really freaking good whisky and this bottle is no different. Buy this if you're looking for a great blended whisky that delivers as a slow sipper on par with the best single malts (at this price point) out there.
4. Old Pulteney Single Malt Scotch Whisky Aged 15 Years
ABV: 46%
Average Price: $99
The Whisky:
This seaside Highland whisky is a whisky lover's brand. The unpeated juice in this case is made from local malted barley. That spirit goes into ex-bourbon barrels for 15 years before it's refilled into first-fill ex-Oloroso sherry butts for a final rest. Finally, the whisky is vatted and proofed before bottling.
Tasting Notes:
Nose: Soft stewed pears in honey with a hint of saffron open the nose next to a touch of raisin, dried apple chips, and maybe some dried roses and orange rinds.
Palate: The palate touches on a chocolatey coffee with hints of vanilla bean, minced meat pies, and mulled wine spice with a smidge of sour red wine in there.
Finish: The end is part sticky toffee pudding and part salted dried berries with a hint of marzipan and dark chocolate tobacco on the finish.
Bottom Line:
This is an essential pour of unpeated single malt. There's a wonderful balance of dark flavor notes with bright orchard and floral vibes that just works. If you're looking for an exemplary unpeated single malt for just under $100, this is it.
3. The Dalmore Highland Single Malt Scotch Whisky Aged 14 Years
ABV: 43.8%
Average Price: $99
The Whisky:
This Highland single malt is classic malted whisky from The Dalmore that spends 14 years mellowing. Then The Dalmore's Master Whisky Maker Gregg Glass hand-selects specific barrels for vatting and re-barreling in very rare Pedro Ximénez casks from the House of Gonzalez Byass in Spain. Once Glass deems those barrels just right, they're vatted, proofed, and bottled exclusively for the U.S. market.
Tasting Notes:
Nose: The nose opens with a sense of subtle citrus — almost bitter orange and lemon — next to salted black licorice, caramel malted ice cream, toffee candies, and marzipan cake covered with poppy seeds and vanilla wafers.
Palate: The palate is pure sticky toffee pudding fresh out of the oven with a little bit of orange zest and flaked salt next to black-tea-soaked dates, sweet cinnamon, fresh nutmeg, rum-soaked caramel sauce, and a dollop of brandy butter with a twist of dark chocolate nibs.
Finish: The end leans into the dates and marzipan with a touch of spiced fig jam and prunes dipped in creamy yet very dark salted chocolate.
Bottom Line:
This is where we get into the best of the best at this price point. This is essential unpeated single malt whisky that's dark, delicious, and unbelievably well-balanced. If this doesn't make you fall in love with single malt from the first sip, then maybe nothing will.
2. Aberlour A'bunadh Speyside Single Malt Scotch Whisky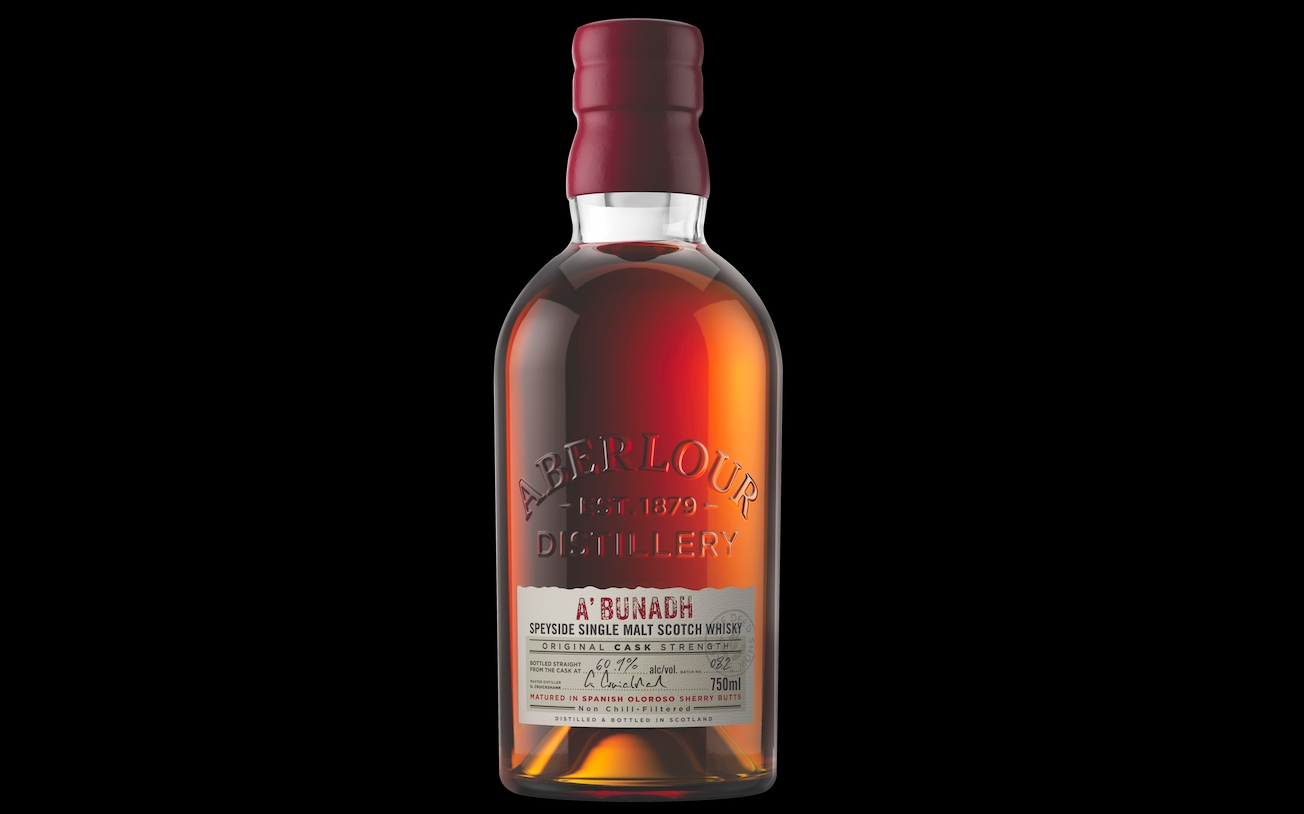 ABV: 56.2%
Average Price: $94
The Whisky:
A'bunadh (ah-boon-arh) means "the original" in Gaelic and the whisky in this Speyside bottle represents that idea for Aberlour. The whisky is matured in old Oloroso sherry casks exclusively. The whisky then goes into the bottle at cask strength, unfussed with.
Tasting Notes:
Nose: That sherry plumminess is evident right up top, with hints of bright orange oils, clumps of dark chocolate, honey, and nuts, and a hint of oak.
Palate: The taste shines with notes of dark, ripe cherries, prunes, more bright orange zest, dark chocolate, and a good measure of svelte vanilla.
Finish: The slow finish leaves you with a creamy mouthfeel next to bitter chocolate next to sweet cherries and plums, all of which lead towards a warming spice on the tongue at the end.
Bottom Line:
Re-read the "bottom line" above, the same applies here. What I'd add to that about this delectable Aberlour expression is that this really speaks to bourbon drinkers. This is one of the best bridges between unpeated Scotch single malt and Kentucky bourbon that money can buy. That's so true that this even makes an amazing Manhattan and old fashioned.
1. Lagavulin Single Islay Malt Whisky Aged 16 Years
ABV: 43%
Average Price: $97
The Whisky:
This is the most recognizable Lagavulin out there. The malts are smoked just down the road from the distillery at Port Ellen and the mash is crafted expertly by the sea at Lagavulin Distillery. The whisky then spends 16 long years mellowing in old American and Spanish oak before vatting, proofing, and bottling.
Tasting Notes:
Nose: Imagine a beach fire that's using dried seaweed as fuel next to mugs of honeyed black tea and a clump of wet moss on the nose.
Palate: The taste of this dram meanders through dried pipe tobacco smoke laced with hints of vanilla and tart apple while notes of briny caramel lead towards an oyster shell minerality.
Finish: The finish is pure silk as the seaweed grows wetter and the smoke sweetens towards that caramel, vanilla, and apple.
Bottom Line:
This is the perfect balance of approachable peated whisky and deep Islay flavors that are welcoming to all. Yes, this has deep peated vibes, but those are subtly layered into a bigger idea of this whisky's orchard notes, creamy sweetness, and honeyed bitterness with a soft briny aura. It all just works, which makes this an essential advanced whisky to have on your bar cart. Plus… you need this around to make Smoky Cokeys — so don't skip this one.