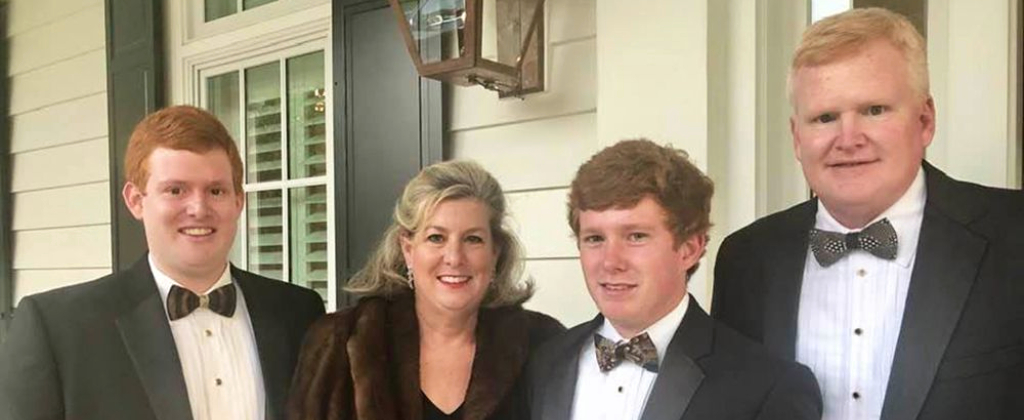 The Murdaugh Murders are about to become TV's next big true crime obsession thanks to a Netflix docuseries that was released earlier this week.
Murdaugh Murders: A Southern Scandal is a three-part documentary that retraces one of the most shocking murder investigations in South Carolina's history. It involves a prominent, politically-powerful family, multiple coverups, fraud, money laundering, addiction, and a failed assassination attempt allegedly orchestrated by its own victim. Currently, the case is on trial but to understand the complex, frankly baffling backstory of this terrible tragedy that brought down a modern Southern dynasty.
Who Is Alex Murdaugh?
Alex Murdaugh is the 54-year-old disgraced attorney and heir to the Murdaugh Empire. His family has held powerful judicial offices in Hampton County, South Carolina for the past 100 years with his father, grandfather, and great-grandfather all serving as the solicitor in the 14th Judicial Circuit solicitor's office. Murdaugh worked at a law firm owned by his family and married his college sweetheart Maggie. The couple had two sons, Buster (the eldest) and Paul (the youngest).
Murdaugh was viewed as an upstanding citizen and a trusted voice in his community but, following multiple deaths connected to his family — including the murders of his wife and youngest son Paul for which he is now on trial — accusations of fraud, money laundering, and drug use have surfaced to paint a darker picture of Murdaugh and his motives. Not only has the family patriarch admitted to a two-decade-long opioid addiction that he hid from his friends and family, but his clients have also alleged he stole millions of dollars from them in life insurance settlements — money his law firm partners are now having to pay back on his behalf.
Where Did The Murdaughs Live?
The Murdaughs lived in Hampton County, South Carolina which lies on the border of South Carolina and Georgia and is a two-hour drive from Charleston. The family owned multiple properties but their most prized residence is a sprawling 1700-acre estate known as Moselle. The property was used for hunting and hosting huge family get-togethers. It's also where both Paul and Maggie plus the family's longtime housekeeper Gloria Satterfield, eventually died.
How Did Paul Murdaugh And Maggie Murdaugh Die?
On June 7, 2021, Paul and Maggie Murdaugh were found shot to death near the kennels on the Moselle property. Maggie was shot five times, including in her torso, chest, and the back of her head while son Paul was shot twice with a shotgun. While both sustained fatal injuries and likely died quickly after the shooting, Paul suffered particularly gruesome blows that reportedly separated his brain from his head, killing him instantly. Murdaugh was the first to the scene, discovering the bodies of his wife and son shortly before placing a call to the police.
What Was The Motive For Killing Paul And Maggie Murdaugh?
The motives for the killings of Paul and Maggie Murdaugh are still a bit murky. Currently, Alex Murdaugh is on trial, accused of killing both family members to hide his financial crimes. Prosecutors in the case allege that Murdaugh committed the murders in order to divert attention from his own criminal behavior relating to his law firm and to buy him some time before answering charges of theft and mismanagement from his clients. In a court filing, prosecutors wrote the following:
The evidence will show Murdaugh accrued substantial debts over a period of years and to uncover those debts began engaging in illicit financial crimes. The evidence will further show these financial crimes were about to come to light at the time of the killings, more specifically on the date of the killings. Ultimately the murders served as Murdaugh's means to shift the focus away from himself and buy himself some additional time to try and prevent his financial crimes from being uncovered, which, if revealed, would have resulted in personal legal and financial ruin for Murdaugh.
Strangely enough, Murdaugh was involved in a drive-by shooting shortly after Maggie and Paul's deaths that he initially claimed was an assassination attempt. According to police, however, the incident was a botched suicide-for-hire plot that Murdaugh orchestrated in order to get a life insurance payout for his son, Buster. Murdaugh is also facing charges for that scheme but he claims it's not proof that he killed his wife and son.
According to him, the motives for the shooting are related to another death connected to the family that his son Paul might have been responsible for. Murdaugh has alleged that Paul had been receiving threats related to the incident that might provide both a motive and a connection to the killer.
Who Is Mallory Beach?
Mallory Beach was a 19-year-old South Carolina native who attended Wade Hampton High School and was friends with Alex Murdaugh's youngest son, Paul. In February 2019, Beach was involved in a fatal boating accident after an allegedly drunken Paul crashed his family's boat into a bridge at high speed. Beach was ejected from the vessel upon impact and, because the accident happened late at night, first responders struggled to find her. Friends who were also riding in the boat alleged that Paul was heavily intoxicated and acting erratically, refusing to let anyone else drive and fighting with passengers.
Eight days after the crash, volunteers and investigators located Beach's body some five miles from the site of the accident.
What Was The Cause Of Death For Mallory Beach?
After Paul Murdaugh's murder, investigators in the Mallory Beach case revealed new information about her death, including the cause of it. When Murdaugh hit the bridge at high speed, Beach had been sitting on top of her boyfriend, Anthony Cook's, lap. She was thrown out of the boat while Connor and other passengers remained inside, sustaining multiple injuries. The coroner's office determined Beach died from blunt force trauma — likely from the impact of hitting the water and such high speeds — and drowning.
Did Alex Murdaugh Kill Mallory Beach?
It was Paul, not Alex Murdaugh, who was driving the boat the night Mallory Beach was killed. At the time of his death, Paul was out on bond, awaiting trial after being charged with three felony counts of boating under the influence. He had pled not guilty but the intense scrutiny directed toward the family might have made Alex's money troubles even worse. His financial crimes were slowly coming to light and his involvement in allegedly trying to cover up Paul's involvement in the crash put a target on his back.
According to Anthony Cook, Alex tried to reframe the narrative to make the police believe it was him and not Paul driving that night. Alex also rushed to the hospital where the teens were taken, allegedly going from room to room trying to talk to the remaining survivors of the crash.
What Is SLED?
SLED stands for the South Carolina Law Enforcement Division and it's a statewide investigative agency that assists in and conducts investigations at the direction of the Governor and the Attorney General of the state. SLED agents were involved in both the Mallory Beach death and the murders of Paul and Maggie Murdaugh, responding to both scenes and conducting separate investigations. Murdaugh has since admitted to lying to SLED agents about his whereabouts the night his wife and son died.
Where Can You Livestream The Murdaugh Trial?
The Murdaugh Murders trial is currently taking place in Colleton County, South Carolina, and is being covered by multiple major news outlets including CNN and MSNBC. Livestreams of the trial can be found on Youtube courtesy of local news stations like News 19 and outlets like USA Today.