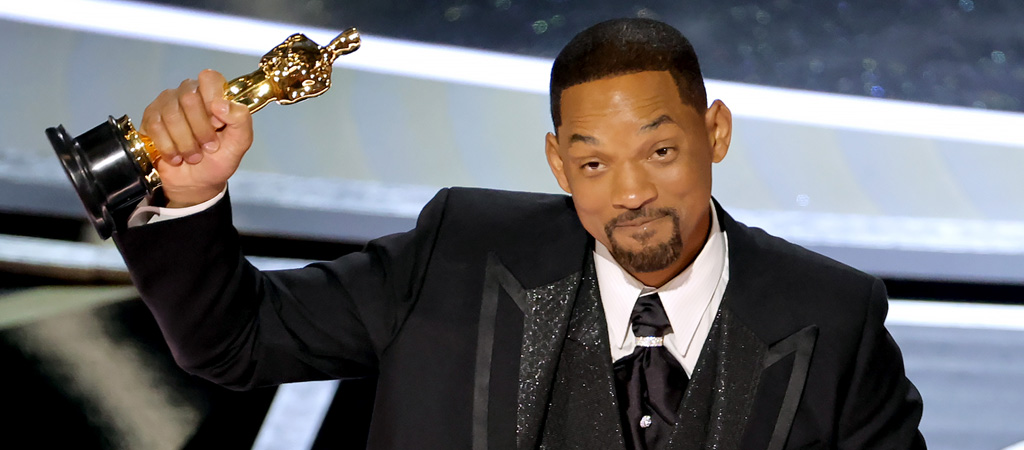 With the first Oscars telecast since Will Smith's infamous slap of Chris Rock set to air in a few weeks (March 12th, to be exact), The Academy's brain trust is pulling out all the stops to ensure that nothing actually interesting happens this time around. To that end, they've announced that they'll be implementing an Oscars "crisis team" to put out any potential fires before they start. Will Smith was already banned from the ceremony for a decade, so presumably they won't have to tie him up like the wolfman.
Academy of Motion Picture Arts and Sciences CEO Bill Kramer told Time Magazine in a new interview:
"But we have a whole crisis team, something we've never had before, and many plans in place. We've run many scenarios. So it is our hope that we will be prepared for anything that we may not anticipate right now but that we're planning for just in case it does happen."
A whole crisis team! I have so many questions. Where did they recruit this "crisis team?" What are the top 10 of the "many scenarios" they've "run through?" Somehow I doubt a thousand A-Teams of veteran corporate stooges recruited off LinkedIn with a thousand Power Point decks could've come up with "Will Smith storms the stage to slap Chris Rock over a GI Jane joke" as happened last year. Which makes one wonder how this could possibly help this year. "Okay, so far we've got 'Glenn Close goes after Joaquin Phoenix with a pen knife' and 'Sean Penn grinds ceremony to a halt when he won't stop barking like a dog,' anyone else?"
I imagine someone dutifully game planning them all, like Dana Carvey reading all the different ways Gerald Ford could die off the prompter.
To her credit, Time interviewer Eliana Dockterman did follow up with a question about how one could possibly envision one of those scenarios. To which Kramer responded:
Because of last year, we've opened our minds to the many things that can happen at the Oscars. But these crisis plans—the crisis communication teams and structures we have in place—allow us to say this is the group that we have to gather very quickly. This is how we all come together. This is the spokesperson. This will be the statement. And obviously depending on the specifics of the crisis, and let's hope something doesn't happen and we never have to use these, but we already have frameworks in place that we can modify.
"This is the spokesperson, this is the statement…" Ahhh, I think I get it now. This isn't really about preventing or managing a crisis, it's a team that knows how to spin a crisis. That makes a lot more sense. Probably a lot easier to0. So when they say "crisis team," they mostly mean a "carefully-worded apology writing team." Notes App Boys Assemble!
In any case, it always strikes me particularly funny when the latest Academy CEO vows to return the Oscars to their former glory by ensuring that the event goes off without a hitch. The hitches are all people remember! Last year's Oscars were dreadfully boring right up until the moment Will Smith let the crazy out and instantly created the most memorable Oscars moment of all time. If you think back to the last five or 10 years of Oscars telecasts, what are the things that stand out? The Slap, followed by the Moonlight/La La Land mixup, theoretically another huge mistake by the Academy.
Going back even further, what else comes to mind? Sacheen Littlefeather rejecting an Oscar on Marlon Brando's behalf, the streaker… The Oscars, and basically all awards shows, are overly-stage managed self-congratulatory affairs that are far more interesting when all that planning breaks down. It's all but designed to do so. The best thing that could happen to the Oscars this year is another controversy or another celebrity going "disastrously" off-script. Hopefully the real "crisis team" is tasked with pretending that the people putting on the event aren't praying for it. It will be more fun and exciting that way.