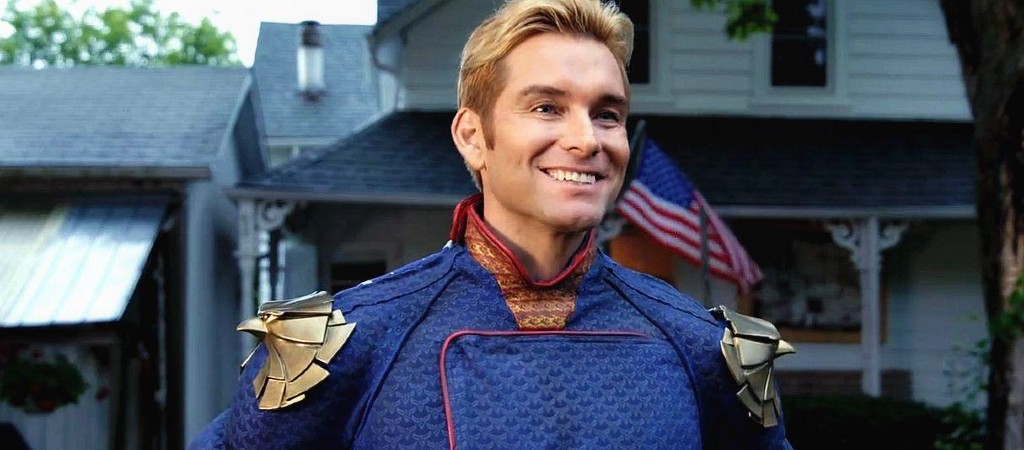 Chances are that if you have a package on your front porch right now, the same company that shipped it has some stellar televisual offerings to stream. That's right. Prime Video has emerged as a tentpole of impressive original content, from true crime to cartoon superhero satires. Here are the 25 best original shows on Amazon Prime right now.
25. Dom
Year: 2021-present
Cast: Gabriel Leone, Flavio Tolezani, Filipe Braganca
Genre: Crime, Drama
Rating: TV-MA
Runtime: Seasons 1: 8 episodes
Created By: Breno Silveira
Trailer: Watch here
Prime Video's first Brazilian series is a knockout. It focuses on a police officer named Victor who has dedicated his entire life to bringing down the drug trade. The only problem is that Victor's son Dom is very, very much into cocaine. His addiction (and aptitude for the illicit business) sets them on divergent paths that strains a father's devoting and a son's loyalty. Jumping between Victor's early days as a copy in the 1970s and Dom's rise to infamy in the early 2000s, the series is based on true stories, but pushes the limits of drama, action, and familial loyalty.
24. Hunters
Year: 2020-present
Cast: Logan Lerman, Al Pacino, Lena Olin, Jerrika Hinton, Saul Rubinek, Carol Kane, Josh Radnor, Tiffany Boone, and Kate Mulvany
Genre: Drama, Crime, Conspiracy Thriller
Rating: TV-MA
Runtime: Seasons 1-2: 18 episodes
Created By: David Well
Trailer: Watch here
Also based on true stories, Hunters gives the sleek heist-y spy treatment to a diverse group of Nazi hunters trawling 1970s New York for baddies. It's also Al Pacino's first role in a television series, which is wild to consider since he's been working since said band of Nazi hunters has been on the prowl. The series balances its historical heaviness with some Ocean's Eleven-esque fun, and the group has a fantastic rapport that makes you want to track down Hitler with them. That's no exaggeration. The show leans all the way into historical fiction with Udo Kier playing Hitler (believe it), who has faked his death and is still trying to make reichs happen.
23. Lularich
Year: 2021
Cast: Documentary Subjects
Genre: Documentary
Rating: TV-14
Runtime: Seasons 1: 4 episodes
Created By: Jenner Furst, Julia Willoughby Nason
Trailer: Watch here
Here's a fun life lesson: if a company "hires" you but makes you buy all the products you're meant to sell, you're the customer. If they aggressively insist that you recruit new "salespeople," the second red flag has gone up, and you should seek the exit ASAP. Those are just a few of the horrible truths lurking in Furst and Nason's sharp investigation of LuLaRoe, the seemingly ubiquitous multi-level marketing company that ostensibly sells funky leggings (and who's been inundated with lawsuits alleging it's a pyramid scheme). Wife and husband co-founders DeAnne Brady and Mark Stidham sat down with the documentary crew for the project, offering absolutely rich content and some deranged takes that really round out this tragic suburban tale.
22. Them
Year: 2021-present
Cast: Deborah Ayorinde, Ashley Thomas, Allison Pill, Shahadi Wright Joseph, Melody Hurd, and Ryan Kwanten
Genre: Horror, Drama
Rating: TV-MA
Runtime: Seasons 1: 10 episodes
Created By: Little Marvin
Trailer: Watch here
Great news for the Emory Family: they found an amazing house in a great neighborhood in 1953 Los Angeles. Bad news: the white neighbors aren't thrilled about a Black family moving in, and the malevolent spirits living inside the house don't seem happy about it either. Little Marvin and executive producer Lena Waithe have crafted something that blends horror fantasy with historical fact, transforming bigotry into a monstrous presence that's just as likely to leave dolls in nooses on your front porch as it is to reach out its ectoplasmic hands and snatch you into the closet. It's a terrifying vision that simply does not let up, and every single second looks stunning in the dreamy costuming and architectural colors of the era.
21. The Wheel Of Time
Year: 2021-present
Cast: Rosamund Pike, Daniel Henney, Zoe Robins, Madeleine Madden, Joshua Stradowski, Marcus Rutherford, and Barney Harris
Genre: High Fantasy, Drama, Adventure, Action
Rating: TV-MA
Runtime: Seasons 1: 8 episodes
Created By: Rafe Judkins
Trailer: Watch here
Robert Jordan's classic fantasy series is brought to gorgeous life with sweeping vistas of a magical realm where the balance of life is on the cusp of either renewal of complete destruction thanks to the reincarnation of a powerful being called The Dragon Reborn. It's pretty important to figure out who it is, so the channeler Moiraine (Pike) sets out to gather five potential candidates who show a gift for channeling the One Power. Yet an existential threat to everything that everyone knows and lives for isn't the only thing to worry about. Factions and the petty power-hungry threaten everyday life and vie for uneasy control. The production is a fantastical achievement that acts as complement and antidote to Tolkien clones of all stripes.
20. Paper Girls
Year: 2022
Cast: Camryn Jones, Riley Lai Nelet, Sofia Rosinsky, Rina Strazza, Adina Porter, Ali Wong, and Nate Corddry
Genre: Sci-Fi, Drama
Rating: TV-MA
Runtime: Seasons 1: 8 episodes
Created By: Stephany Folsom
Trailer: Watch here
There's no doubt that the massive success of Stranger Things played a role in Prime Video adapting Brian K. Vaughan and Cliff Chiang's outstanding comic book about young girls who stumble into a time war, so it's a real shame that the show only lasted one season. That's especially true because it's a blast. More than a nostalgia trip into the 1980s and a weirdo sci-fi riff on Olds versus The Youths in the timey wimey future, the show really threads the needle to deliver both heavy and lighthearted beats. All four paper girls are instant icons with a Goonies group dynamic that shines, and their adventure is epic enough for a front page of any decade.
19. Tell Me Your Secrets
Year: 2021-present
Cast: Lily Rabe, Amy Brenneman, Hamish Linklater, and Enrique Murciano
Genre: Drama, Thriller
Rating: TV-MA
Runtime: Seasons 1: 10 episodes
Created By: Harriet Warner
Trailer: Watch here
There's nothing simple or easy about Tell Me Your Secrets. While most of the biggest thrillers on TV are about hidden, shameful truths, this Harriet Warner series leans all the way into the ethical swamp to figure out where the bodies are buried. Emma (Rabe) is in witness protection, but she may have had something to do with the disappearance of Mary's (Brenneman) daughter, so Mary hires a former serial rapist to track Emma down for revenge. It's a three-way collision course that only requires the edge of your seat. Think of how much you'll save on seats!
18. Goliath
Year: 2016-2021
Cast: Billy Bob Thornton, Nina Arianda, Tania Raymonde, Diana Hopper, Maria Bello, Olivia Thirlby, and William Hurt
Genre: Drama, Legal Procedural
Rating: TV-MA
Runtime: Seasons 1-4: 32 episodes
Created By: David E. Kelley, Jonathan Shapiro
Trailer: Watch here
If you haven't already binged all of this stirring character study masquerading as a legal drama, it's past time to put it on your radar. Thornton is magnificent as the washed up ace trial lawyer who gets his groove back with a case involving a young man who apparently committed suicide by blowing up a corporate boat. Good thing he's not too washed up, because he jumps into the deep end with sharks who will eat you whole if you give them even a hint of blood. That includes his former partner and an endless array of new enemies. Through four seasons, the series builds and maintains a murderer's row of acting talent, all anchored by Thornton playing an affable genius whose life is in shambles.
17. Flack
Year: 2019-2021
Cast: Anna Paquin, Sophie Okonedo, Genevieve Angelson, Lydia Wilson, Rebecca Benson, Arinze Kene, Marc Warren, Rufus Jones, and Andrew Leung
Genre: Dramedy
Rating: TV-MA
Runtime: Seasons 1-2: 12 episodes
Created By: Oliver Lansley
Trailer: Watch here
Robyn is a PR rep whose natural talents are lying and drinking. It also helps that she's a moral black hole because she has to pull every questionable trick in the book to save her celebrity clients from moronic decisions, rebrand their entire personas, and otherwise protect them from a public that wants to devour them. As if House were a publicist, Paquin is excellent in the lead role here, but the real star is the litany of outlandish behavior and sticky situations she and her colleagues have to deal with (and cover up).
16. Bosch
Year: 2014-2021
Cast: Titus Welliver, Jamie Hector, Amy Aquino, Lance Reddick, Annie Wersching, Sarah Clarke, Madison Lintz, Mimi Rogers, and Jeri Ryan
Genre: Police Procedural, Detective Noir, Drama
Rating: TV-MA
Runtime: Seasons 1-7: 68 episodes
Created By: Eric Overmyer
Trailer: Watch here
Michael Connelly's Harry Bosch is a staple of 1990s and early 2000s detective fiction. It's actually bizarre that it took this long to get a TV series made from them, but Prime Video cracked the code by hiring Welliver to play the Vietnam veteran, LAPD detective with an appropriately dark backstory. They're ideal noir stories that don't forget that mystery fuels the engine, and there are enough episodes to fill a lost holiday weekend. Plus, there's also Bosch: Legacy, which continues to tale, and, if you're still hungry for more, Mickey Haller (aka The Lincoln Lawyer) is Bosch's half-brother, so you can keep binging and keep it in the family.
15. The Kids In The Hall
Year: 2022-present
Cast: Dave Foley, Bruce McCulloch, Kevin McDonald, Mark McKinney, and Scott Thompson
Genre: Comedy, Sketch
Rating: TV-MA
Runtime: Seasons 1: 8 episodes
Created By: The Kids In The Hall
Trailer: Watch here
Yes, there are technically 6 seasons and 109 episodes of this seminal sketch comedy show, but the Amazon revival is a thing unto itself. The fear with these kinds of reunions is that our beloved heroes — the ones who inspired decades of comics who have come since — will have lost a slapstick step. Well, you can squish those fears with your thumb and forefinger because the new series is fresh, hilarious, and maybe the finest work these silly Canadians have ever pulled off. It certainly features some of the ballsiest work of their career (figuratively and literally), classic characters prove timeless, and the cutting edge sketches prove that there's absolutely no one as demented as The Kids in the Hall.
14. Outer Range
Year: 2022-present
Cast: Josh Brolin, Imogen Poots, Lili Taylor, Tom Pelphrey, Tamara Podemski, Lewis Pullman, Will Patton, and Kristen Connolly
Genre: Drama, Sci-Fi, Neo Western, Mystery
Rating: TV-MA
Runtime: Seasons 1: 8 episodes
Created By: Brian Watkins
Trailer: Watch here
Royal Abbott has a lot on his plate. His daughter-in-law has gone missing, a drifter has shown up on his land, they've got a feud brewing with a rival family trying to take his ranch, and there's a super weird black void just hanging out in his pasture. In case you were wondering, the black void is where the sci-fi comes in. This is a lovely, strange gem of a show, and Brolin is the perfect pater familias to give it an air of western legitimacy alongside all the universe-bending existential squirreliness. He is a Man In Black after all — in both meanings of the phrase. Somehow, a show that's like The X-Files and Yellowstone made a foal together works brilliantly.
13. The Legend Of Vox Machina
Year: 2022-present
Cast: Laura Bailey, Taliesin Jaffe, Ashley Johnson, Matthew Mercer, Liam O'Brien, Marisha Ray, Sam Riegel, and Travis Willingham
Genre: Adult Animation, Fantasy, Action, Adventure, Comedy, Role Playing Vibes
Rating: TV-MA
Runtime: Seasons 1-2: 24 episodes
Created By: Brandon Auman, Critical Role
Trailer: Watch here
The beloved Dungeons and Dragons campaigning podcast (and vodcast) Critical Role is the kind of program you could get lost in because some campaigns involve over 300 hours of content. The Legend of Vox Machina represents what can happen when veteran RPGers who also happen to be veteran voice actors tighten up those encounters into a thrilling, ridiculous romp through fantasy territory. There's the half-elf Ranger, the human gunslinger, the gnome Cleric, the half-elf Rogue, the half-elf Druid, the scene-stealing barbarian, and the gnome bard. All of them band together for an epic quest marked equally by high adventure and dick jokes
12. Small Axe
Year: 2020
Cast: Letitia Wright, John Boyega, Malachi Kirby, Shaun Parkes, Rochenda Sandall, Alex Jennings, Jack Lowden, and Michael Ward
Genre: Drama
Rating: TV-MA
Runtime: Seasons 1: 5 episodes
Created By: Steve McQueen, Courttia Newland, Alastair Siddons
Trailer: Watch here
Steve McQueen's outstanding longform series features an array of stories meant to share several angles of the Black experience in Britain. They span decades, sharing the intimate lives and work of a Trinidadian restauranteur, a Black police officer seeking reforms, two young lovers who meet at a house party, an imprisoned novelist, and a group of students transferred out of mainstream schools so the system could forget about them. Beyond the on-point cast, McQueen goes 5 for 5 on masterpiece-level episodes, crafting scenes of immense joy and profound pain throughout this explosive menu of stories.
11. Hanna
Year: 2019-2021
Cast: Esme Creed-Miles, Mireille Enos, Joel Kinnaman, Noah Taylor, Dermot Mulroney, and Ray Liotta
Genre: Drama, Action
Rating: TV-MA
Runtime: Seasons 1-3: 22 episodes
Created By: David Farr
Trailer: Watch here
A spinoff of the Joe Wright-Directed film, the TV series seeks to retell and deepen the story of a young girl infused with super soldier DNA who trains to be an assassin by her ex-CIA "dad." You know it's going to be a thrilling ride when someone orders that all the babies in the experimental genetics program be destroyed. On top of the head-spinning malice, the series serves up the promise of the original movie's action sequences by refusing to pull its punches. Its tight, Bourne-style fighting as well as intricate spycraft woven into a deeply personal tale of a child who had absolutely no shot at a normal life.
10. ZeroZeroZero
Year: 2020
Cast: Andrea Riseborough, Dane DeHaan, Noe Hernandez, and Gabriel Byrne
Genre: Drama, Crime
Rating: TV-MA
Runtime: Seasons 1: 8 episodes
Created By: Stefano Sollima, Leonardo Fasoli, Mauricio Katz
Trailer: Watch here
This Italian series is like watching How It's Made but for cocaine. The clever conceit sees the plot launch with the sale of a large shipment of cocaine and follows said shipment through the totally smooth (sarcasm voice!) process of getting to the buyer. It's an international crime family affair, featuring the Italian mafia, the cocaine suppliers in Mexico, and an American shipping company based in New Orleans. It truly takes a village. Unfortunately for the buyer, squabbling within his own ranks waylays the shipment to Morocco and things start to get pretty messy. It's a sharp, aggressive show with enough prestige to premiere at the Venice Film Festival.
9. Jack Ryan
Year: 2018-present
Cast: John Krasinski, Wendell Pierce, Abbie Cornish, Ali Suliman, Dina Shihabi, Noomi Rapace, and Michael Pena
Genre: Drama, Spy Thriller, Political Thriller, Action
Rating: TV-MA
Runtime: Seasons 1-3: 24 episodes
Created By: Carlton Cuse, Graham Roland
Trailer: Watch here
There have been many incarnations of Tom Clancy's immortal analyst character, the bookishly reluctant field operator who keeps having to solve who blew up what and who tried to assassinate whom. The Ryanverse is vast, and Krasinski has found a home in it, delivering a take on the character that should remind viewers that he was the boyishly handsome lead of The Office and in the running at one point to play Captain America. The thrills of the show put Ryan up against terrorist organizations, corrupt government officials, and a Soviet-obsessed plot to detonate a tactical nuke. The stakes are sky high, and Krasinksi carries off the character by not always keeping his cool.
8. The Underground Railroad
Year: 2021
Cast: Thuso Mbedu, Joel Edgerton, Peter Mullan, Chase W. Dillon, Mychal-Bella Bowman, and Sheila Atim
Genre: Historical Fiction, Drama
Rating: TV-MA
Runtime: Seasons 1: 10 episodes
Created By: Barry Jenkins
Trailer: Watch here
Based on the glorious Colson Whitehead novel, this series infuses tales of escaping from slavery with magical realism, making the underground railroad we learned about in history classes (outside Florida) a literal underground railroad. Mbedu plays Cora, an enslaved woman who jumps aboard to reach freedom in the North, stopping along the way in various major Southern cities while being chased by a slave catcher hungry for the bounty and a personal vendetta. It's a serious subject, handled with unsurprising aplomb by Barry Jenkins, who finds all the right moments of humanity laced within a nightmare scenario featuring a wondrous subterranean train.
7. A Very British Scandal
Year: 2021
Cast: Claire Foy, Paul Bettany, Julia Davis, Richard McCabe, and Sophia Myles
Genre: Historical Drama
Rating: TV-MA
Runtime: Seasons 1-2: 6 episodes
Created By: Sarah Phelps
Trailer: Watch here
Following on the heels of A Very English Scandal, which told the story of a sex scandal that brought down 1970s Liberal Party leader Jeremy Thorpe, A Very British Scandal focuses on the chaotic divorce case between Margaret and Ian Campbell, 11th Duke of Argyle and Chief of Clan Campbell. What? They warned you that it was VERY BRITISH. Claire Foy and Paul Bettany play the warring couple who seem to have no bottom to the accusations they let fly at each other. But more than just their relationship, the media itself is on trial here, showcasing its obsession with tabloid sensationalism.
6. Invincible
Year: 2021-present
Cast: Steven Yeun, Sandra Oh, and J.K. Simmons
Genre: Superhero, Adult Animation, Adventure, Sci-Fi
Rating: TV-MA
Runtime: Seasons 1: 8 episodes
Created By: Robert Kirkman
Trailer: Watch here
Being a teenager can be super awkward, especially if your father is the most physically powerful being on the planet and zips in spandex saving people all the time. Based on Robert Kirkman, Cory Walker, and Ryan Ottley's comic series, and buoyed by Steven Yeun's superpowered charm, the show is an absolute blast. It's an optimistic Watchmen, carrying a difficult message about responsibility and burden laid on those with powers (as well the bloody consequences). It's the perfect show when you've got an MCU or DCU hangover.
5. Good Omens
Year: 2019-present
Cast: Michael Sheen, David Tennant, Nick Offerman, Jon Hamm, Frances McDormand, Miranda Richardson, Michael McKean, Jack Whitehall, Adria Arjona, and Benedict Cumberbatch
Genre: Fantasy Comedy, Satire
Rating: TV-MA
Runtime: Seasons 1: 6 episodes
Created By: Neil Gaiman
Trailer: Watch here
There's no doubt that adapting Terry Pratchett and Neil Gaiman's novel about the potential end times was a complex task of finding right bits of the sprawling, century-hopping narrative to focus in on. Fortunately, the series had at least one ace up its sleeve: Gaiman. He probably knew a thing or two about the book. The result is a shaggy dog story about an Antichrist baby swap, a sparring demon and angel (who should just make out already), and a witch trying to stave off the four horseman of the apocalypse alongside a nebbish descendant of a famous witchfinder. Also, Heaven is weirdly in the throes of late-stage capitalism, and it's unclear whether the earth is worth saving.
4. The Marvelous Mrs. Maisel
Year: 2017-present
Cast: Rachel Brosnahan, Alex Borstein, Michael Zegen, Marin Hinkle, Tony Shalhoub, Kevin Pollak, Caroline Aaron, Jane Lynch, Luke Kirby, and Stephanie Hsu
Genre: Period Comedy, Drama
Rating: TV-MA
Runtime: Seasons 1-4: 34 episodes
Created By: Amy Sherman-Palladino
Trailer: Watch here
After Gilmore Girls and Bunheads, Amy Sherman-Palladino set her sights on a fictional 1950s stand-up comic who dared to take the stage while being a woman. This winning show, perfect for everyone who listens to their podcasts at 1.5x speed, features unmatched wit and charm as Mrs. Maisel deals with divorce, public indecency arrests, and some serious will-they-won't-they tension with Lenny Bruce. It's got the schlemiel and the schlimazel, and fans of Everything Everywhere All At Once who burn straight through the delightful first three seasons will be further delighted when Stephanie Hsu shows up in season 4.
3. Lord Of The Rings: The Rings Of Power
Year: 2022-present
Cast: Morfydd Clark, Lenny Henry, Dylan Smith, Markella Kavenagh, Robert Aramayo, Benjamin Walker, Ismael Cruz Cordova, and Nazanin Boniadi
Genre: High Fantasy, Action, Adventure
Rating: TV-14
Runtime: Seasons 1: 8 episodes
Created By: J.D. Payne, Patrick McKay
Trailer: Watch here
Costing approximately eleventy billion dollars, this prequel to The Lord of the Rings franchise sought to bring its cinematic scope to your living room screen. By all accounts, they've done it, crafting jaw-dropping visions of Middle-earth as a playground for some familiar characters (who don't seem to age a day!) as well as a large cast of new ones. It's main focus is on the forging of the four rings of power coinciding with the rise of Sauron before he was just a floating flame eyeball, but interpersonal romance and conflict abounds between the elves, humans, Harfoots, and other fantastical beings.
2. Fleabag
Year: 2016-2019
Cast: Phoebe Waller-Bridge, Sian Clifford, Andrew Scott, Olivia Colman, Bill Paterson, Brett Gelman, and Jenny Rainsford
Genre: Black Comedy
Rating: TV-MA
Runtime: Seasons 1-2: 12 episodes
Created By: Phoebe Waller-Bridge
Trailer: Watch here
Making a perfect episode of television is incredibly difficult. Making 12 perfect episodes in a row is near impossible, but Phoebe Waller-Bridge somehow managed it with her peerless chronicle of single desperation, sibling jealousy, and clear mental unwellness. She plays a woman struggling with her family and dealing with the guilt over the death of her best friend. She's also trying to date through her loneliness with people she's dubbed Arsehole Guy and Bus Rodent. Clearly, she's not making many good life choices, which is fantastically entertaining. She's one of the pettiest characters in the pantheon, and the series is black comic genius.
1. The Boys
Year: 2019-present
Cast: Karl Urban, Jack Quaid, Antony Starr, Erin Moriarty, Dominique McElligott, Jessie T. Usher, Laz Alonso, Chace Crawford, Tomer Capone, Karen Fukuhara, Aya Cash, Jensen Ackles, Nathan Mitchell, and Elisabeth Shue
Genre: Superhero Satire, Black Comedy, Action, Adventure
Rating: TV-MA
Runtime: Seasons 1-3: 24 episodes
Created By: Eric Kripke
Trailer: Watch here
Garth Ennis and Darick Robertson's angry satirical comic emerged from the George W. Bush era, but it remains fiercely topical, and the live-action adaptation is a smirking slap to the face that's ideal for our time of complete superhero domination at the box office and on small screens everywhere. Sure, it's a send-up of superheroes, but it also has a lot of deeply uncomfortable things to say about our current political and social situations, epitomized by the very stable genius of the jingoistic Homelander. That character will no doubt emerge as an icon of our age, but more than trenchant chomps at the system, the show is also absurdly fun. There's nothing like making bold statements while having a ball.