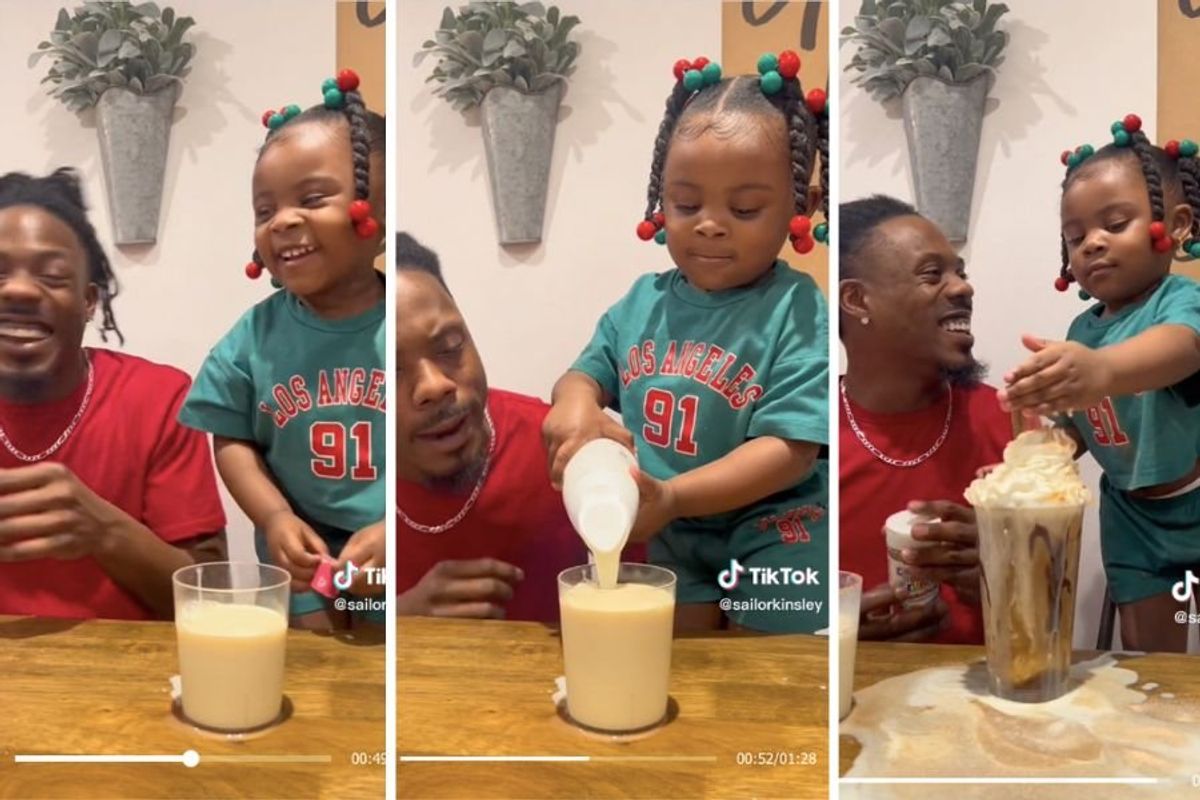 As any parent can attest, raising kids isn't easy. It can be fun and rewarding, though, if you're able to find the joy in helping a tiny human learn and look at messes and mistakes as necessary parts of that learning process.
A TikTok video showing a dad and his young daughter playing barista together has been viewed 62 million times in a week, partly because it's freaking adorable and partly because it's a prime example of patient, positive parenting.
The TikTok account @sailorkinsley went viral in 2021 for a video of baby Sailor pouring water into a glass. Since then, we've seen Sailor grow more and more skilled as her parents coach and encourage her in her learning.
In the wildly popular barista video, Sailor pours together some kind of Starbucks-style coffee drink with her dad sitting beside her and guiding her through each step. The interactions between them are as sweet as the drink appears to be.
---
There's so much to love about this video from a parenting perspective. Watch:
First of all, it took Sailor three tries to get the ice cubes in the glass, and all her daddy did was tell her to keep trying. He gave her the choice of whether she wanted to try squeezing the syrup into the glass, and when she said no, he still gave her a sense of ownership by asking her how much was enough.
When she tossed the lids of the containers and then the milk carton, he didn't overreact or disrupt the process; he just matter-of-factly said, "You gonna pick it up." When he said, "That's good, that's good, stop!" and it took her a second to stop pouring, he didn't criticize or push, but honored the time it takes a little one to process a command and coordinate the follow-through.
And when she overfilled the glass and spilled over the side and onto the table? No chastisement. Just encouragement. She can see the spill. She knows it happened. She'll get better and better at it the more she practices.
In fact, another video Sailor's mom shared shows just how far the wee one has come in the past year with her pouring skills. It's both peak cuteness and a visual of how it takes mistakes and time to make progress and grow.
It's even clear how much she's learning in the differences between the barista video shared on February 16 and this one shared on February 23. Check out how her skills improved in just a week:
People in the comments gushed over the adorableness of it all, and some shared how wonderful it was to see parents being so patient with their kids. A number of people shared that they would have been hit or yelled at for spilling while pouring, and many simply wouldn't have been given the opportunity to try at all.
"Imo the goal of parenting is teaching the kiddos how to be functioning adults," wrote on commenter on Reddit. "I'm in my 30s and still making messes in life. At this girl's age, the important lesson is learning shit happens sometimes and how to clean up the mess without getting upset or feeling like a failure. The whole patience thing is hard but perspective is key. For show or not, this dad is killing it."
"I've seen the mom and now the dad," wrote another. "This girl is truly lucky to have such loving parents. Just a reminder, to let people fail and help them instead of overcorrecting every behavior."
"It's hard to break generational traits and habits, man," responded another. "Idk about y'all but I remember being terrified when I spilled as a kid. I have to fight my instinct to overreact to little sh*t all the time. Thankfully though, I'm trying to be more like the dad in this video every day."
It's hard to know what healthy, helpful parenting looks like if we haven't seen it modeled, so Sailor's parents are doing us all a service with these sweet little demonstrations. Keep up the good work, mom and pop.