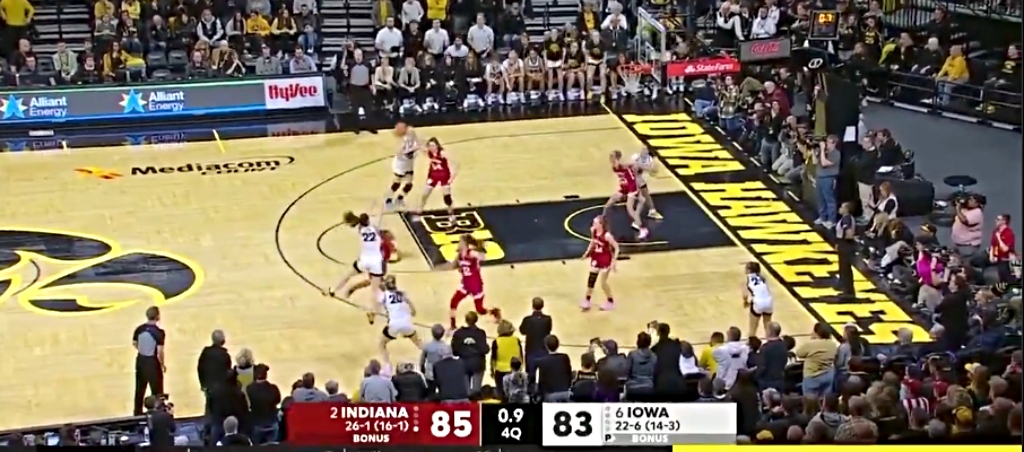 Two of the best teams in women's college hoops met on Sunday afternoon in Iowa City and gave fans an absolute thriller deserving of a near-March top-10 matchup.
Second-ranked Indiana went on the road to face No. 6 Iowa in a huge Big Ten showdown, and there was nothing to separate the two teams through 39-plus minutes, as they were deadlocked at 83-83 with five seconds to play. Indiana would inbound the ball to Mackenzie Holmes in the post who spun to the paint and drew a foul that did not please the Iowa faithful who had gathered in a sold-out Carver-Hawkeye arena.
Holmes would knock down both free throws to give the Hoosiers a two-point lead with just over a second on the clock. Iowa would advance the ball with a timeout, setting up a chance for heroics from their star guard Caitlin Clark — who had 31 points, nine rebounds, and nine assists going into the final play of the game. Clark would peel around a pair of screens to the ball on the right wing, and in one motion spun and fired up a game-winning three that rattled home, sending the Iowa crowd into an absolute frenzy.
It was just the latest highlight from Clark in a career that will go down as one of the best in Iowa athletics history (in any sport), as she continues to make her case for Player of the Year, bumping up her 27 points per game scoring average with the 34-point effort in a win over the No. 2 team in the country. While South Carolina looks to be a juggernaut and is unquestionably the team to beat, once the NCAA Tournament arrives a player like Clark who is capable of catching fire, will give Iowa a chance against any team.