Once you reach over $100 in Scotch whisky, things start to get really interesting. We're still a few levels away from the true high-end Scotch whisky that reaches into the 20 years old and above categories. Still, right above $100 per bottle, you'll find great whisky distilleries putting out subtle peated smoky whiskies, unique oak cask finishings, and ages that reach into the mid-teens. It's a good mix.
To help you decide which malted barley juice you should buy at this price point, I'm going to list 10 bottles of the good stuff that clock in between $100 and $125. For this list, I've ranked the ten bottles according to my professional opinion as a spirits judge and whiskey critic. All of these whiskies have great merit, but some are a little more on the mixing side of things than the "wow!" sipping side.
My advice is to read through my tasting notes and find something that speaks to you, something that excites you, and something that feels fresh. Then click on those price links to see if you can get that bottle in your stomping grounds.
Also Read: The Top 5 UPROXX Scotch Whisky Posts of The Last Six Months
10. The Sassenach Blended Scotch Whisky
ABV: 46%
Average Price: $102
The Whisky:
Yes, Scotch whisky has celebrity white-labeled brands too. This one comes from Outlander star Sam Heughan. The whisky's recipe/build is under wraps so there's not much more to say besides that Sam Heughan is not simply slapping his name on a bottle. He's fully involved in the process as a deeply caring whisky fan who wants to put something special on the shelf.
Tasting Notes:
Nose: Lemon drops and Almond Joys drive the nose with a hint of honey, bourbon vanilla, and dried apricot.
Palate: That apricot gets leathery on the palate as the malts arrive with plenty of honey and cinnamon-forward spice next to a hint of eggnog nutmeg.
Finish: The finish is concise with a little cinnamon, honey, and almond rounding things out.
Bottom Line:
This is a classic blended Scotch whisky from top to bottom. I tend to like it over a big rock on a slow afternoon. It also works wonders in a simple whisky-forward cocktail.
9. Auchentoshan Single Malt Scotch Whisky Three Wood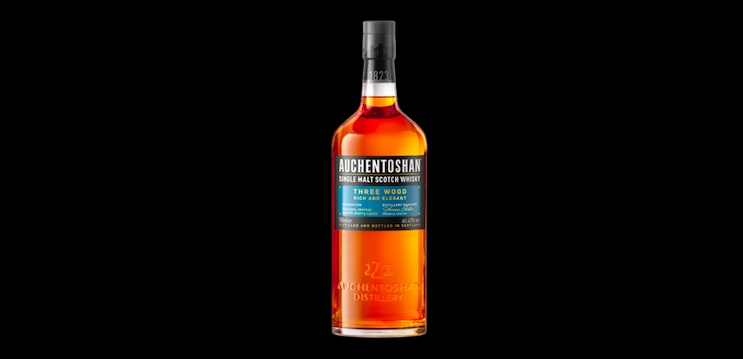 ABV: 43%
Average Price: $100
The Whisky:
Auchentoshan is a great example of a Lowland malt that harkens back to the old days of varied oak aging. In this case, the triple-distilled whisky is aged in ex-bourbon oak for around 12 years and then is finished in Olorosso and Pedro Ximenez sherry casks.
Tasting Notes:
Nose: There's a fruitiness on the nose that speaks to blue and blackberries with slight tartness next to orange oils and a hint of prune.
Palate: The taste has a toffee-covered-in-almond vibe, next to more of that dark fruit with an almost maple syrup spiked with woody cinnamon sticks vibe (hello, bourbon barrel).
Finish: The end is surprisingly light, a little woody, and full of plenty of those berries as it slowly fades out.
Bottom Line:
This is a fruity and sweet malt that's just easygoing. It's well-rounded and leaves you satisfied. That said, I'd lean more toward sipping this in a subtle cocktail.
8. Dewar's Blended Scotch Whisky Double Double 27
ABV: 46%
Average Price: $120 (half bottle)
The Whisky:
Master blender Stephanie Macleod created another masterpiece through this "Double Double" four-step aging process. Step one is aging single malt and single grain whiskies for 27 long years. The malts are then blended, the grains are blended, and they both rest again. Next, all of that is blended together in a vat and rested. Finally, the whisky is finished in ex-Palo Cortado sherry casks.
Tasting Notes:
Nose: You can really tell this has an Aberfeldy backbone with a floral honeyed nose that imbues summer breezes full of fragrant flowers.
Palate: That floral honey leads to an almost lemon-honey vibe with hints of cinnamon and cedar next to light pear tobacco and dry grass.
Finish: The end turns into pure silk as the florals, honey, pear, and spice slowly massage your tongue as it fades away.
Bottom Line:
This is an excellent blended whisky that feels original while delivering seriously deep flavor notes. This is fun to nose and sip neat as a taster, there's a lot to find in this pour. It also works really well as a slow sipper over one large ice cube.
7. Glenmorangie A Tale Of The Forest Highland Single Malt Scotch Whisky
ABV: 46%
Average Price: $102
The Whisky:
This new expression from Glenmorangie's mad scientist Master Distiller Dr. Bill Lumsden is a total departure. Dr. Bill kilned the barley (the drying process during malting) with a very old-school method using local botanicals from the Highlands. The kiln was accented with a bushel of juniper berries, birch bark, and heather flowers which layered their flavor notes into the malted barley that was used to ferment the juice that eventually was distilled, aged, and bottled in the Highlands.
Tasting Note:
Nose: This lives up to its name from the jump with a nose full of dank pine resin, fresh juniper, and dry coriander with a hint of malted rye cakes and the faintest whisper of wet campfire smoke.
Palate: The palate leans into bitter burnt orange rinds with a sense of clove buds and chinotto leaves next to oolong tea leaves cut with eucalyptus and a kiss of old oak.
Finish: That old oak and tea vibe drives the finish toward a hint of spiced malt cakes and a drop of fresh honey cut with wild sage and Scotch broom flowers with a fleeting sense of that dank pine from the nose reappearing briefly.
Bottom Line:
This is funky AF. I can't think of another whisky that tastes even remotely like this. Yet it's somehow familiar too. It elicits this sense of home and camping out in the summer and slow summer days. If you're looking for something 100% new, this is the play.
6. Aberfeldy Highland Single Malt Scotch Whisky 16 Years Old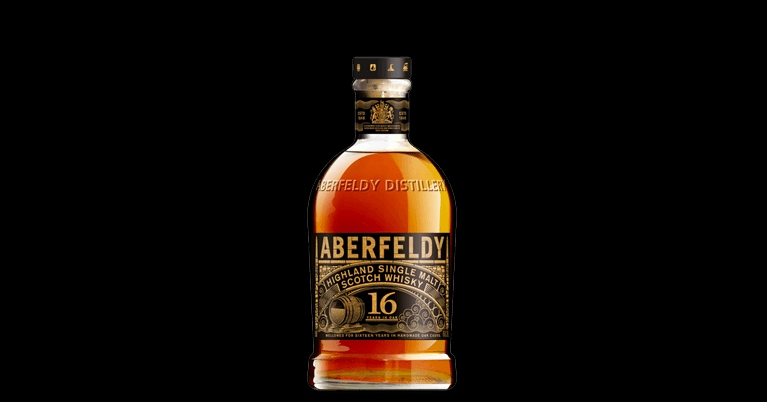 ABV: 40%
Average Price: $109
The Whisky:
Aberfeldy is at the heart of Dewar's blend. The whisky here is a classic Highland whisky aged in American oak and finished in sherry casks. That whisky is then cut down to proof with water from Pitilie Burn, a bubbling stream with gold deposits next to the distillery.
Tasting Notes:
Nose: Aberfeldy is renowned for its honeyed nature and this shines through on the nose with hints of clove-studded oranges and a touch of that sherried wood.
Palate: The palate holds onto the wet sherry wood while going full holiday cake with spices, nuts, dried and candied fruits, and a sweet maltiness.
Finish: The end reveals a mild note of bitter dark chocolate next to the honey and spices as it fades fairly quickly.
Bottom Line:
This is just quintessential Highland malt (basically the exact opposite of the previous entry). This is what you buy and pour if you're looking for the perfect pour of something easy, sweet, and malty with real depth.
5. Highland Park 15 Years Old Viking Heart Single Malt Scotch Whisky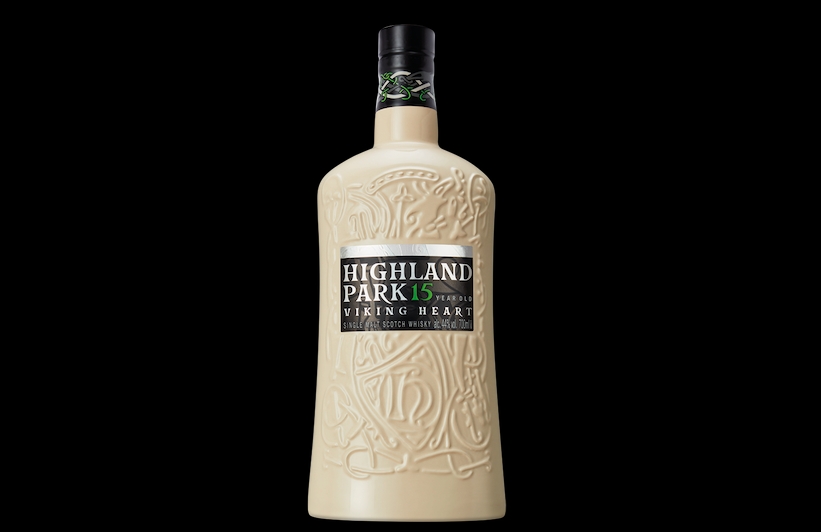 ABV: 44%
Average Price: $110
The Whisky:
Highland Park's Master Whisky Maker Gordon Motion hand-picked sherry-seasoned American oak barrels of single malt to create this new expression. The whisky is then decanted/bottled in a throwback ceramic bottle from Wade Ceramics, which has been making bottles like this since the early 1800s.
Tasting Notes:
Nose: Even though this is a peated whisky, the nose is all about bright notes of orange and lemon oils with a deep vanilla sauce vibe, a touch of dried heather, and old sticks of cider-soaked cinnamon.
Palate: The palate lets the smoke sneak in via grilled pineapple that turns towards smoked plums, soft and moist Christmas cake with plenty of dried fruits, and a sense of cinnamon-flecked tobacco leaves that have just been singed around the edges.
Finish: The peat sneaks in late via an almost sea salt element that lets the orange oils, vanilla, and cinnamon tobacco all mellow towards a silky finish.
The Bottom Line:
This feels like a peated whiskey that's made for bourbon drinkers. The peat and fruit are there but the heavy dried fruit, dark spices, and vanilla creaminess really tie this to American whisky palates. This is the whisky you buy when you're looking to get into subtly peated whisky with a dark underbelly.
4. Ardbeg Corryvreckan Islay Single Malt Scotch Whisky
ABV: 46%
Average Price: $109
The Whisky:
This whisky is named after the world's second-largest ocean whirlpool, called Corryvreckan. The whisky in the bottle is Ardbeg Ten blended with single malt that's been aged exclusively in new French Limousin casks.
Tasting Notes:
Nose: There's a softness on the nose that leans into dark yet slightly tart berries under layers of sharp spice, wet brown sugar, and plenty of sea salt.
Palate: The palate ups the saltiness as yellow Scotch Broom flowers mingle with creamy dark chocolate, dashes of freshly cracked black pepper, and a light hint of citrus oil.
Finish: The finish is soft and creamy thanks to that dark chocolate with mild spice cut by more sea salt and a hint of ground mushroom powder with a mossy edge.
Bottom Line:
This is a slightly more advanced expression of Ardbeg. The peaty ashiness is dialed back and replaced with earthy and umami notes with a wonderfully soft creamy texture. Overall, you don't have to be a fan of Ardbeg to like this. It's its own thing and a very enticing peated whisky that leans away from the ashiness of its siblings.
3. The GlenDronach Highland Single Malt Scotch Whisky Cask Strength Batch 11
ABV: 59.8%
Average Price: $114
The Whiskey:
The GlenDronach Cask Strength is a fantastic special release year after year. Batch 11 is another winner. The Highland whisky is matured over the years in both Pedro Ximénez and Oloroso sherry casks. When those barrels hit just the right marks, they're batched and the whisky is bottled completely as-is.
Tasting Notes:
Nose: The nose opens with mulled red wine cut with tart and spicy cranberry compote, burnt orange, salted black licorice, malted honey cakes, and soft marzipan that's all accented by a soft waft of clove tobacco.
Palate: The palate leans into the berry-fueled mulled wine as dark chocolate-covered espresso beans mingle with brandy-soaked raisins, salted toffee candies, and pancakes cut with cinnamon apple butter and plenty of maple syrup.
Finish: The end jukes with a brash bitter orange peel that leads to plum jamminess, creamy vanilla sauce, and a hint of cinnamon bark dipped in apple cider with honey cake on the side.
Bottom Line:
This is a deep and dark whisky that's perfect for the bourbon drinker looking to get into heavy-duty Scotch whisky. In fact, if you love high-proof bourbon with deep rye flavor profiles, then this will 100% be your jam.
2. Springbank Aged 10 Years Campbeltown Single Malt Scotch Whisky
ABV: 46%
Average Price: $104
The Whisky:
This is the gateway to Springbank, one of the world's most elite distilleries. The single malt is aged in both ex-bourbon and ex-sherry casks with a 60/40 split respectively in the final blend. That blend of barrels is just kissed with iconic Campbeltown spring water and then bottled as-is.
Tasting Notes:
Nose: This is smooth as can be with a nose full of bourbon vanilla, dark plums, soft toffee, and a hint of wet forest floor countering a spicy and honeyed maltiness with a hint of sagebrush.
Palate: The taste feels like an orchard in the summer full of fruit — tart, ripe, sweet, overripe — next to big notes of ground black pepper, apple-cider-soaked cinnamon sticks, freshly ground nutmeg, and plenty of cloves.
Finish: The finish is subtle and sweet with a good dose of salted caramel next to a whiff of dried peat with a hint of wet straw.
Bottom Line:
This is one of those "ah-ha!" whiskies that live up to the hype. It'll also send you down a rabbit hole of whiskies that get very expensive very quickly. I wish you luck on your journey.
1. Talisker Single Malt Scotch Whisky The Distillers Edition
ABV: 45.8%
Average Price: $119
The Whisky:
The 2022 Distillers Edition is a classic Talisker that's aged by the sea and finished for six months in Amoroso sherry casks. The whisky was distilled in 2012 and bottled at 10 years old. It was then finished in another Amoroso sherry cask, making it "double cask" matured.
Tasting Notes:
Nose: The nose runs deep on this whisky with mild hints of beachside campfire smoke whispering in the background as hints of red fruit, wet driftwood, and green peppercorns draw you in.
Palate: The palate embraces the red berries with a slight tartness next to the sweetness as the peat remains dry and distant and tied to the brine of the sea with an almost oyster liquor softness.
Finish: The finish lingers for just the right amount of time as sweet berries and dry peat lead towards soft dark cacao powder with a tiny note of vanilla and one last spray from the sea.
Bottom Line:
This is as close to a perfect whisky as you can get at this price point. It's sophisticated, dynamic, and delectable. It's cliched but I have to say it. If you buy one bottle on this list, this should be it.