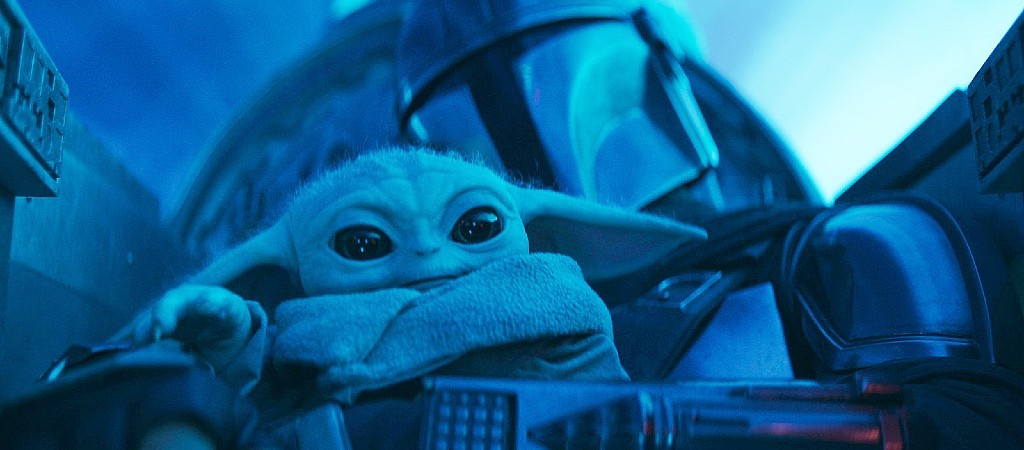 WARNING: Spoilers for The Mandalorian Season 3 premiere below.
After a nearly two year absence, The Mandalorian came roaring back to Disney+ and dropped a massive Easter egg barely a few minutes into its return. During the Season 3 premiere, Mando and Baby Yoda jet off in their new ship after being tasked with a quest for redemption by Mando's old clan who've exiled him for removing his helmet. While traveling through hyperspace, Baby Yoda notices strange whale-like object "swimming" along their hyperspace lane. The creatures scare the crap out of the little guy, and he quickly scampers down to sit in Mando's lap.
The scene might seem like a random encounter designed to show Mando and Baby Yoda are back into their old father/son routine, but it's actually a significant moment that has Star Wars Rebels fans losing their minds on Twitter. The space whales are called "purrgils," and this isn't their first rodeo in the Star Wars universe. The creatures were prominently featured in the Rebels series finale when they transported the fledgling Jedi Ezra Bridger and the villainous Grand Admiral Thrawn to an unknown region of the galaxy.
The quest for Ezra and Thrawn will reportedly be the focus of the upcoming Ahsoka spinoff starring Rosario Dawson. Ahsoka was seen searching for Thrawn in The Mandalorian Season 2, and now, the purrgil scene is a pretty huge hint that Rebels fans are closer than ever to seeing Ezra make his live-action debut. Red 11 star Eman Esfandi has already been cast in the role, so it's only a matter of time at this point.
You can see Star Wars fan reactions below:
#mandalorian spoilers
–
–
–
can we PLEASE talk about grogu noticing the purrgil's flying with them in hyperspace like this is insane???? like how are my rebels fans doing rn???? pic.twitter.com/6JHH0N2kiW

— Akasha²¹² TBB & MANDO ERA!! (@AkashasDomain) March 1, 2023
// #themandalorian spoilers

–

–

–

–

rebels fans just went bat shit insane over that 3 second clip of grogu seeing the purrgil like we're really getting into bringing back ezra & the search for ezra and thrawn storyline i'm so excited oh my GODDDDDD

— violet (@ahsokasverse) March 1, 2023
#TheMandalorian spoilers

Our first look at live action purrgil EZRA IS COMING HOME pic.twitter.com/v10ldXUCtG

— Lalo The Batchalorian spoilers (@clonehumor) March 1, 2023
The new mandalorian episode hinting at Ezra's return by showing the purrgil traveling in hyperspace oh my god

— the Ginga (@SirGingaa) March 1, 2023
New episodes of The Mandalorian stream Wednesday on Disney+.