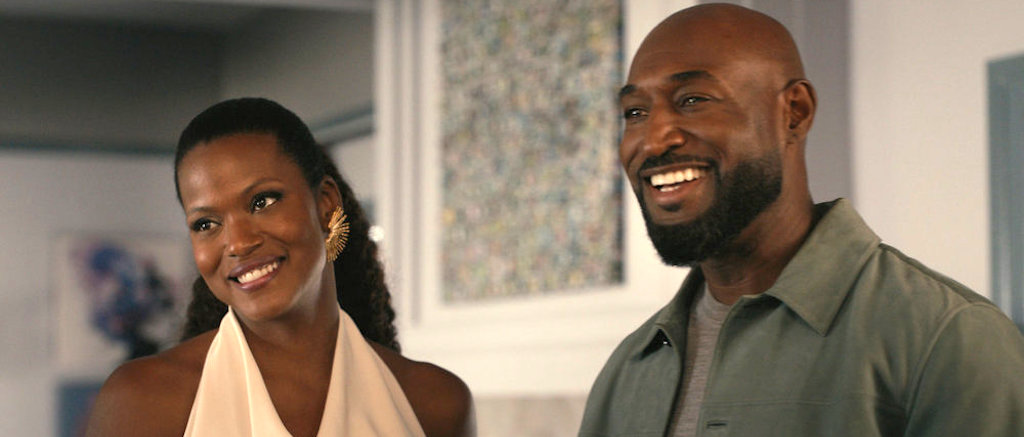 (SPOILERS for this week's Bel-Air episode will be found below.)
Bel-Air didn't get off to the most peaceful start for season two. It began with Will living at Jazz's apartment after he had a fallout with Phil, Vivian, and his mother over the truth of his estranged father. Fortunately, Phil and Will were able to patch things up in the season two premiere and Will even returned home to the Banks' Bel-Air mansion, but not before partying with family and friends for Ashley's 13th birthday. In episode two of this season, the focus shifts to Will, Carlton, Hilary, and Jazz's individual and interconnected lives where they all seek to make some type of progress toward their goals. Will has his eyes set on a getting a division one college basketball project while Carlton looks to make an impact in the Black Student Union and take a step forward in his battle with anxiety. Hilary and Jazz made things official in the season two premiere, but they aren't exactly on the same page — something they hope to fix this week.
The aforementioned events in the second episode of Bel-Air season two, titled "Speaking Truth," are soundtracked by songs that help to accentuate the emotions behind each scene. You can find a list of them belong as well as details about the scenes that the records soundtracked.
Check out our Bel-Air season 2, episode 1 recap here.
KAMI & Smoko Ono — "Superstar Moves"
KAMI & Smoko Ono's track can be heard at the 01:15 mark during a Bel-Air Academy basketball game. Tensions are high as Will and his coach are not on the same page. Will wants to carry the team to a win while his coach wants it to be more of a team effort.
Easy McCoy — "Deja Vu"
At around the 06:40 mark, Easy McCoy's "Deja Vu" briefly plays as the Bel-Air title flashes on the screen. This record is the theme song for Bel-Air.
Last Verse — "Semper"
Last Verse's "Semper" checks in around 06:54 mark as Will and Carlton arrive at school. Will is venting to Carlton about his basketball frustrations. Carlton's crush Yazmin arrives shortly after and asks him about attending and contributing ideas at the next Black Student Union meeting.
Tupac — "Can U Get Away"
Tupac's track from his 1995 album Me Against the World plays around 09:05 as Jazz is tyding up at the record store. Hilary walks in as he's dancing and rapping, but he doesn't notice right away. She surprises him with lunch, but her agenda comes alive as she asks to use his Impala his for a video shoot with Ivy. He initially says no, but after some convincing, he changes his mind.
Jade Amar — "My Own Boss"
Jade Amar's "My Own Boss" can be heard at the 16:04 mark as Hilary, Ivy, and friends are filming the video shoot with Jazz's car. Contrary to Jazz's wishes, Hilary reluctantly lets Ivy drive the car. Unfortunately for Hilary, Jazz finds out about this as he makes a surprise visit to the set.
YG — "Scared Money" Feat. J. Cole & Moneybagg Yo
YG's "Scared Money" checks in in around 26:19 as Will and Carlton sneak out with Jazz to go to a party in South Central. Will meets with Jackie, where he also finds Doc, while Carlton lets his wild side out with a couple ladies in the club.
Inka Delli — "Bank"
Inka Delli's record can be heard around the 28:42 mark as Carlton finds himself dancing, and rather happy, with a couple of ladies in the club. Will also gets his groove on with Jackie.
Iain Harper — "Look Alive"
Iain Harper's "Look Alive" plays in the background during a conversation at the club between Doc and Will. Doc questions Will about his sudden appearance in Bel-Air before telling Will that the Bel-Air basketball team is hurting his potential. Doc also introduces the idea of joining an AAU team to improve his stock, something that piques Will's interest.
Julian Roy — "Trouble"
Julian Roy's "Trouble" checks in around the 34:15 mark as Jazz is back working at the record shop. While there, he receives a text from Hilary asking for them to meet up for a conversation about their relationship. It leads to Hilary deciding to introduce him as her boyfriend to her parents.
Coast Contra — "Legacy"
Coast Contra's record plays around the 37:10 mark as Carlton suggests that the Black Student Union hold a protest, a walk-out specifically, in defense of Mrs. Hughes unjust firing. The idea is fully supported by the BSU.
Chel Strong — "I Know You See It"
Chel Strong's "I Know You See It" plays around the 40:59 mark during the latest Bel-Air basketball game. Will is on a whole new level during the game as his arrogance and cockiness is at an all time high. However, once again, Will and his coach clash during a timeout.
Armani White — "Billie Eilish"
At around the 42:38 mark, Armani White's viral hit "Billie Eilish" plays as Will goes on an absolute tear, one that is also selfish and against his team's wishes, to end the basketball game. Will's team wins the game, but it appears that Will may lose his team.
You can stream this week's episode of Bel-Air on Peacock here.
New episodes of 'Bel-Air' are available Peacock on Thursdays at 5:01 am EST/ 2:01 am PST.
Some artists covered here are Warner Music artists. Uproxx is an independent subsidiary of Warner Music Group.