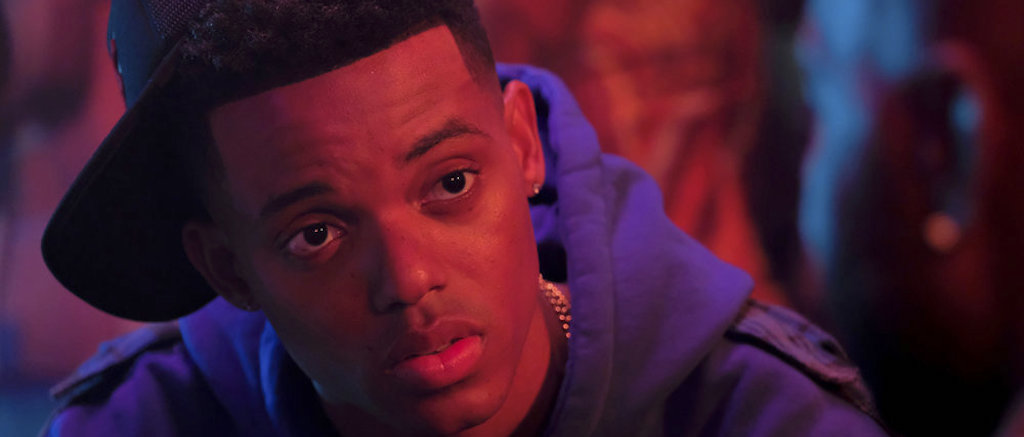 (WARNING: Spoilers for this week's Bel-Air episode will be found below.)
Season two of Bel-Air got underway last week with a bit of turmoil surrounding the Banks family. The first episode of the new season, "A Fresh Start," began with Will living at Jazz's house following his discovery at the end of season one that his family — Phil, Vivian, and his mom specifically — hid the truth about his father from him. In his absence from the Banks mansion, Will set his eyes on regaining his independence in life and achieving his basketball dreams. While these two remain active goals of his, Will eventually returned to the Banks mansion after Phil put his pride aside to apologize to him.
Elsewhere in the episode, Jazz and Hilary made things official in their relationship, Vivian's new role at the Neeman Artistic Fellowship doesn't get off to a smooth start, and Carlton has to figure out ways to make his day-to-day life at the Bel-Air Academy comfortable.
For the second episode of season two of Bel-Air, titled "Speaking Truth," Will basketball life is on full display. There's no denying that Will is the best player on the team, but with his eyes set on landing a division one college basketball scholarship, Will is slowly forgetting that basketball is a team sport. This leads to a rift in the team that comes down to more than just Xs and Os, but each other on- and off-court personalities and how their mesh, or clash rather. Outside of Will's world, we see Carlton make some progress with this anxiety issue, only to be put in several high-anxiety situations. Vivian's fellowship issues continue while Phil extends an olive branch out to Geoffrey. Lastly, Jazz and Hilary have a few rifts in their relationship, and in their attempt to repair things, they make a decision that maybe neither of them weren't ready to make.
Here are some of the biggest takeaways that we have after season two's second episode, "Speaking Truth":
Don't Let Arrogance Be Your Achilles Heel
This new season of Bel-Air makes it clear that Will is the best player on the Bel-Air Academy basketball team. Additionally, we knew that Will was a great player during his time back in Philly, he was even scouted by a few college coaches. However, as I mentioned above, Will is also forgetting that basketball is a team sport in season two of Bel-Air. He belittles and disses his teammates when his coach calls for plays that result in someone besides Will making a basketball. And when his teammates fail to score and they lose a game, Will goes on to ignore his coach's requests and ball-hog his way into three-point baskets and dunks that end in cuss-filled rants about his talents and the lack of that with his opponents all while forgetting about his teammates. Sure, they won the game, but at what cost? As much as Will thinks the Bel-Air Academy basketball team could be the Achilles heel toward his ability to receive a division one college basketball scholarship, his own arrogance could play into that equally, if not more.
(Other) People Have Feelings Too, You Know?
In season one, we saw Phil come across the realization that his obsession and drive toward work became so much that his wife felt it was necessary to take a step back and tend to the family more just to keep things afloat. While it hasn't reached this level of severity yet, Will and Hilary certainly have the workaholic gene in them. They're both so set on achieving their life goals that they seemingly fail to see how it affects people who have a genuine interest in them. Hilary tells Jazz that her desired illusion of attainability on social media isn't worth ruining all to post their relationship on Instagram, which isn't something you tell your romantic partner. Will is the top offender here as he disses his basketball teammates to advocate, selfishly I must say, for the best decisions for the team — which all have to do with him scoring. He also uses Jackie, a girl who is slowly taking an interest in him, to get information on Doc in hopes of getting in his good grace. Case in point: these people have feelings, and though it's okay the chase your dreams, neglecting the feelings of the people around you who can lift you up will end in you making little to no progress.
Be Aware, Not Afraid, Of The Greater Good
Throughout his time at Bel-Air Academy, Carlton has spent most of it in the good graces of the school's white students. In season two, that isn't the case anymore. Luckily, Carlton has found a bit of a home at the school's Black Student Union, a group that previously despised him for not attending to the Black student body's needs especially when he was class president. His chance to make an impact in the group and in the Black student body comes when middle school teacher Mrs. Hughes (played by Tatyana Ali, the original Ashley from The Fresh Prince of Bel-Air) gets fired for giving students off-the-curriculum about racism, sexism, and other tough but important topics. The Black Student Union pushes for a walk-out to protest Mrs. Hughes' firing, and while Carlton is originally on board, a fellow Black teacher at the school asks him to reconsider the decision because of the repercussions it could have. Carlton expresses his fears to Will, who brushes them off and tells Carlton that there's nothing to worry about. While that isn't exactly true, this walk-out is something that would benefit the greater good of the school. This is a moment to be aware, not afraid of that greater good. Carlton wants to make an impact on the school and this is exactly how he can do it. While his anxiety issues could get in the way, he's certainly capable of coming through for his community.
Impact Is An Undeniable Power
In just the two episodes of Bel-Air, it was clear that Mrs. Hughes had a huge impact on Ashley's time at Bel-Air Academy. Furthermore, older students like Lisa acknowledged that Mrs. Hughes also made sure to look after them during their time in middle school. There's an undeniable power in having such an impact on Black children like Ahsley, Lisa, and Carlton. The world, even as members of the Banks family in Ashley and Carlton's cases, seeks to knock them down or limit their heights. However, it's clear that Mrs. Hughes approached her interactions by keeping the aforementioned takeaways in mind. There was no arrogance in her interactions, the feelings of others were considered, and she didn't back down from breaking a rule in favor of the greater good. She knew supplying Ashley and others with outside curriculum readers on racism, sexism, sexuality, and more would be in violation of school rules, but the impact it would have on her students would be greater in the long run. Will, Carlton, Ashley, and Hilary all want to have some sort of impact on the world in their respective lanes, and though it's possible, they need to take a second and see how Mrs. Hughes' selflessness contributed to her own impact on others. Once they do that, the sky is the limit.
New episodes of 'Bel-Air' are available Peacock on Thursdays at 5:01 am EST/ 2:01 am PST.