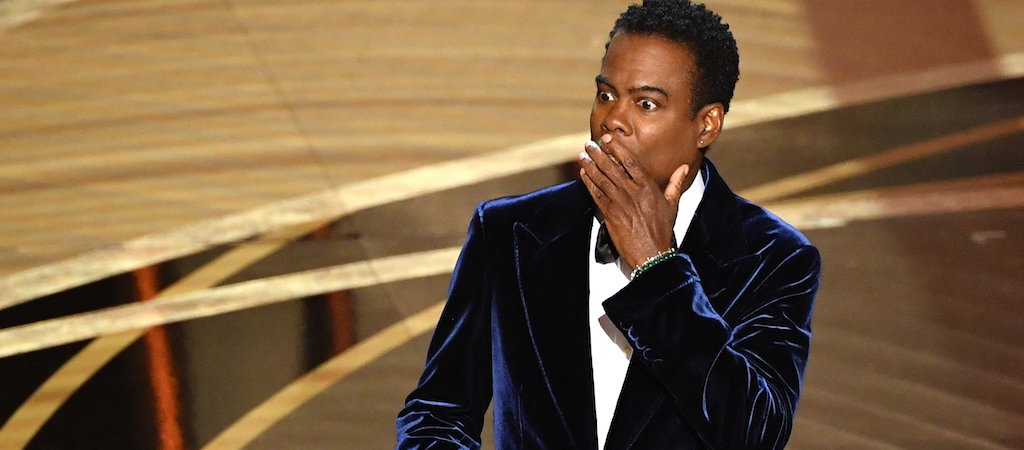 Chris Rock has a new Netflix special dropping this weekend, and the Wall Street Journal has confirmed that the comedian will finally unload on the infamous Oscars slap. In the first live comedy special for the streaming platform, Rock will reportedly spend at least five minutes of his hour-long set firing off jokes about the unforgettable moment when Will Smith walked on stage during the 2022 ceremony and slapped the comedian for making a crack about Jada Pinkett Smith.
While the exact jokes that Rock will make are unknown, Huffpost reports that he's been frequently referencing The Slap at his recent comedy gigs, possibly in preparation for the live show on Sunday:
"The other day, I watched 'Emancipation' just so I could watch him getting whipped."

"The thing people wanna know … did it hurt? Hell yeah it hurt. He played Muhammad Ali! I played Pookie (in 'New Jack City'). Even in animated movies I'm a zebra, he's a fucking shark. I got hit so hard, I heard 'Summertime' ringing in my ears."

"Will Smith is a big dude. I am not. Will Smith is shirtless in his movies. If you see me in a movie getting open heart surgery, I'm gonna have a sweater on."
While the special will be Rock's most prominent remarks about the Will Smith slap, the comedian has tossed out a few zingers about the incident over the past year. Back in May 2022, Rock joined fellow comedian Dave Chappelle for a secret show where the two proceeded to roast Smith and bond over both being attacked on stage.
"At least you got smacked by someone of repute!" Chappelle joked to Rock, according to The Hollywood Reporter. "I got smacked by a homeless guy with leaves in his hair."
Rock shot back, "I got smacked by the softest n**** that ever rapped."
Chris Rock's live Netflix special streams March 4 7pm PT/10pm ET.
(Via Huffpost)