Johnnie Walker is the best-selling whiskey brand in the whole world. It hasn't hit a plateau either, sales increased again last year with 20 million cases sold worldwide. To put that into context the entire American whiskey market is just over 30 million cases sold in the same time frame (and the vast majority of that is just Jim Beam and Jack Daniel's). That's a staggering difference in how big Scotch brands like Johnnie Walker really are compared to their American counterparts. And since Johnnie Walker is the undisputed champion of all things whiskey worldwide, I figured it was high time for a complete ranking of their current core line.
For this list, I'm looking at the 10 core bottles of Johnnie Walker that are available on the U.S. market. I'm not going to add bottles that you can get in Japan or Scotland or Duty-Free. I'm also leaving out the limited edition one-offs, otherwise, this list would be about five times as long. This is about the bottles of Johnnie Walker that you can actually find and enjoy right now and right here in the U.S.
When it comes to the ranking, I'm keeping things simple. This is all about the taste. Johnnie Walker is famed for being an approachable peated blend. That means there's a thin layer of smokiness on all of these whiskies. But more importantly, some of these expressions simply have deeper and more attractive flavor profiles than others. And spoiler alert, a higher price does not mean a higher ranking.
Okay, let's dive in and rank some Johnnie Walker!
Also Read: The Top 5 UPROXX Scotch Whisky Posts of The Last Six Months
10. Johnnie Walker Red Label Blended Scotch Whisky
ABV: 40%
Average Price: $20
The Whisky:
Johnnie Walker's entry point expression is also the best-selling scotch expression on the planet. The whisky is a blend of single grain and single malt whiskies from Diageo's deep stable of distilleries around Scotland that's specifically designed to be mixed and not taken straight.
Tasting Notes:
Nose: The nose reminds you more of a sweet and citrusy Speyside or Highland whisky.
Palate: The palate holds onto those notes while adding a peppery spice and a hint of orchard fruits.
Finish: The end shifts towards Islay with a wisp of smoke as the sip fades quickly away while warming you with alcohol heat.
Bottom Line:
This is a cheap mixing whisky. It's not a sipper. Use it for parties in punches, in highballs with Coke, and maybe as a shot with a beer back if you're feeling spicy.
9. Johnnie Walker Black Label Blended Scotch Whisky Aged 12 Years
ABV: 40%
Average Price: $33
The Whisky:
The classic Black Label is a blend of over 40 grain and single malt whiskies from three dozen distilleries in the Diageo stable, including powerhouses like Talisker and Lagavulin. The throughline is that all of the whiskies are at least 12 years old when married into this blend.
Tasting Notes:
Nose: Citrus meets spicy Christmas cake and a bit of powdery white pepper on the nose.
Palate: Those wintery spices carry on through the taste as creamy maltiness, caramel sweetness, and dry herbs bounce on your tongue.
Finish: The oak comes in late with a dose of peaty smoke that's cut by an orange zest flourish on the quick end.
Bottom Line:
This was Johnnie Walker's entry-point sipper back in the days of on the rocks pours when there were a lot fewer options out there. Today, Johnnie Walker has repositioned this as a highball whisky. It works really well with good fizzy water and fun garnishes — think bitter citrus, dried florals, and savory herbs.
8. Johnnie Blonde Blended Scotch Whisky
ABV: 40%
Average Price: $24
The Whisky:
This is a newer expression from the brand that also leans into mixing. The blend of wheat and single malt whiskies is aged in American oak barrels, which gives the final blend a much sweeter profile that's specifically tuned to American whiskey palates.
Tasting Notes:
Nose: Sweet toffee candy leads the way on the nose with a counterpoint of bright red berries, soft vanilla, and a hint of oakiness.
Palate: That vanilla leads the way on the palate with more sweet toffee next to dried apple chips and a very mild winter spice malted cookie vibe.
Finish: The finish is pretty short (it's a mixer after all) that leans into the malted spice and sweet toffee/vanilla with a hint more of the bright berry sweetness.
Bottom Line:
This is the Johnnie Walker you want to be mixing your highballs with. It's soft and smooth with a good base for building upon, especially simple cocktails with plenty of citrus or bitterness.
7. Johnnie Walker Double Black Blended Scotch Whisky
ABV: 40%
Average Price: $40
The Whisky:
This is basically Johnnie Walker Black that's been re-casked in deeply charred oak barrels for a final maturation, making this a classic double cask whisky. The idea is to maximize that peat and amp up the Islay and Island whiskies' smokiness.
Tasting Notes:
Nose: Clove-forward spice and billows of softwood smoke — think cherry and apple trees — greet you on the nose.
Palate: The palate has a vanilla creaminess that's punctuated by bright apples, dried fruit, and more peat that leans more towards an old beach campfire than a chimney stack.
Finish: The spice kicks back in late, warming things up as the smoke carries through the end with a nice dose of oakiness, fruitiness, and sweet vanilla creaminess.
Bottom Line:
This is actually a pretty solid on-the-rocks pour. It's not life-changing but it gets the job done. That said, this really shines best as a simple highball base with good fizzy water and a savory and funky herbal/botanical garnish (dried chamomile, dried wild sage, rosemary, juniper berries, etc.).
6. Johnnie Walker High Rye Blended Scotch Whisky
ABV: 45%
Average Price: $37
The Whisky:
The blend of this new-ish Walker blend is 40% single malts from Diageo's stable of distilleries — particularly Cardhu, Glenkinchie, and Caol Ila — and 60% Scottish rye whisky aged in American oak. Those whiskies are vatted, proofed down, and bottled with a look toward the American whiskey palate.
Tasting Notes:
Nose: The nose feels like the best of both worlds as a twinge of rye spiciness mingles with sweet smoky notes cut with orchard fruit and a hint of vanilla.
Palate: The fruit drives the palate with tart apples spiked with clove and anise as a buttery caramel sweetens the sip.
Finish: The finish moves on from that sweet note towards a dry sense of woody spices and a touch of dried and smoked apple slices.
Bottom Line:
This is a great gateway whisky for any American whiskey drinker looking to dip their toe into subtle and approachable Scotch whisky. This is so easygoing and enjoyable as a simple on-the-rocks sipper or straightforward cocktail base.
5. Johnnie Walker Aged 18 Years Blended Scotch Whisky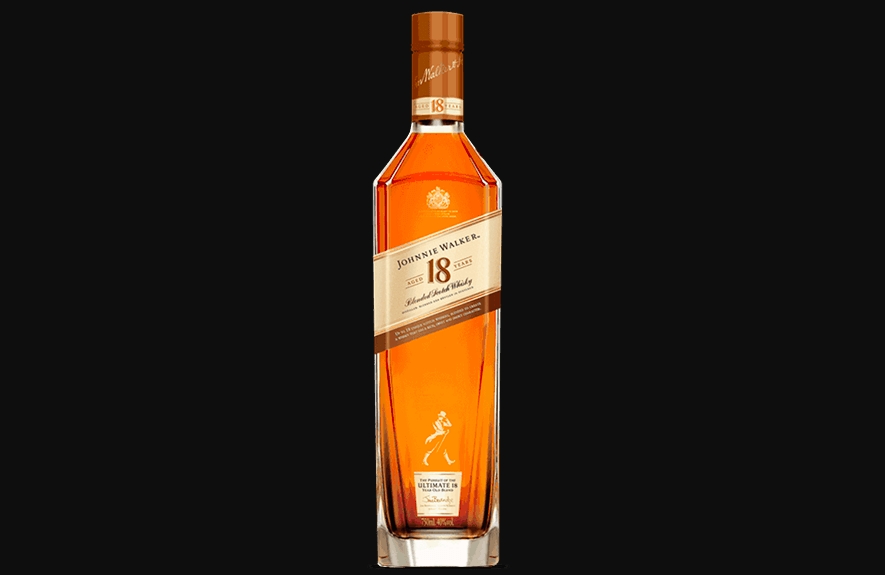 ABV: 40%
Average Price: $99
The Whisky:
This blend used to be called Johnnie Walker Platinum, which was also aged 18 years. You might still see some of those bottles on shelves where scotch sells slowly. This is the same whisky and is comprised of 18 whiskies (single grain and single malt) — all of which are a minimum of 18 years old. The primary distilleries in the bottle are Blair Athol, Cardhu, Glen Elgin, and Auchroisk.
Tasting Notes:
Nose: Apple chips and toffee mingle with ripe berries, old leather, and supple malts with a hint of dark brown spice mingle on the nose.
Palate: The palate is a mix of salted caramel next to marzipan and vanilla pudding with a touch of canned tangerine.
Finish: The end is sweet with a line of dark chocolate cut with dried chili flakes with an ever so slight smoked edge.
Bottom Line:
This is classic blended Scotch whisky. It's an easy everyday pour over some rocks or neat. But it's not really much more than that. In fact, I'd argue that this works better in cocktails at the end of the day, which is why it's ranked lower on this list.
4. Johnnie Walker Gold Label Reserve Blended Scotch Whisky
ABV: 40%
Average Price: $89
The Whisky:
This no-age-statement blend leans into that signature Walker marriage of Highland and Speyside whiskies with a small dose of Western Scottish whisky for good measure (both grain and malt whiskies are in the mix). The lion's share of the whisky involved in this gilded bottle is Clynelish, a Highland whisky that adds a modicum of peat to the mix.
Tasting Notes:
Nose: The nose balances old leather gloves and honeyed oats with meaty sultanas, cinnamon-spiced malts, a hint of anise, and an echo of grilled fruit.
Palate: The palate leans into the grilled fruit with a smoky underbelly and a savory edge (almost papaya) next to a lush vanilla cream and a sharp clove/allspice vibe.
Finish: The finish combines the dried fruit and honey with a twinge of florals as a whisper of earthy peat sneaks in late, kind of like a dry moss slowly growing on a tree.
Bottom Line:
This is the first huge step up in flavor profiles. This is the good stuff that's still affordable and easy to find for the average consumer. Drink this on the rocks or neat. Also, this is the bottle you get when you want an elevated blended whisky experience that still feels like an uncomplicated one.
3. Johnnie Walker Blue Label Blended Scotch Whisky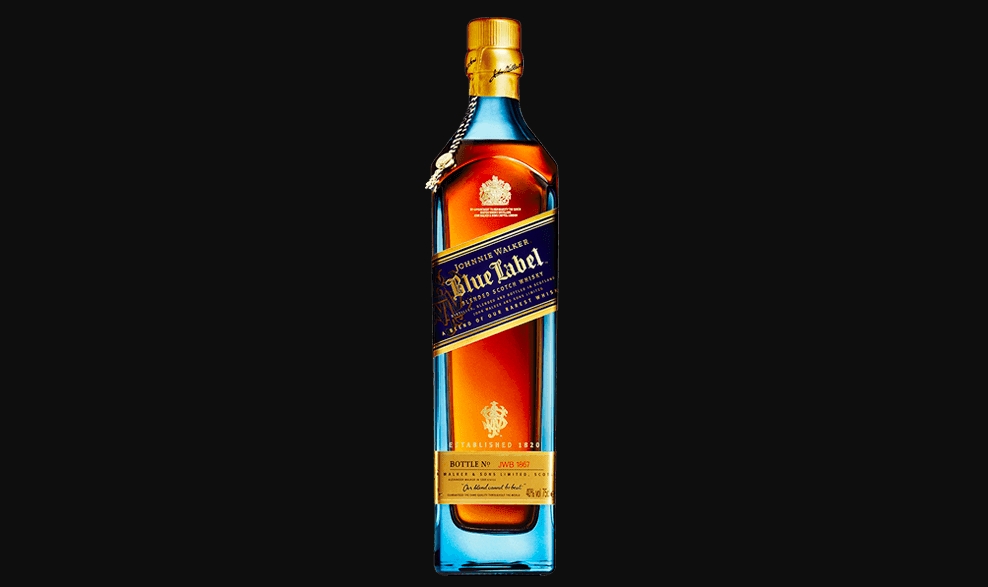 ABV: 40%
Average Price: $239
The Whisky:
This is the mountaintop of Johnnie Walker's whiskies. The blend is a marriage of ultra-rare grain and malt stock from extinct Diageo distilleries around Scotland. That's just … cool. This expression is all about barrel selection and the mastery of a great noser and blender working together to create something special.
Tasting Notes:
Nose: The nose on this one feels like silk with soft malts, dried plums, good marzipan, old boot leather, mulled wine spices, and a whisper of fireplace smoke.
Palate: The taste layers orange oils into the marzipan as rose-water-infused honey leads to a line of bitter dark chocolate that's touched with smoked malts and nuts.
Finish: The end has an even keel of velvet mouthfeel next to floral honey, soft smoldering smoke from a fireplace, and old dried fruit.
Bottom Line:
Look, this is delicious, but it is the average bottle you buy to show off more than anything else on this list. And while it is unquestionably a tasty whisky, it's not the best-tasting one from the Johnnie Walker's mainline. For me, I keep this on the bar for weekend pours over a rock or when I want a perfect highball with great water, good ice, and nothing else (because it doesn't need anything else).
2. Johnnie Walker King George V Blended Scotch Whisky
ABV: 43%
Average Price: $711
The Whisky:
This blend from Johnnie Walker is a celebratory Blue Label variant. Part of what you're paying for is the extinct Port Ellen distillery whisky in the bottle. Another part is that all the whiskies in the blend are from distilleries that were running when King George V reigned in the U.K., between 1910 and 1936. Then, of course, there's the bespoke flint glass decanter that has its own serial number (don't throw it away!).
Tasting Notes:
Nose: The nose opens with a delicate dance between honeyed almonds dusted with coarse salt, dark chocolate just kissed with vanilla and an orange-honey sweet smokiness.
Palate: The taste builds on that orange-honey vibe with a touch of rose water and marzipan as the dark chocolate sharpens its bitterness and the smoke moves far into the background.
Finish: The end is like pure velvet with a bright fresh rose note next to the final slow fade of smoked oranges and almonds.
Bottom Line:
This is that perfect blend of cool, bespoke, and delicious. Yes, it's expensive, but goddamn this whisky tastes so good. It's complex and deep yet 100% understandable, fresh, and vibrant.
Where Johnnie Walker Blue Label hits the tasty/show-off matrix perfectly, this is what the true whisky lovers pour when they want to celebrate (and yes, show off).
1. Johnnie Walker Green Label Blended Malt Scotch Whisky Aged 15 Years
ABV: 43%
Average Price: $64
The Whisky:
Johnnie Walker's Green Label is a solidly crafted whisky that highlights Diageo's fine stable of distilleries across Scotland. The whisky is a pure malt or blended malt, meaning that only single malt whisky is in the mix (no grain whisky). In this case, the primary whiskies are a minimum of 15 years old, from Talisker, Caol Ila, Cragganmore, and Linkwood.
Tasting Notes:
Nose: Soft notes of cedar dance with hints of black pepper, vanilla pods, and bright fruit — think red berries, fresh pear, and nectarines — with a wisp of singed green grass in the background.
Palate: The palate really delivers on that soft cedar woodiness while edging towards a spice-laden tropical fruit brightness with grilled peaches covered in salted caramel, honey malt biscuits, and bitter yet sweet marmalade with a dash of winter spiciness.
Finish: The finish is dialed in with hints of soft cedar bark, singed wild sage, bark-forward winter spice, and stewed stonefruit leading toward a briny billow of smoke at the very end.
Bottom Line:
This is the one bottle of Johnnie Walker to always have on hand. One, this is delicious whisky, full stop. Two, this is affordable whisky (a single bottle of Caol Ila 12-year will set you back close to $100). Three, this is rare whisky that true whisky lovers will respect you for recognizing as great. The best part is that you can go and get this right now. Hit that price link and get some delivered!